A return visit to Campania in September reminded us why we believe this region makes some of the finest white wines in Italy.  The occasion was Campania Stories 2022 held September 4-8. This was a multi-day presentation of the new vintages from throughout the region, including a master class on Falanghina dei Campi Flegrei. This comprehensive program provided us an immersive experience tasting Campania's white and red wines, including Falanghina, Fiano and Greco di Tufo (whites) and Pallagrello, Aglianico amd Taurasi (reds), as well as rosatos and sparkling wines.
We stayed at the Hotel Gli Dei in Pozzuoli in Campi Flegrei. The hotel overlooks the Bay of Naples and the Island of Procida. This is a volcanic area known as the Phlegrean Fields. The hilly drive up to the hotel took us past Solfatara (Latin for "sulfur earth"). It's a shallow dormant volcanic crater that still emits sulfurous fumes which were evident as we drove by. Once a popular tourist attraction, Solfatara was closed to the public in 2017 after three visitors fell into a crater chasm.
Kudos to organizers Miriade & Partners with participating consorzi and wineries for a job well done starting with the spectacular opening ceremony at the Palazzo dell'Ostrichina overlooking Lake Fusaro outside Napoli. The evening featured different dishes prepared by local chefs using local Campania seafood and several sommelier tables to sample different wines.
Of course, a highlight for us was meeting with producers at their wineries, and we visited several.  One of our first was Il Verro in Alto Casertano. The winery is north and inland from Napoli in the foothills of the Monte Maggiore. Nearby are the mineral springs of Riardo, the source for Ferrarrelle water. This area was a popular hunting spot for the Bourbon royal family. Thus, the winery's name, Il Verro, which is local dialect for a male wild boar (ú verru).
It is also where five young boys friends spent their childhood. And it is where they bonded together as adults to establish Il Verro in 2003 after each found success in separate careers. Walking the property, you couldn't help but think about the five friends growing up together, remaining close over the decades and writing a new chapter for their lives. As an homage to two Il Verro cofounders, now deceased, Avenia placed a large dedication stone at the entrance to a vineyard. Each stone has a plaque with the friend's name.
A former telecommunications executive whose career took him around the world, Avenia now oversees the winery, working with consulting winemaker, Mercurio Vincenzo. His focus is to embrace the viticultural heritage of the Alto Casertano, cultivating rare indigenous grape varieties, all certified organic, and utilizing minimal intervention. The property has 15 hectares with five under vine. The rest are olive, walnut, and cherry trees. Everything is unspoiled and wild. The day we visited was hot and sunny with a gentle breeze.
Our tasting included two bianchi, a 100% Pallagrello Bianco, a slightly creamy wine with notes of apricot and melon, and a 100% Coda di Pecora named Sheep, which delivered essences of almond, peach and white grapefruit. The latter wine was Il Verro's first to undergo spontaneous fermentation using native yeasts. We asked whether Coda di Pecora (Tail of the Sheep) has a similar DNA to another local variety, Coda di Volpe (Tail of the Fox). Avenia said in 2005 Il Verro conducted DNA tasting on both varieties and confirmed it does not. He also noted that, to his knowledge, Il Verro is the only winery producing a Coda di Pecora wine in Campania. Always curious to see how local whites age, we were delighted when Avenia opened a 2011 Coda di Pecora "Sheep" for us to taste. The flavors enveloped our palates with honeysuckle, apricot and hazelnut.
Among the rossos we sampled: a 100% Pallagrello Nero that tasted of small red berries and licorice with soft tannins, and two different vinifications of a 100% Casavecchia. "Lautonis" is aged in stainless steel and offers ripe plum and almond notes. "Montemaggiore" is aged 15 to 18 months in tonneau which delivers more balsamic and eucalyptus along with ripe plum. Tasting these wines made from rare local grapes was one of our first experiences at Campania Stories 2022, and we felt it was a wonderful way to begin the story of our own recent journey to this region. The wines are imported into the United States by Schatzi Wines.
Avenia took us over the mountain to his inn, Il Casale di Riardo, which has a terrific restaurant where we had lunch. The pool was inviting us, but our schedule did not allow a dip.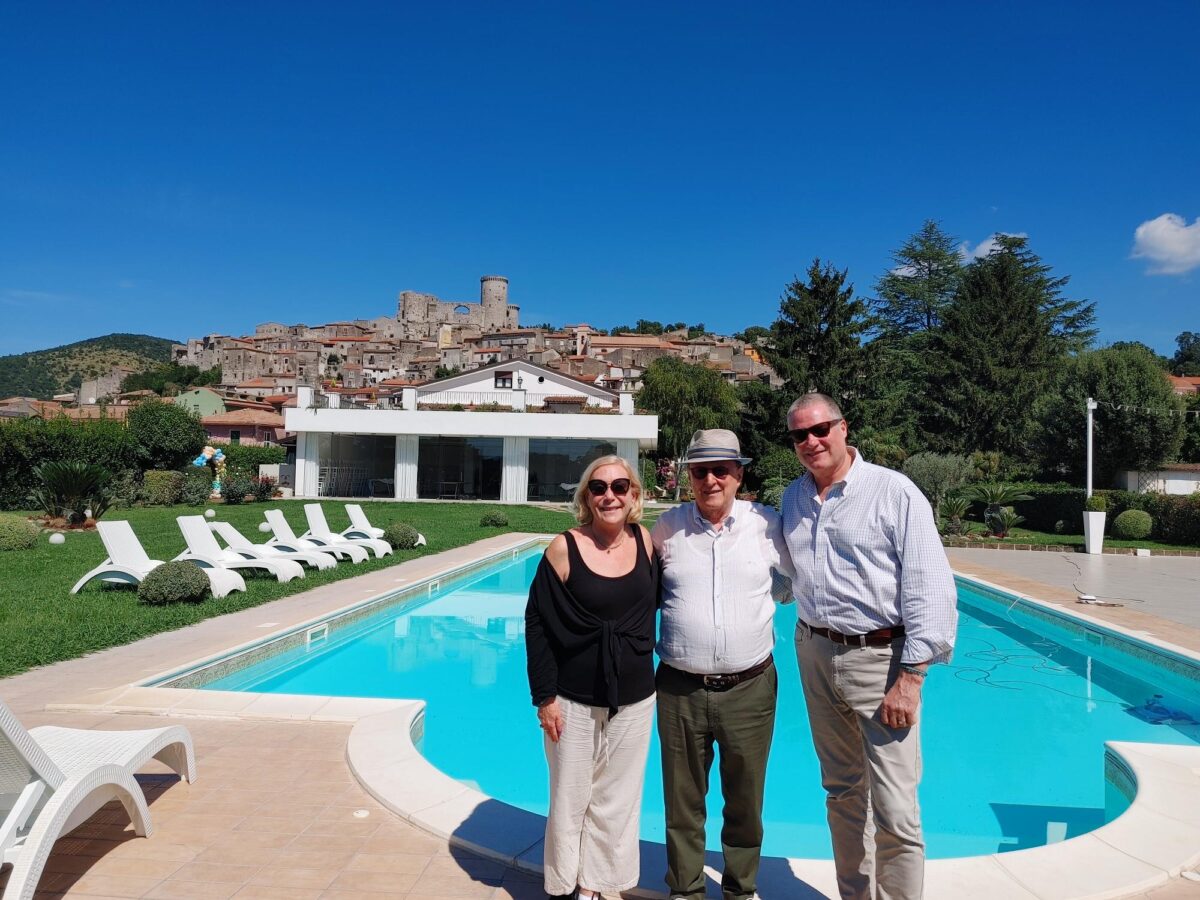 At Il Casale di Riardo with the village in the distance
Il Verro is a winery born from friendship, and we made many new friends, including Cesare Avenia. We also caught up with many longtime friends like Ilaria Petitto from Donnachiara and Paola and Anna Chiara Mustilli from Cantine Mustilli, all of whom have been guests on The Connected Table in the past.
Listen to our podcast with Cesare Avenia on The Connected Table. Click below.