Two annual events always signal the holiday season for me aside from Thanksgiving. Both are seasoned with sentiments of delicious years past and take place the same week.
The first is the third Thursday of November with the arrival of Beaujolais Nouveau. For four years I had the honor- and challenge- of creating and staging Beaujolais Nouveau arrival happenings for Les Vins Georges Duboeuf. Preparation started months in advance well before the first grapes started to bud on the vines. Each year we attempted to stage an uncorking ceremony more inventive and outrageous than the last. By Thanksgiving I felt like I'd given birth and was flat out exhausted from pulling off all the multiple events, but, oh, what fun!  Here's the list:
The Beaujolais Biker Brigade (2008): The wine was delivered/escorted by chefs and Harley Davidson Hogs on motorcycles from the southern tip of Manhattan to Bouley Restaurant in Tribeca. A similar event was held in Miami the same day.
Peace, Love & Beaujolais Nouveau (2009): The wine was delivered by hippies escorting vintage Volkswagon buses and staging Sip-Ins in New York and Miami.
Cirque Nouveau (2010): The wine was dropped into Franck Duboeuf's arms by a trapeze artist in a room filled with contortionists and acrobats.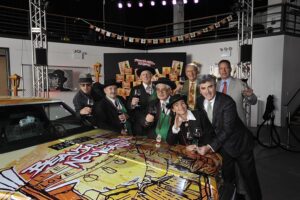 Year 4: Art Nouveau (2011): A vintage Cadillac custom painted by graffiti artist, Kaves, delivered the wine into giant warehouse turned art gallery filled with hip hop dancers.
These days the celebrations lean toward tasteful wine and food events with more refined fanfare. The dinner we attended November 17 at Bouley Botanical in Tribeca featured a spectacular menu by Chef Daniel Eddy of Rebelle and an evening of festive toasts amidst wine industry friends. We had the chance to catch up with Franck Duboeuf and his wife Anne. Georges Duboeuf was in Japan for the arrival celebration which is one of the largest in Asia. It's a wonderful tradition that always puts us in the mood for the holidays, toasting friends and being thankful for our deliciously abundant life. Kudos to our friends, Marsha Palanci, Cornerstone PR, and Kimberly Charles, Charles Communications, who now carry the PR torch for Duboeuf's very special delivery.
The second event is Citymeals on Wheels Power Lunch for Women held at The Plaza Hotel November 18 attended by a Who's Who of leading ladies in NYC, including many who work in the wine and food industry. This year's 30th annual lunch honored Citymeals on Wheels Co-Founder and Chair Gael Greene who has been a guest on this show (Here is the link).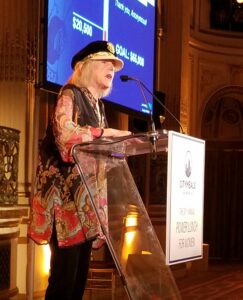 Gael Greene has raised over $410 million for Citymeals on Wheels in its 35 year history, and she never stops. This year's Power Lunch for Women has raised over $1 million providing 136,000 meals for New York's homebound elderly.
It is always an honor to be among such talented and well meaning leaders of our city to support this important cause. New York City is home to over 1.4 million seniors. 66% of them are women since we ladies tend to outlive men. But, 73% live alone; 40% never leave their homes; 8% have no one to talk to. Citymeals on Wheels fills the void of isolation and provides physical and emotional nourishment through meal deliveries and conversation. Just $1,200 covers the cost of a full year of meals for one person. These days that's four dinners at a top NYC restaurant if you carefully order your wines.
Citymeals on Wheels' "Chefs Deliver"program brings together a rotating cast of culinary stars who, once a month, lend their talents to Citymeals – cooking and often personally delivering meals right to the doors of homebound elderly New Yorkers.
To learn more or contribute visit www.citymeals.org