City of stars
Just one thing everybody wants
There in the bars
And through the smokescreen of the crowded restaurants
It's love
– Lyrics from "La La Land"
My last big trip to La La Land involved supplying George Duboeuf Poully-Fuisse to P Diddy's Fourth of July White Party in Beverly Hills in 2009. White wine for a white party hosted by a hip hop/rap music mogul. It was hotter than Hades, and there was no shade for the wine bars or gift bags.  P Diddy may be a music impressario, but his stiletto-shod, mini-dress clad event production team didn't have a tent or proper refrigeration for the wines which suffered in the heat. I worked like a crazy person to salvage the wine and to nab this "money shot" for Duboeuf.  "Diddy" refused to be photographed holding any alcohol other than his Ciroc Vodka. Still, this photo made them happy,
City of (Restaurant) Stars
Even though Los Angeles is filled with talented chefs and restaurateurs, it's a New Yorker, Bobby Flay, who's the first chef to get a star on the Hollywood Walk of Fame. We haven't visited Los Angeles for awhile (since the crazy Diddy-do), so it was nice to run into Piero Selvaggio at VINO 2017 and invite him on the show. Piero is a polished Gucci loafer in a sea of sand-crusted flip flops. I like to say Los Angeles is Silicone Valley, where fat is OK for the lips but not for the hips. But back to Piero….
Restaurateur Piero Selvaggio is trim, tan and permanently youthful looking. He has that healthy La La Land glow which New York restaurateurs never seem to have. Maybe it's the sun and surf; maybe it's not dealing with the headaches of onerous New York landlords. Or maybe it's his Sicilian heritage and being brought up on a Mediterranean diet. Piero is one of those amazing restaurateurs who've endured economic ups and downs, changes in trends and tastes and even an earthquake which destroyed his award winning wine cellar. And he still looks like a star!
Piero opened his Santa Monica restaurant, Valentino, after graduating in college in 1972. I was still in high school; "Italian food" meant Pasquale's Pizza parlor and Chef Boyardee in Chattanooga. That was 45 years ago!
I can't imagine how many Valentine's Day marriage proposals, wedding anniversaries, or movie deals have been celebrated at Valentino over 45 years. Valentino has won just about every award that matters, especially in wine and service. It is a star among restaurants in the City of Stars.
When we scheduled Piero for our February 15th show he said to me in an email, "We are…the old warriors of the Industry…"  No, Piero, we are the enduring ones whose lights are constant and never dim, and who always remain fabulous!
A Corner of Italy- Nobile Di Montepulciano's Avignonesi
That same summer of Diddy took me (with David) to Tuscany and the Veneto for the Trip of a Lifetime: two weeks touring four wine regions, all for work on a project called Italian Wine Masters which we launched in the USA.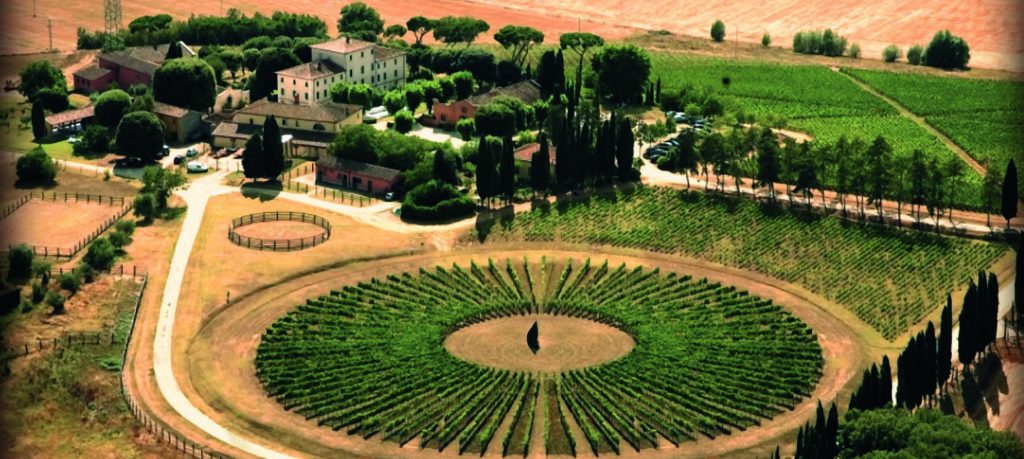 During that trip I discovered and fell in love with Nobile di Montepulciano wines. I remember our visit to Avignonesi and its owner, a gracious woman who hosted us, Virginie Saverys. I ran into Virginie last Fall at the StarChefs International Chefs Congress, and we caught up after so many years.

A lawyer by profession who was born in Ghent, Belgium, Virginie invested in Avignonesi in 20017 and acquired the winery in full in 2009 after retiring from practicing law. Virginie is a strong believer in organic products and homeopathic medicine and has worked to convert the winery to sustainable farming methods. Today, Avignonesi comprised of eight vineyards within the Montepulciano region.
Here's our show with Virginie Saverys and Piero Selvaggio: