Located in the northwest border of Montefalco in Umbria, Tenuta Di Saragano produces classic DOCG Montefalco Sagrantino, DOC Montefalco Rosso, DOC Trebbiano Spoletino and Sagrantino Passito wines (and more). This 555 -acre estate has an elevation of 1650 feet making it one of the highest in the region.
Tenuta Di Saragano has been under the ownership of the Pongelli-Benedettone family since the 15th century. Famiglia Pongelli Benedettoni is one of the oldest noble families in Italy dating to the twelfth century.  The family started bottling its wines in 1921. In fact we saw a few bottles of this vintage in Tenuta Di Saragona's historic cave.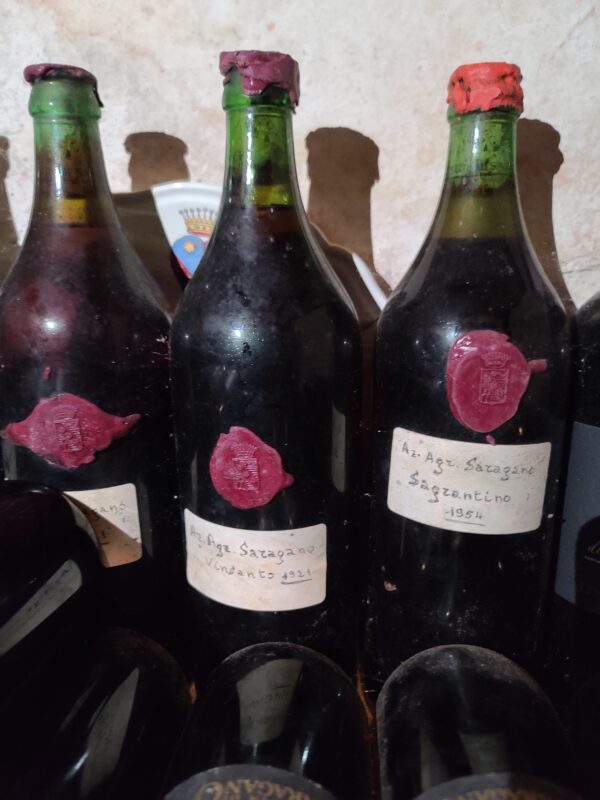 We toured the property by Polaris on a picture-perfect day. In the distance was a medieval tower where Ricardo Pongelli-Benedettone, lives. Our guide was his son and heir-apparent, Guglielmo (William), a 32nd generation family member. Talk about a long lineage! William divides his time between his studies in Bordeaux and his work at the winery.  Both father and son were on hand for our tasting.
A few highlights included Montecchiello 2021, 100% Grechetto, a late harvest aromatic white with a deep golden color, Montefalco Riserva 2017, a blend of Sangiovese (60%), Montefalco Sagrantino (20%) and Merlot (20%), and Montefalco Sagrantino 2016, a limited edition from a very good vintage that showed how well these wines evolve over time.
The property also has a cooking school and restaurant and wine resort called "La Ghirlanda," all waiting for our next visit.
In this edition of The Connected Table LIVE! Guglielmo Pongelli-Benedettone, 32nd generation family member, discusses the estate's history and wines. Listen and let us know what you think!