During Anteprima di Toscana we took a "field trip" to Villa I Collazzi in Chianti Colli Fiorentini. This hilly appellation wraps around Florence like a verdant cloak and is filled with stunning estates and notable wineries, including Villa I Collazzi. Many offer places to stay and restaurants to try. It is a short drive from Firenze and well worth the time. This was our second visit to Chianti Colli Fiorentini and our first to Villa I Collazzi.
Like the great city of Firenze, Villa I Collazzi is tied to fine art, beautiful architecture, and dynastic wealth. The villa dates to the 1500s. Built on two terraces, it was designed Michaelangelo Buonarroti. One of his pupils who worked on the project was Santi di Titi, whose painting "La Nozze e Cana," dating to 1573, hangs above the altar in the family chapel. Usually, this painting is hidden by curtains to protect it from sunlight streaming through the chapel's windows. We were lucky to have a peek.
In 1933, the property was purchased by Carlo and Giulio Marchi, whose textile printing dynasty in northern Italy dates back centuries. The Marchis are related by marriage to the Frescobaldi family Bona Marchi Frescobaldi is the mother of Lamberto Frescobaldi.
Alberto Torelli has worked as Villa I Collazzi's oenologist since 2005. Well-spoken and full of anecdotes about the villa and its impressive art and architecture, he toured us through the estate. We ended with a tasting of six Collazzi wines. Here the focus is IGT wines, utilizing international varieties: Merlot, Cabernet Sauvignon, Cabernet Franc and Petit Verdot, Sangiovese is planted to produce a small amount of Chianti Classico. Among the 400 hectares, 25 are planted to vineyards and 140 with olive trees. Annual wine production is 170,000 bottles.
The skillfully blended signature wines include Bastioni, a Sangiovese-Merlot blend; Libertá a blend of Merlot, Cabernet Sauvignon and Cabernet Franc; Collazzi IGT, a blend of Cabernet Sauvignon, Merlot, Cabernet Franc and Petit Verdot. Ferro is Torelli's 100% Petit Verdot. We also tasted a 100% Fiano called Otto Muri, an experimental wine from local plantings of this white variety brought from Campania.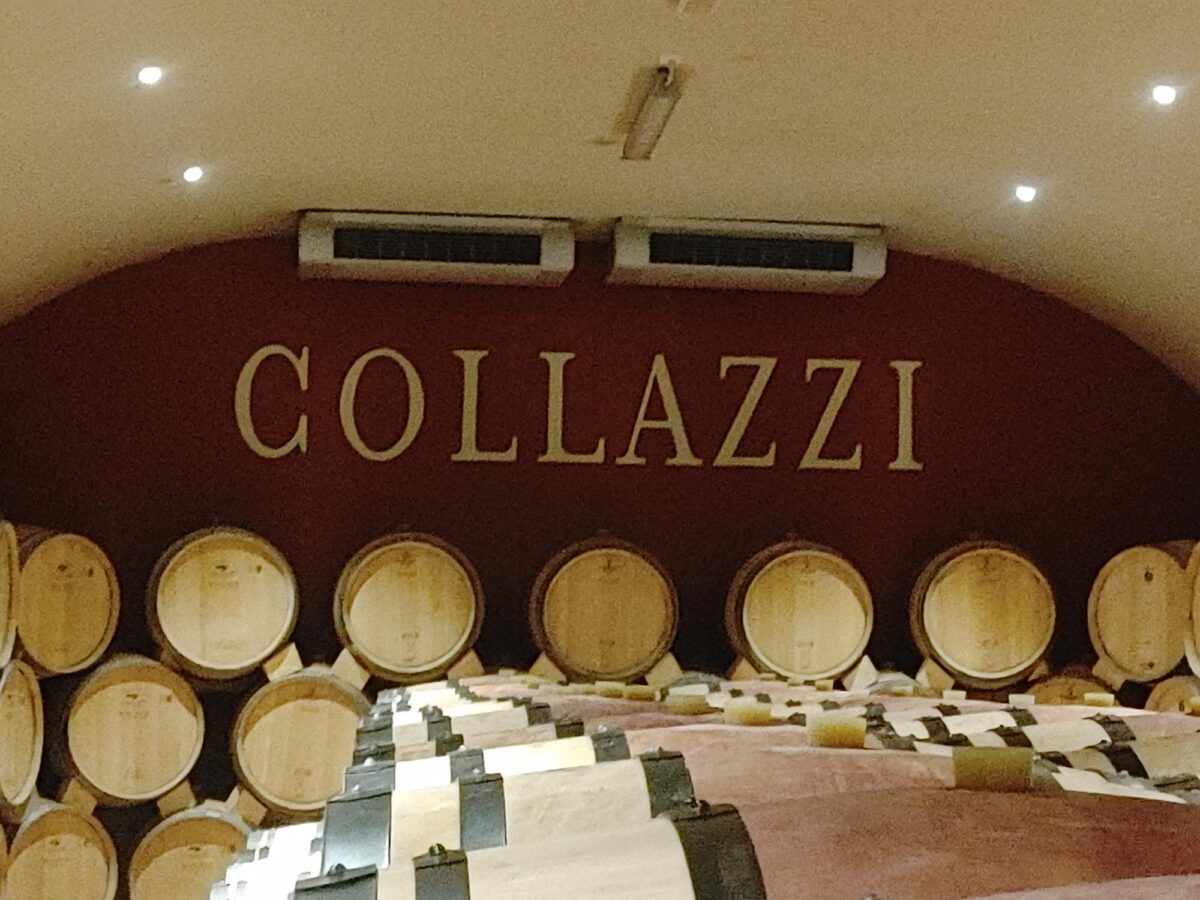 Listen to The Connected Table podcast with Alberto Torelli here: