Size matters- especially when it comes to Languedoc-Roussillon, France's largest producer of wines with over 50 million cases a year.  A recent visit to this region showed us the quality and diversity of wines and landscapes.
Languedoc-Roussillon is a land of many sub-regions and references. It is also known as "Sud-Ouest France," "Pays d'Oc IGP" and "Occitania." Its winemaking history dates to Roman times. With more than 300 days of sunshine and steady winds off the Mediterranean Sea, Pyrenees Mountains and Massif Central, the climate is suitable for growing many types of grapes. These include Bordeaux reds like Cabernet Sauvignon, Cabernet Franc and Merlot to Rhône's GSM (Grenache, Syrah, Mourvèdre), as well as Carignan, Cinsault and Counoise. Dominant whites include: Picpoul Blanc, Bourboulenc, Grenache Blanc, Marsanne, Roussanne, Viognier, and Vermentino (called Rolle in the South of France).
Usually hyphenated together, Languedoc-Roussillon are more like fraternal twins, each with distinctions among their sub-appellations and wines. This article will focus specifically on Languedoc, the larger of the two areas.Languedoc has 20 AOCs (AOPs), producing more than one million hectoliters of wine. According to the Conseil Interprofessionel des Vins du Languedoc (CIVL), red wines comprise 65 percent of (59 percent of AOC wines). Rosé wines have experienced a 70 percent growth. The United States is one of its main export markets.
The oldest AOC is Clairette du Languedoc, established in 1948, and the youngest is AOC La Clape, established in 2015. While we did not visit every sub-appellation, we had the opportunity to taste wines from nearly all of them at organized group tastings and focused master classes and we visited several appellations over four days to meet producers.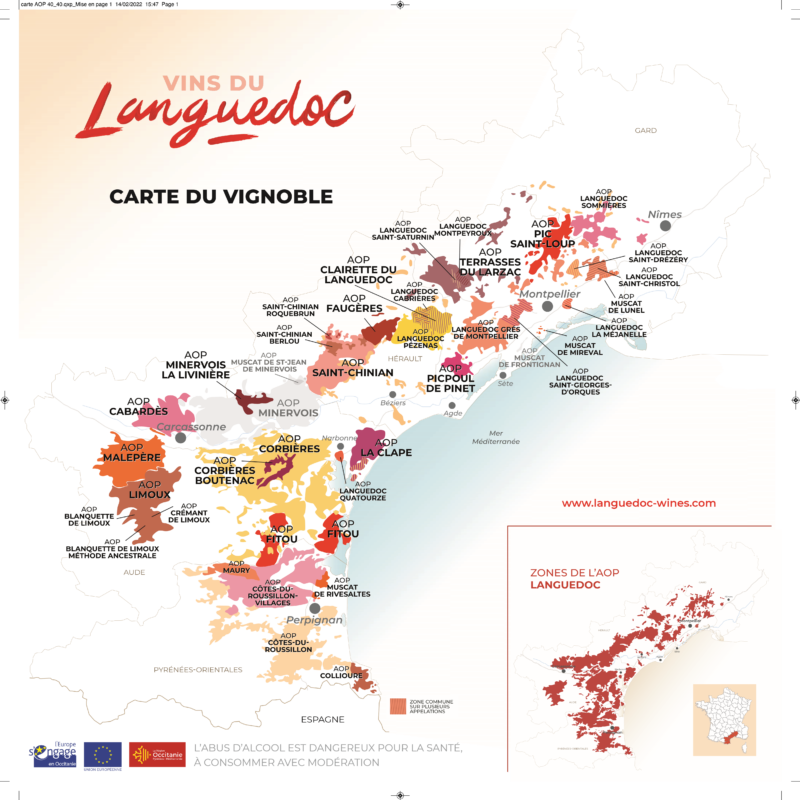 Here are some highlights from our visit:
AOC Picpoul de Pinet
AOC Picpoul de Pinet was established in 2013 and only produces white wines from the Picpoul Blanc variety. AOC Picpoul de Pinet accounts for 76 percent of Languedoc's white wine production.
Picpoul Blanc is an ancient grape that has made a comeback in popularity. It's been called "lip stinger," a nod to this wine's lip-smacking freshness. Literally, the name translates to "poule-piqueur" (hen-pick), a reference to the local chickens who would peck at the fallen grapes.
This wine benefits from the coastal influences of the Mediterranean Sea brushing up against the interior winds of the Massif Central, what locals refer to as "The Neptune Effect" or "Merroir meets Terroir." The result is a crisp, high acid white wine, perfect for pairing with seafood and crustaceans like raw oysters – experienced during our visit in January 2023 to Caves de Pomerol which produces one of the best-selling Picpouls in the U.S.A. Importer: Kysela Pere & Fils.
AOC La Clape
La Clape is just west of the city of Narbonne toward the southern end of Languedoc. Located in the heart of the Narbonnaise National Park, La Clape is recognized for its raw, natural beauty. It was designated an AOC in 2015 and produces both white and red wines.
Bourboulenc and Grenache Blanc are the two dominant white varieties and must represent at least 60 percent of the total blend. Complementary white grapes include Viognier, Macabeo (Viura) and White Terret.
Dominant reds are Grenache, Mourvèdre and Syrah with accessory grapes being Carignan and Cinsault. The reds must be blended with at least two main grape varieties with Grenache representing at least 20 percent of the blend.
Our "meet the wine producers" tasting took place at Domaine Sarrat de Goundy, a family estate led by Olivier Calix, fourth generation vigneron. This winery is open to visitors by appointment and has a nice event space.
AOC Corbieres- Boutenac
This red wine appellation established in 2005 is located interior of the Aude Department west of Narbonne. Boutenac (also the name of a village) is a subregion in the much larger Corbieres. This area is known for high elevation vineyards – 350 meters- covered with alluvial soils blended with garrigue (scrub covered rocky soils). Carignan is the dominant red variety and accounts for 30 to 60 percent of the blend. Complementary grapes include Syrah (maximum 30 percent of the blend), Grenache Noir, Mourvèdre. The wines are silky and medium textured.
Our bus brought us to Château de Luc, owned by the Fabre family. The family owns five estates in Languedoc. In addition to Chateau de Luc, there is Château Coulon, Château Fabre Gasparets, Tour de Rieux and Grande Courtade.
We spent the afternoon touring different vineyard sites – and soils – on electric bicycles. Naturally, we worked up an appetite and were treated to a meal of local grilled meats.
AOC Minervois – Cru La Livinière
Located in the heart of the larger AOC Minervois, La Livinière is an enclave of 40 winemakers located in six communes who produce the first Crus de Languedoc red wines. The wines became a classified AOC in 1999.
Visitors have referred to The Minervois as "the French Tuscany" for its landscape which includes sloping hills, olive groves and vines that focus on red grapes. Hot sunny days, minimal rainfall and steep rocky soils of limestone and clay result in elegant red wines with firm tannins and structure. Here, the wines must be a blend of at least 60 percent Grenache Noir, Mourvèdre and Syrah and a maximum 40 percent of Carignan, Piquepoul Noir, Terret Noir and Lledon Pelut (Garnacha Peluda). Minimum aging is 15 months.
Our wine tasting was based at Chateau Sainte-Eulalie owned by Isabel and Laurent Coustal who acquired the property in 1996.
AOC Blanquette de Limoux
The world's first sparkling wine is said to have been created in Limoux by Benedictine monks in the 16th century using the native Mauzac white variety, locally known as "Blanquette." We visited the St. Hilaire Benedictine Abbey where Blanquette de Limoux was created.
This AOC produces fine sparkling crémant wines made in the méthode traditionelle, usually a blend of Mauzac, with Chardonnay and Chenin Blanc. We also tasted 100 percent Mauzac "Limoux Méthode Ancestrale" sparkling wines where the wine is bottled before the first fermentation completes and before secondary fermentation in bottle occurs, allowing the wines to be left on the lees. The ancestrale wines tend to be on the sweeter side with lower alcohol. We found the Limoux wines to be excellent quality sparkling wines that deserve seeking out.
AOC Malepère
Located in the westernmost part of the Languedoc close to Limoux, we saw more horses and cows than people. Elevations here are higher, and the clay and limestone soils are rockier, which gave the region its name, Mal – Pierre meaning "bad stones." This is a popular place for camping and getting away from it all.
The wines will draw you in. Mainly red and some rosé, the Bordeaux influence can be found here. Merlot must comprise 50 percent of the blend with Cabernet Franc, Malbec, Syrah and Grenache making up the rest. Cabernet Franc, 50 percent required) is the dominant grape for rose wines.
Our visit to Malepère included a cassoulet dinner, the slow cooked simmering stew of white beans, spices and assorted sausages, game, and fowl that has a deep heritage in this region of France. The dish was created in 1355 in Castelnaudary a village in the Aude department, referred to as the "Cassoulet Capital of the World." Of course, there are a few towns with their own versions.
For more on Cassoulet, check our show with Silvie Bigar, author of "Cassoulet Confessions" and the Aude Tourism website which provides history and a suggested Castelnaudary to Carcassone "route de cassoulet" for those eager to try different styles.
Castelnaudary Cassoulet – Aude Cathar Country (audetourisme.com)
AOC Saint -Chinian
Located at the southern end of the Massif Central between AOCs Faugeres and Minervois, AOC Saint- Chinian is a land of contrasts. The northern sun-drenched plateau has a confluence of Mediterranean climate. The region is located 20 miles from the sea with continental influences from the northern mountain winds. Altitudes range between 325 to 650 feet high. Here, it is possible to have two vintages during the same harvest, according to Anne Serres, a wine educator who led our Saint- Chinian Master Class. Soils are either limestone, which produces wines that deliver freshness and crisp acidity, or schist where vines ripen later and wines to have more concentrated fruit and firmness.
Winemaking dates to the eighth century, but the region was hit hard by the phylloxera blight of the nineteenth century. Over time, winemaking returned successfully. AOC Saint-Chinian was established in 1982 specifically to produce reds and roses from Carignan, Grenache, Cinsault, Mourvèdre and Syrah. In 2005, white wines were introduced to the appellation with a focus on Grenache Blanc, Marsanne and Roussanne. One can also find Vermentino (Rolle), Bourboulenc, Clairette, Macabeo and Viognier. The two main sub-appellations are AOC Saint -Chinian Berlou and AOC Saint-Chinian Roquebrun, both located in the northern part of the region.
AOC Faugerès
Located north of Saint-Chinian, AOC Faugerès produced white, red, and rosés, but is best known for its reds made from Rhône varieties, Syrah, Grenache and Mourvèdre as well as the native Lledoner Pelut, Smaller amounts of Carignan and Cinsault are permitted. White wine production is smaller with Grenache Blanc, Marsanne, Roussanne and Vermentino (Rolle) being the primary grapes. No one variety can make up more than 70 percent of the blend, and Roussanne must comprise at least 30 percent. Faugerès has been an AOC since 1982.
AOC Pic Saint LoupAn AOC since 2017, Pic Saint Loup is located in the northern end of Languedoc. Our "visit" came in the form of a Master Class where we learned the three mountains that form AOC Pic Saint Loup – Loup, Clair and Guiral – are named for three wealthy knights from the Middle Ages who all fell in love with the same woman, who sadly (or thankfully) died before any of them could marry her. Every March 19 a bonfire is lit to commemorate her memory.
This hilly land is rugged with more rain and a strong diurnal weather swing including the effects of the mistral winds. The terroir is compared to Rhône's Cote Rotie. Pic Saint Loup's vines are planted on steep slopes producing low yields. Red blends must be a minimum of 50 percent Syrah, 30 percent Grenache and Mourvèdre and maximum 10 percent Carignan, Cinsault, Counoise and Monastrell. Minimum aging is nine months. The region also produces rosés comprised of Syrah (minimum 30 percent) with Grenache and Mourvèdre. Small amounts of Grenache Gris are also permitted.
Narbonne: Where to base yourself for this trip.
We stayed in Narbonne, a delightful city on the Mediterranean coast between Perpignan and Montpelier. This once prosperous port was also located on the path of the old Roman road. In fact, there is still a section you can visit in the historic center of town. Narbonne had a network of canals with walking paths and arched bridges. One of the most historic is Pont des Marchands, which serves as the foundation for a row of houses and shops, much like one would find on the Ponte Vecchio in Florence, Italy. This bridge is listed as one of the world's "seven most amazing, inhabited bridges" in The World Geography
Don't miss a visit (or two) to the bustling Les Halles food market in the center of town to stock up on specialties of the region or grab a bite to eat at one of the many food stalls offering ready-made dishes. This market is open every day.
Where we stayed: Île du Gua Suites | Hotel et restaurant.
This hotel is an oasis in Narbonne, close to the canals for an easy walk to main attractions. Our spacious room had a private jacuzzi and terrace. The on-site restaurant, Moulin de Lille Brasserie, is housed in a former 11th century mill. The food at our lunch was delicious.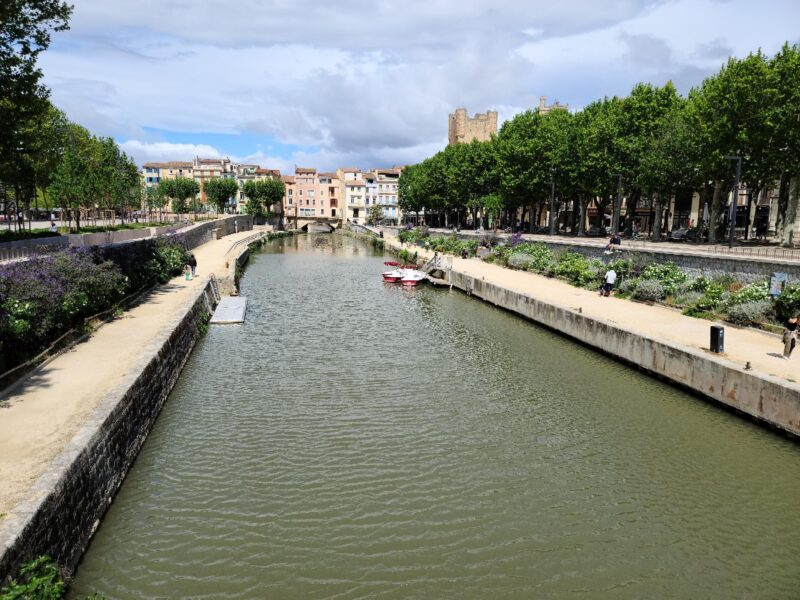 A special thank you to the Conseil Interprofessionel des Vins du Languedoc (CIVL) for organizing "Terroirs et Millessimes" and hosting us. For more information please visit: www.languedoc-wines.com Follow on Instagram @languedocwines.
Listen to our podcast on Languedoc at The Connected Table LIVE
Listen to our conversation with Silvie Bigar, author of "Cassoulet Confessions" about the history of cassoulet.