Château Climens' Bérénice Lurton is recognized for making stunning Sauternes wines from the Sémillon variety. Her Château Climens Cyprès de Climens Barsac is one of the classic sweet wines of Bordeaux- liquid gold! This year, she released her first Bordeaux Blanc dry wine, Asphodèle 2018, a 100 percent Sémillon 2018, ideal for sultry summer nights.
Named after a delicate white flower that also is a symbol a rebirth. Bérénice collaborated with renowned Loire Valley Sancerre producer, Pascal Jolivet to conceive Asphodèle. Lurton has also converted her vineyards to biodynamic farming to embrace a more holistic way of making wine. Asphodèle is now available in the U.S. (SRP: $41.99). Importer is Vineyard Brands www.vineyardsbrands.com www.chateau-climens.fr
We sat down with Bérénice to taste her latest releases and record a SIPS podcast, we asked her why she decided to launch a dry white wine and collaborate with Pascal Jolivet.
TCT: Château Climens makes some amazing sweet white wines made from 100% Semillon. But you've also branched out and introduced a dry white Asphodèle, also 100% Semillon. Tell us about the genesis of this wine and why you decided to introduce it.
We had been thinking about making a dry white wine for a few years, driven by curiosity, longing for innovation, and because we have a few hectares of younger vines which can produce nice but not overwhelming sweet wine. It took a few years to bring this project to life because it needed investments and certainly a point of view from outside Bordeaux. After all that hard work, I am very pleased with the result and proud to now be able to launch it in the US.
TCT: You worked with Pascal Jolivet. Why did you decide to collaborate with him and what did he bring to the process?
The first thing Pascal Jolivet brought, at first, was his confidence we really could make a fantastic dry white from the terroir of Climens, and specifically from the young vines. And really, the result is beyond my hopes, we've made the wine I really was dreaming of!! In terms of harvest and vinification, he brought a very different approach from the classic tradition in Bordeaux: earlier picking, cold fermentation, no added yeasts, no wood, in order to preserve the purity and minerality. We've stopped working with him after the 2018v, but we've kept the philosophy and are very grateful to Pascal.
TCT: Asphodèle has a lyrical sound to it. What does this name symbolize and does it has a special meaning for you personally?
Asphodèle is a name which has been an evidence to me for this specific wine, it was pure inspiration. I like the elegant sound of it, which matches perfectly the wine's personality, starting by this open and assertive vowel, following with soft and round syllables and ending fresh and long ones. I was seduced by this name yet I hardly knew it was a white flower. When I found more elements about it, I was amazed: this lily is both wild and very refined, and is also a symbol of rebirth, being the first plant to grow again after a fire. Like the Cyprès, which is the name of our other sweet wine, it's considered as a link between the earth and the sky. And the terroir at Climens has a potential of vibrancy and energy that you can really feel in the wines, which are at the same time seductive and transcendent.  
Asphodèle was also the first wine we've made after the frost had destroyed all the crop in the spring of 2017. This project and this new-born wine have really been a blessing in the difficult period we have gone through. It's a real creation, we're proud and …we're really excited and proud about it, it's our baby! 
In Peru, "Pacha mama" (Earth Mother) is the powerful life force. We are taught to respect and honor Her. We are constantly reminded of this force of nature every time there is hail, frost, drought, tornadoes and now a pandemic. As a biodynamic vintner, what is your philosophy on respecting and protecting the Earth and working in harmony with nature?
Of course, biodynamic is an approach which is totally in this idea: it's not only avoiding to use polluting inputs, but it's a way to re-create and develop the relationship with Nature, the Earth and the Cosmos. The farm is considered as a living organism, which all parts are connected and interdependent, as well as to all the different elements of life. It's a vision you can find in all the traditional societies, maybe especially in Asia, and I often compare it to Traditional Chinese Medicine
It is a preventive approach, based on observation and the use of natural elements, may they be plants, minerals or animal manure in order to help the vines to be well-balanced and sane in harmony within its environment. It is thus very flexible: we do adapt our approach to the terroir, the growing phases, the issues of each plot, the weather conditions, the positions of the moon (as they have an impact on tides, they have one on water in the soil and plants), etc. We are facing more and more weather brutal phenomenon, and biodynamic really helps by its research of balance.   
Biodynamic is not protecting the Earth, it's being part of it, by respecting and restoring the harmony between all its elements, at our level. It's not a list of recipes but a vision, a philosophy, a way of life.
I have read that Bordeaux has permitted some additional white grapes to be cultivated. Can you share a little more about this? Will any be applicable to your appellation?
This is just experimental.  I'd love to make experiments, but I'm not sure these grapes are adapted to our specific soil. I'm fond of Albarino, but it seems to be more comfortable in acidic soils, and we are limestone dominant…  I don't exclude to try other varieties but it's not our priority for the next future.  

For those who have never visited Barsac (including us) and are traveling their dreams for the time being, what are 3 -5 things you recommend doing/seeing or eating when visiting?
First of all let me tell you what people can discover when visiting Climens:
The "classical" visit is already different from what you can see elsewhere, Climens being a different planet in the galaxy of sauternes. We also offer a "slow tasting", for wine lovers to take time to appreciate all the sensations that the wines do provide.
Of course, you know we are fond of food and wine pairings, so we do organize meals with a wonderful chef; I've been experimenting (and enjoying!!) the unlimited possibilities of delight for 25 years, and let me tell you again these wines are far from being only dessert wines: they are wonderfully versatile, and it's an experiment not to be missed! We've been working for many years with Florence Camaly, a chef who's as precise as sensitive and inspired. Her cuisine has a resemblance with Climens in the fact that it's natural, fresh and refined. It's based on traditional French cuisine but with a personal and oriental inspiration. I am so fond of her gambas in Thaï style, her sea bass "en croûte de sel , her lamb tajine, her heavenly fruit desserts…
We also organize yoga sessions in the unique tisanerie (the attic where we dry and store the plants for biodynamy) .
Apart from Climens, the surroundings are beautiful to discover by car or bicycle. The landscapes are superb, and the Sauternes and Barsac area is a very historical region where Heritage buildings are abundant: baroque churches like the gorgeous one of Barsac, magnificent chateaux from the Middle Ages, XVIIth and XVIIIth Centuries, and the rural architecture is very nice too.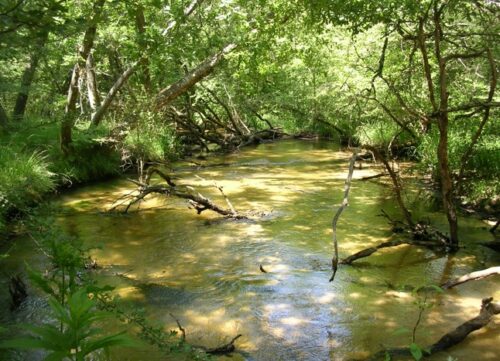 I also strongly recommend to go rowing on the Ciron, it's not only the origin of the Botrytis microclimate, but also a very preserved and beautiful little river which flows inside gorges.
As for restaurants, you've got the choice, from very typical regional food  like an "entrecôte aux sarments" (rib steak cooked on dried vine shoots) at L'auberge des Vignes in Sauternes, to the top of French gastronomy like at the new Restaurant Lalique at Chateau Lafaurie-Peyraguey.   
Listen to The Connected Table Sips with Bérénice Lurton here:
Show notes:  Bérénice Lurton is a fourth-generation winegrower of Bordeaux's renowned Lurton family. Her father, Lucien Lurton, acquired a collection of famous estates that he shared among his ten children. In 1992, Bérénice assumed stewardship of Château Climens at age 22. Considered a jewel of the Sauternes region, the 16th century Château Climens is a premier cru First Classified Growth of 1855 known as the "Lord of Barsac." www.chateau-climens.fr U.S. importer: Vineyard Brands www.vineyardbrands.com