Women comprise 70% of the U.S. hospitality workforce and as many as 90% of female restaurant employees report some form of sexual harassment. Late last year, the nonprofit, One Fair Wage, Issued a report which based on surveying 1,675 restaurant service workers. 41% said they had experienced more harassment since the start of the pandemic.
Offering actionable solutions, Les Dames d'Escoffier New York (LDNY) recently united hospitality leaders and advocates to present helpful information and resources through a free live webinar "Breaking the Silence: Confronting Harassment in the Hospitality Industry," sponsored by the Institute of Culinary Education.
"Our organization is against the normalization of such unconscionable behavior and we are determined to offer supportive solutions," said LDNY Co-President Jen O'Flanagan of FeastPR. Her LDNY Co-President Jenifer Lang, the former Managing Director of Café des Artistes, added "Harassment is insidious and needs to be attacked from every angle. Our goal is to empower the victims to defend themselves: legally, physically, and professionally."
The Connected Table Live Host Melanie Young, an LDNY member and chapter past-president, assembled a panel of six industry experts in human resources, labor relations law, wage discrimination, self-defense and behavioral therapy for an in-depth conversation.
"The U.S. Equal Employment Opportunity Commission (EEOC) reported that more than 14% of sexual harassment charges came from the food and hospitality Industries. In 2019 employers paid out a record $68.2 million to employees alleging sexual harassment. When selecting panelists, I wanted a diverse group of experts to provide solutions, support and best practices to help both workers and employers." said Young.
This summit of female hospitality leaders identified several key steps to address this pervasive problem:
Legalize Fair Wages
Research by One Fair Wage, a national coalition, campaign and organization focused on the service sector, found the restaurant industry to be one of the largest and fastest growing industries, yet it has the absolute lowest wages of any industry in the United States, with 43 states paying only $2.13 an hour. "Female workers are overwhelmingly dependent on the whims and biases of customers and whether customers are pleased with their service," stated Saru Jayaraman, president of One Fair Wage. "'Pleased with their service' has translated to physical and behavioral biases, core issues that enable sexual harassment. This became even clearer and more blatant during the pandemic."
Conversely, according to Jayaraman, the seven states that honor a full minimum wage in the hospitality sector (California Oregon, Washington, Nevada, Minnesota, Montana, and Alaska) have one half the rate of sexual harassment claims and better business with higher restaurant industry sales, higher job growth, and higher rates of tipping. "We have accepted and normalized the sexual harassment in this industry, which cannot continue. We need everybody to help push for elimination of the subminimum wage," said Jayaraman.
Create Transparent, Supportive Culture
Theodora Lee, shareholder of Littler Mendelson P.C., labor law specialists, and owner of Theopolis Vineyards, advocated for every employee within the workplace to be made familiar with agencies such as the U.S. Equal Employment Opportunity Commission (EEOC) and their local branch of the U.S. Commission on Civil Rights (USCCR), where they can file a sexual harassment complaint without the need to hire a lawyer. "Because of long tradition, employees don't know they can take action. There are laws on the books," says Lee.
Only 10% of sexual harassment is reported, which "exposes this overall resistance that people have, this fear that prevents them from reporting," said Taryn Abrahams, MFT, SHRM-CP Founder/CEO, Empower Behavioral Services, LLC. She encouraged companies to create a transparent culture with clear decision-making and bold communications that includes scripts and training to intervene, if they choose to.
Ashley Oberdorff, PHR, Director, Empowered Hospitality, emphasized the importance of all restaurants—large corporations or "mom-and-pop"—having a human resources department, either in house or outsourced. She also explained how critical it is to ensure that policies are up to date and to address sexual harassment in employee handbooks, with an acknowledgement form for employees. "It's so important to act and not put it off," recommends Oberdorff. "Make sure everything is documented. Find out the facts and go from there."
Better Workplace Training
"There is a real need to create better, more effective training around this topic. The missing piece is the importance of arming people with the skills to be able to intervene if they choose to," said Abrahams.
"In hospitality, people by nature have great relational skills, can read someone's face or body language and tell whether or not someone is happy with their meal. We build on those same skills to give people the skills and practice they need to be more comfortable intervening [in harassment]," said Lauren R. Taylor, director, Safe Bars and Defend Yourself. The Safe Bars program recently formalized training for people who work in bars and restaurants to quickly identify sexual harassment and safely prevent it through strategies like bystander intervention.
Effective bystander invention training includes different tools to address sexual harassment based on an individual's comfort level. "It creates awareness and a sense of collective responsibility, because the reality is that most victims don't speak up. It also gives victims a sense of empowerment," said Abrahams.
Step Up as a Mentor
The webinar's title, "Breaking the Silence," was inspired by panelist, Alpana Singh's blog post, "The True Cost of Silence." In it. Singh shares an emotional coming to terms for remaining silent over the years as she and other female members of the Court of Sommeliers experience harassment by its male members.
"To me, from walking away from that title [Court of Master Sommelier], I can speak for those who can't speak. You don't have to take it; let me take it for you so you don't have to. I couldn't do that 15 years ago, but I can now," noted Singh, sommelier, restaurateur, host of the Emmy-Award winning PBS-TV Show, Check, Please! Professional organizations such as Les Dames d'Escoffier New York and social media groups such as Women in Hospitality are also forums for resource references, support and solidarity. "The moral arc of the universe is long but bends toward justice–you don't want to be caught in a situation where you could have done something, and you did nothing."
A replay of the Breaking the Silence webinar can be watched on YouTube.com. Here is the link: https://www.youtube.com/watch?v=T2qOYa1Z9Qk&t=21s 
For additional resources on this topic and information on speakers and the webinar Gold Sponsor, Institute of Culinary Education, visit www.ldny.org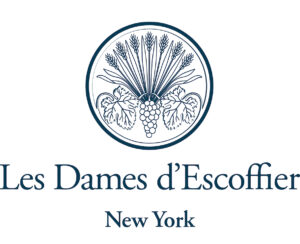 About Les Dames d'Escoffier
Les Dames d'Escoffier New York (LDNY) is an unparalleled collective of forward-thinking and successful female leaders in all sectors of the food, beverage and hospitality industries. Located in the most dynamic and competitive city in the world, Les Dames d'Escoffier New York (LDNY) is the founding and largest chapter of Les Dames d'Escoffier International (LDEI), an experienced 501c3 non-profit organization. Our mission is to advance and support aspiring professional women in food and beverage, as well as to champion critical industry issues. LDNY's vision is guided by three objectives: Education, Advocacy and Philanthropy.
Want to hear more? Listen to our conversations on this topic and more with panelists Saru Jayaraman, One Fair Wage, and Sommelier/Restaurateur Alpana Singh on The Connected Table LIVE.