"What were you doing 1968?" That was the opening question Kevin Zraly asked the group attending this week's tasting at Corkbuzz Wine Studio to commemorate Trefethen Family Vineyards' 50th Anniversary Retrospective. Kevin was joined by proprietors Janet Trefethen and her son, Lorenzo Trefethen, who shared the history and milestones of this family-owned winery located in Napa's cool climate Oak Knoll district.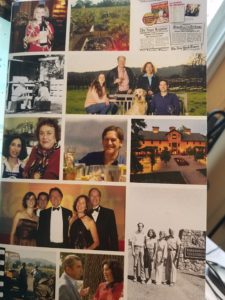 The tasting notes included a historical marker for our nation. Some were happy times: the growth of the American culinary revolution and California wine industry. Some noted the natural disasters that impacted the region, such as floods, earthquakes and drought. And the federal debt went from $316 billion in the 1960s to 20 trillion in 2010. The Good News is that the wines survived it all and each vintage we tasted was exceptional.
It was an afternoon to share family stories while enjoying the wines. Patriarch Eugene Trefethen purchased the Eschol Ranch in 1968 and planted vineyards with the intent to sell the grapes. Janet and John Trefethen met, married and started the winery in 1973 with Tony Baldini, as their first viticulturist. Janet noted there has been a Baldini family member involved with the winery since Day One. Lorenzo also underscored that Trefethen winery workers are treated like family with salaries and health benefits, no contract workers. Many employees have worked at Trefethen for years.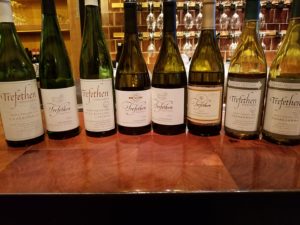 Trefethen is world-renowned for its Chardonnay and Cabernet Sauvignon. Lorenzo noted with a smile that the family was unaware their 1976 Chardonnay- the family's fourth vintage- had been named "Best Chardonnay in the World"  at the Gault-Millau World Wine Olympics in Paris until a CBS news helicopter landed to request an interview. Numerous awards and accolades have followed.
At Corkbuzz, owner Laura Maniec and her team poured first a selection of Chardonnays, vintages 1977, 1985, 1991, 2005, 2011 and 2016; and Cabernet Sauvignon, vintages 1979, 1986, 1999, 2006, 2011, 2015. Kevin Zraly wisely encouraged us to taste at our leisure to allow time for us to really savor and contemplate the wines.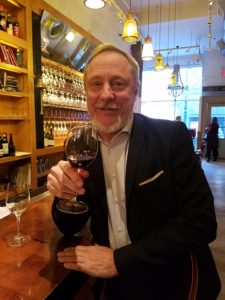 I (Melanie) like to play a mental game when I taste wine: I create personalities and stories for each vintage and style. For me the Chardonnays were a multi-generational family of pedigreed blondes, starting with elegant elderly dowager (1977) to the perfectly coiffed classic Bergdorf blonde (1991) to the more preppy and peppy 2012 and 2016. And, yes, drinking these wines I thought, "These Chardonnay blondes are more fun." Each generation had its spirited personality.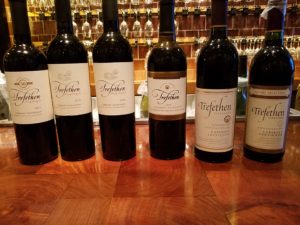 The same went for the Cabernet Sauvignons which ranged from my timeless idea of the "dreamy matinee idol" (1979) to the sophisticated "Rat Pack" (1986, 1999) to the "Leonardo Di Caprio" (2011) and "Bradley Cooper" (2015). They were all stars with different appeal. For some reason I conjured all men for these wines.
Oh, there were plenty of wine terms tossed around to describe the wines, like the ABC's of acidity, balance and concentration. But, inspired by the stories Janet and Lorenzo shared and Kevin's always enjoyable remarks, I let my mind daydream about each generation of wine and its place in time and the remarkable family who brought them to life. Thank you!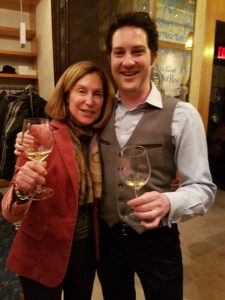 Listen to our show with Janet and Hailey Trefethen broadcast from Napa Valley last year: