We enjoy drinking wine with our meals and an evening cocktail. We also know taking a healthy break from daily alcohol consumption is a good thing, especially in our profession. However, drinking water with our dinner just doesn't provide the satiating satisfaction we desire.
Happily, we discovered Enroot Sparkling Teas, thirst-quenching cold brewed teas with botanical and fruit flavors that do not overpower the palate. The recipes for Enroot's five different tea flavors were created and tested by chefs with food pairings in mind. Our first taste of Enroot was at Chef J J Johnson's Field Trip at Rockefeller Center in New York City. At the time, we had never heard of Enroot, but we were impressed. Then, our friends at Vineyard Brands introduced Enroot a wine tasting in New York City last October. Vineyard Brands is the distributor. We were hooked!
It turns out Enroot is the brainchild of three friends, Cristine Patwa, John Fogelman and Brad Pitt (yes, the actor!) The teas were conceived to appeal to the "sober curious," population who want to enjoy low or no-alcohol beverage options and seek something better-for-you than a sugary soda. Tea, being filled with antioxidants and botanicals makes sense.
Fact: Low- and no-alcohol market, driven by millennials, is continuing to expand, with consumption expected to grow 31% by 2024, according to the IWSR.
CEO Cris Patwa was inspired by the refreshing teas made by her grandmother, Pamela, a small-scale farmer and food entrepreneur in the Philippines. "When I was a little girl, my grandmother would cut open fresh mango for our afternoon snacks. If we were thirsty, a fresh coconut would be plucked and hacked to enjoy directly from the trees as refreshment. We lived with this authentic connection to our food, farms and family – which ultimately became the values that Enroot is founded on today. A driving force for me in creating this company with Brad and John was to be able bottle these memories and learnings from her."
The cold brew process takes over 20 hours. "This method avoids scalding or over-cooking the tea leaves and botanicals which can create bitterness and astringency that often require a notable amount of sugar or artificial sweeteners to mask," said Patwa. "Without this bitterness in our slow cold brews, we were able to avoid the use of added sugars, sweeteners, artificial ingredients, flavors/essences/extracts, concentrates, Stevia or monk fruit – while only being 25 natural whole calories. "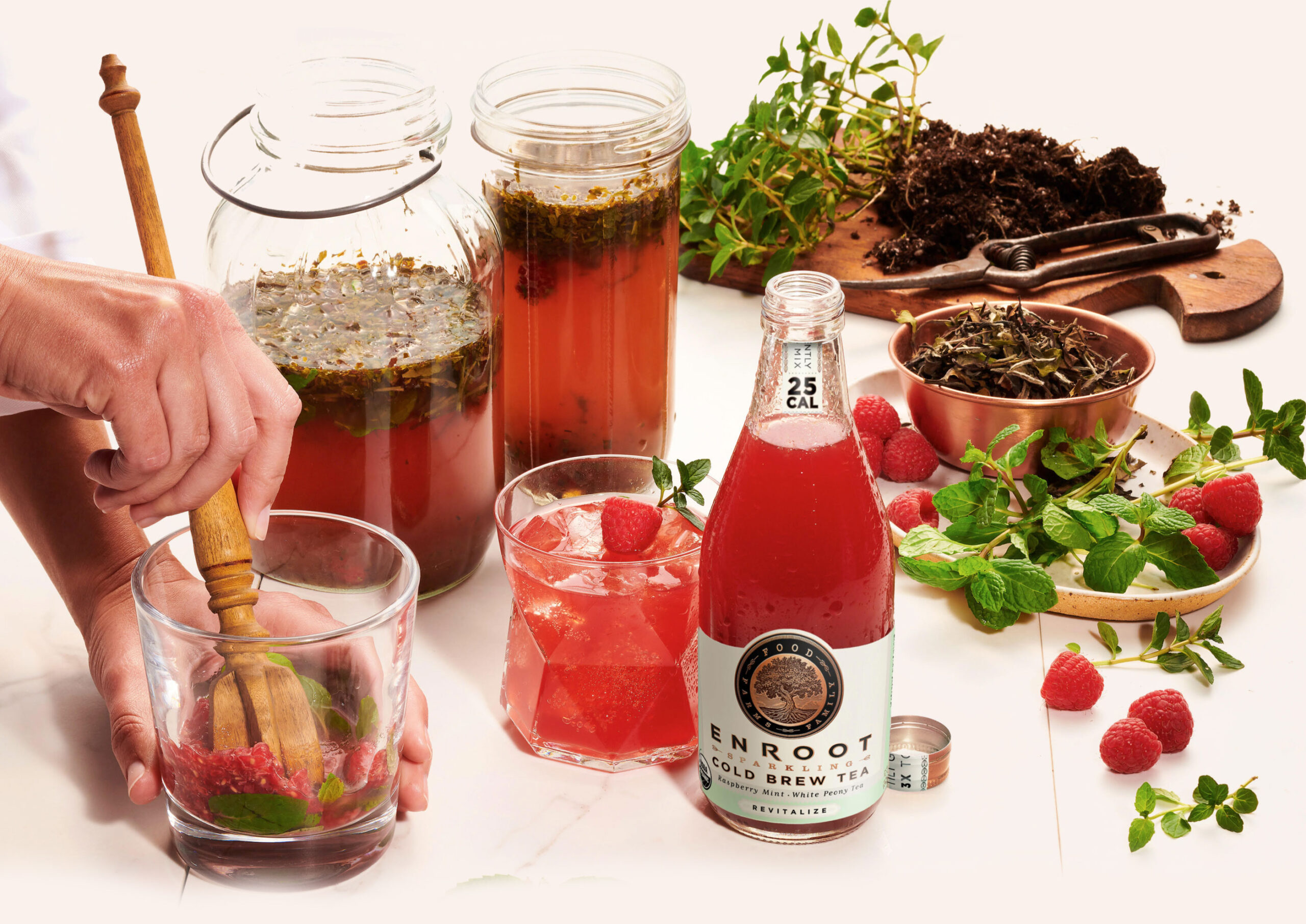 Enroot works with small farmers around the world to select its botanicals, another nod of respect to Patwa's grandmother.
"Each ingredient is meticulously sourced to ensure the highest quality farm-to-bottle experience. Our organic teas can take several months to several years to evolve and mature for careful picking during harvest season," said Patwa.
Enroot also partnered with The James Beard Foundation (JBF) to select 12 chefs to create the botanical recipes for Enroot. There are currently five flavors. Apple-Lemon-Cayenne-Yerba Mata; Mango, Ginger- Tumeric-Guyasa, Peach-Hibiscus Jasmine Green Tea, Raspberry-Mint White Peony Tea and Strawberry- Lavender Rosemary- Tulsi (a type of holy basil). The chefs also created cocktail recipes and dishes to pair with the different teas which can be found at www.drinkenroot.com
A Certified B Corp, Enroot has also committed to supporting JBF's Women's Leadership Initiative. "The desire to support women is also a nod to grandmother, Pamela. In many ways, she laid the foundation for who I am today, imparting wisdom and life experience, and learning about business, agriculture, community, and sustainability," said Patwa.
Listen to our conversation with Cris Patwa, CEO, Enroot- The Connected Table SIPS! podcast-iHeart Radio