You don't find many people with the affiliations Cook, Author, Entrepreneur, Airplane Pilot and Quintessential Southern Gentleman.  Now add, Butchering Expert.
That's Matt Moore, a Nashville, Tennessee resident who traveled the country – and to France- to research his latest book, "Butcher on the Block" (William Morrow). This book cuts close to the heart for Matt. His grandfather, Abraham Samuel Dennis, owned family-run Dennis Food Store in Valdosta, Georgia, where Moore recalls Abe's butchering skills and family meals.  The Dennis family came to the United States from Beirut, Lebanon. Moore shares Dennis family recipes in "Butcher on the Block, including Baked Kibbeh and Fatayer (Meat Pie).
Throughout this engaging book are stories of butchers, many family businesses, from San Francisco's Simon and Eric Cheung, owners of Hing Lung Company to The Deluca Family at Vincent's Meat Market in The Bronx. In Antibes, France, Moore visits with Amaury Noirclère and Christophe Gaultier, co-owners of Maison Maillard. One of our favorites chapters features Tommie Kelly, Moore's butcher at his local Kroger supermarket in Nashville. It reminds us that we all know our shopkeepers, butchers, bakers and cheese mongers by name.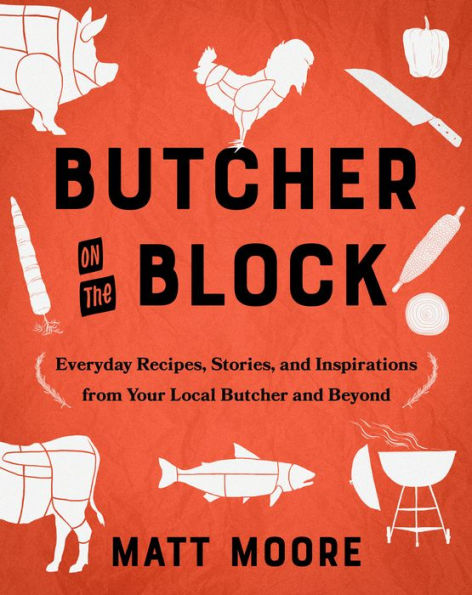 But "Butcher on the Block" is not just focused on beef and pork. It teaches the techniques of carving a whole beef tenderloin and dry aging meat and cutting up a whole chicken for maximum usage and minimal waste. You learn to deftly debone a whole fish and cook it to perfection. Cara Magnani, a.k.a. The Vegetable Butcher, shares the finer points of shredding carrots and zucchini to make fritters and slicing and roasting cauliflower steaks.
We enjoyed chatting with Moore in the past when he published "The South's Best Butts," a book on regional barbecue styles. We devoured his next release, "Serial Griller." With "Butcher on the Block" he takes readers on a personal journey to meet his grandfather and uncle, his local butcher, his wife, Callie, who also comes from a butchering family, and his talented photographer, Andrea Berhends who traveled with Moore while she was six months pregnant.
So, sharpen your knives and settle in to "Butcher on the Bock" for tips, recipes and stories. Because, in addition to all the other titles Matt Moore wears, we add "Insatiably Curious and Compelling Storyteller." That's why we enjoy having him back on The Connected Table LIVE. Now we need to meet up in Nashville!
Listen to our latest conversation with Author Matt Moore on The Connected Table LIVE!