Chef, restaurateur  and cookbook author, Rick Moonen, has been the country's leading advocate for the sustainable seafood movement for the past 25 years, bringing national awareness to this subject near and dear to his heart. In 2013 USA Today named him one of Earth's "Power Players" as one of five leaders helping the health of our planet.
He's been featured on CNN, TODAY, Good Morning America, CBS Early Show, Dan Rather Reports, and many more.  His flagship restaurant, Rick Moonen's rm seafood at Mandalay Bay in Las Vegas, showcase his commitment to sustainability without foregoing culinary creativity and innovation, and have been critically acclaimed by local and national press alike.
In June 2013, Chef Moonen transformed rm upstairs into Rx Boiler Room, a modern gastropub that showcases comfort food, redefined with Moonen's signature twist. Rx Boiler Room was named Best New Restaurant of 2013 by Desert Companion magazine.
Rick's bestselling cookbook, Fish without A Doubt, is an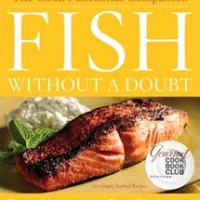 essential tool for any home chef who wants to cook seafood, with more than 250 recipes and covering all major cooking techniques.
In 2010 Rick made a memorable appearance on Bravo's "Top Chef Masters," nearly taking home the title and raising thousands of dollars and national awareness for Three Square food bank in Las Vegas.  In May 2011 Monterey Bay Aquarium honored Rick as their "Chef of the Year" for his tireless efforts towards sustainability.  He was named Humanitarian of the Year by the American Culinary Federation in 2013.
Rick's a graduate of The Culinary Institute of America.  He's a founding member of the Chef's Coalition, Seafood Choices Alliance and is active with numerous other organizations to support sustainable seafood practices, promote conservation and end world hunger.
Connect:
https://www.facebook.com/ChefRickMoonen
https://twitter.com/rickmoonen
Instagram: https://instagram.com/chefmoonen/
Join Melanie Young and David Ransom, the Insatiably Curious Culinary Couple, Wednesdays 2pm ET/11 am PT on The Connected Table LIVE on W4CY.com and on demand anytime at iHeart.com. We connect you to the dynamic people who work front and center and behind the scenes in food, wine, spirits and hospitality.
Link to all show podcasts: http://www.iheart.com/show/209-The-Connected-Table-Live
Connect with us:
https://twitter.com/connectedtable
https://facebook.com/theconnectedtable
Listen to Melanie's radio show about and for women and health, Fearless Fabulous You! Mondays 9pm ET/6pm PT on W4WN-the Women 4 Women Network and iHeart. Coming up March 9th: Rebecca Katz, MS, author of The Healthy Mind Cookbook , discusses how eating the right foods can boost your brain power, concentration, mood and memory.