Chef and restaurateur Nora Pouillon is Washington, DC's- and the nation's – Forever First Lady in the world of organic food and sustainability. When she arrived in the U.S. in the 1970s from her native Austria, our country was on a diet of processed foods and agricultural products treated with chemicals -and in too many communities still is. Determined to feed both her family and her customers healthy, farm fresh food like she grew up eating in Europe, Nora set out to find local farmers to supply her food. It wasn't easy but Nora was committed to finding a better and healthier solution to serve
local, seasonally prepared meals.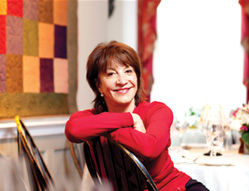 Restaurant Nora opened in its 19th century red brick building in 1979 (the same year McDonald's introduced the Happy Meal just to give you an idea of what many Americans were eating). Twenty years later in 1999, Restaurant Nora became the first certified organic restaurant, which means 95% of all ingredients must be produced by certified organic farmers, growers and suppliers. Thank goodness Nora stuck to her guns; many restaurants don't even last 20 years.
Nora has received countless awards, too many to list here. But what struck me at the panel discussion where she spoke about Chef-Activism is how she cultivated farmers and helped nurture their businesses by organizing bus tours to introduce DC area chefs to the farmers. In the process she sustained both their businesses and hers by helping ensure the viability of their farms. Nora also initiated DC's first producer-only farmer's market, FRESHFARM Markets, which now includes eleven markets in the metropolitan area.
These days "Farm-To-Table" is a frequent phrase in restaurants around the nation. Sustainability and ethical cooking are top of mind. We all have Nora Pouillon to thank for leading the way. She recently announced plans to pass the torch at Restaurant Nora. Somehow we know there's an interesting new chapter to be written. If you haven't read Nora's full story, check out this book. And listen to our show here: