Being a successful restaurateur is never easy. Being the son of a legendary restaurateur sounds like it might be easier but not always. This is especially true when your name is Frank Pellegrino Jr. and your dad, Frank, Sr., runs New York City's toughest table-to-book in town, Rao's (pronounced RAY-ohs). We've never snagged a table at Rao's NYC, which is on our dining bucket list. I think tables  end up in the wills of its regulars.
It takes (meat) balls to follow in the footsteps of Frank Sr., and Frank Pellegrino Jr. ("Frankie" to Rao's regulars) has done just that overseeing  Rao's Caesars Palace, Las Vegas (opened 2006) and Rao's Hollywood (opened Fall 2013). The tables are easier to book, and the Southern Italian fare served with a large helping of hospitality is just as satisfying. That's why Rao's has a loyal following everywhere.
Frank Jr. earned his chops working at Rao's NYC at night while running an advertising business by day. His Mad Men career took him to many restaurants and prepped him well to step out on his own in 2000 with his first restaurant, Baldoria, located in Times Square. It opened with great fanfare; I remember the party.
Vegas came calling, and Frank followed with the first Rao's. Today, with the two Rao's restaurants and a book, Rao's on the Grill, Frank Jr. has accomplished something his Pops never did at the "original"- make a dinner table at Rao's accessible for the rest of us folks. Mangia!
Connect: http://raosrestaurants.com/   Twitter@Rao'sRetaurants
– Melanie Young, July 7, 2015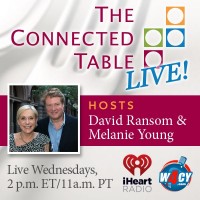 David and Melanie chewed the fat with Frank Pellegrino Jr. July 8, on The Connected Table LIVE! www.W4cy.com and iHeart.com. Here's the show! http://www.iheart.com/show/209-The-Connected-Table-Live/?episode_id=27281944