Hanukkah, the Festival of Lights, starts December 12. For those of you who celebrate Hanukkah, we hope the upcoming eights days are filled with joy and plenty of latkes, the traditional pan-fried potato pancake served during Hanukkah to commemorate the miracle that a single jar of oil found in the Temple lasted for eight nights.
Last week we received this helpful free wine and latke pairing guide from our friends at Israel's Yarden Wines, which includes Golan Heights Winery and Galil Mountain Winery. Here are some of their suggestions (link to download free guide):
Classic potato latke with sour cream with Gewϋrtztraminer: "The spicy off-dry notes of the Gewϋrtztraminer will accentuate the subtle spices of the latkes."
Sweet potato latke with applesauce with Viognier. "The floral notes will accentuate the round sweet tones of this dish, while the notes of lychee and apricot will match and accentuate the crisp sweet tones of the applesauce.
Cheesy vegetable latkes with sour cream: "A Cabernet Sauvignon-Merlot blend has earthy, spicy and pepper notes that will match the earth and cheesy flavors of the latke."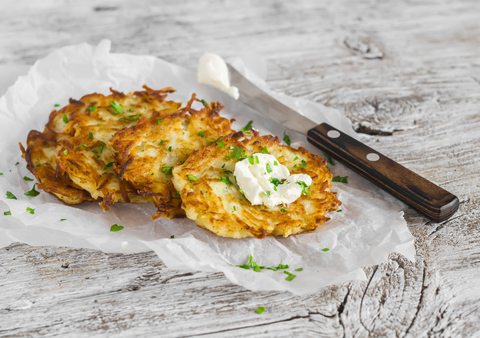 We've interviewed both Victor Schoenfeld, Golan Heights Winery and Micha Vaadia, Galil Mountain Winery on our podcast series, The Connected Table SIPS! In case you missed them, here are the iHeart.com links:
Victor Schoenfeld, winemaker at Golan Heights Winery, is a pioneer in the application of new technology and wine making techniques who has developed some of Israel's most sophisticated viticultural advancements, from irrigation management to wind generated electricity. Founded in 1983, Golan Heights Winery has had a major role in developing and nurturing Israel's modern wine culture Podcast link.
Micha Vaadia is chief winemaker for Israel's Galil Mountain Winery located in the Upper Galilee, an ancient region with a new wine culture. Established as a joint venture in 2000 by Golan Heights Winery and Kibbutz Yiron, green living is a way of life at Galil Mountain. Podcast link.
Wishing you Happy Hanukkah and Lots of Latkes!