Loredan Gasparini in the Asolo/Montello hills, about an hour outside of Venice, has a noble heritage and the unique recognition of producing world-class red wine in this region best known for its quality Prosecco. The winery was named for Count Piero Loredan Gasparini, a direct descendant of Leonardo Loredan, Doge of Venice. Count Gasparini was a charismatic and well-traveled man who was inspired by the vineyards of Bordeaux and enjoyed drinking long-aged red wines. He was the first to plant Merlot, Cabernet Sauvignon, Cabernet Franc and Malbec in Venegazzù, a subzone of the region that makes up both the D.O.C. Montello e Coli Asolani and Montello Rosso D.O.C.G., and the precise area where Loredan Gasparini is located.
Montello, where the Venegazzù estate is located, is near a forested area where the Venetians sourced the timber to build their boats. Its temperate climate and red clay soils are influenced by the confluence of water draining from the Alps meeting with alluvial soils of the Piave River. In 2016, Montello was named a UNESCO Biosphere Reserve.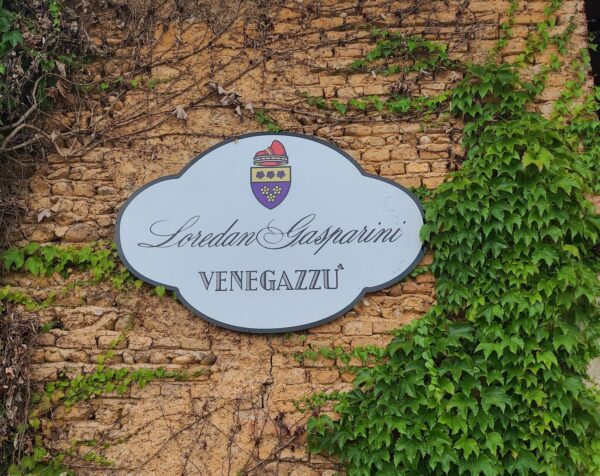 Current owner, Giancarlo Palla, acquired Loredan Gasparini in 1973 and released its first D.O.C. Asolo Prosecco in 1979. A champagne enthusiast, Palla was the first to import Maison Drappier to Italy and recruited its cellarmaster to serve as his consulting oenologist to help him produce "champagne quality" metodo classico prosecco. The Glera grapes are grown in the hillside slopes of Giavera del Montello near Venegazzù but with a different microclimate thanks to its higher elevation at 150 and 290 meters above sea level and acidic, mineral -rich soils containing calcium, magnesium, and iron. Here, grapes ripen slower to develop their aromatics while preserving their acidity.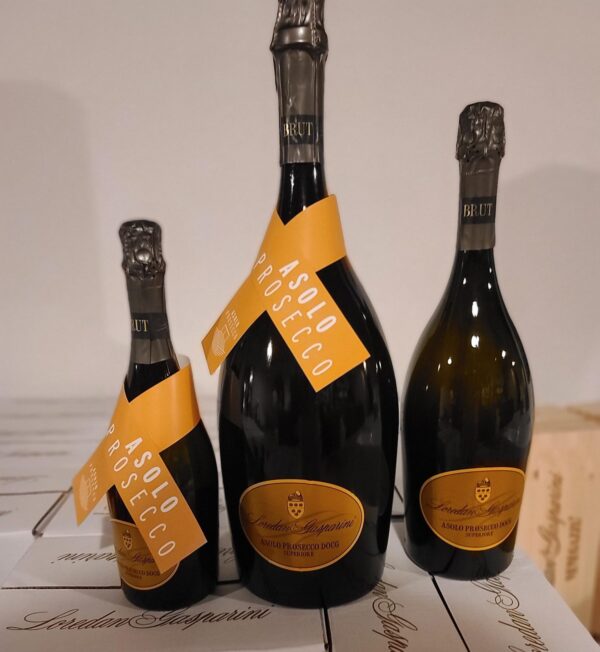 The Proseccos are fermented using natural yeasts obtained from the Loredan Gasperin strain. During our visit to Loredan Gasparini, we tasted several Prosecco wines (the focus of our hosted trip). Of note was the Cuvée Indigen Extra Brut 2021, Asolo Prosecco Superiore DOCG. This wine which is fermented for one year using indigenous wild yeasts. This wine has very fine bubbles and a creamy texture due to its longer fermentation. We were told the natural fermentation of this prosecco impacts whether the winemaker releases it as a Brut or Extra Dry.
Like his noble predecessor, Giancarlo Palla favors producing red wines with longer aging. The red we tasted was Venegazzù Capo di Stato Rosso 2007, D.O.C. Venegazzù Montello Superiore. This wine is a blend of Cabernet Sauvignon 70%, Cabernet Franc 10%,and Merlot 14% sourced from vineyards dating to 1946. It is aged for two years in barrel and six months in bottle. The wine had pleasant notes of smoke, spice and balsamic jam. Capo di Stato translates to "head of state" and is a reference to Charles De Gaulle who reportedly mistook it for a great Bordeaux at an official lunch at the Gritti Hotel in Venice.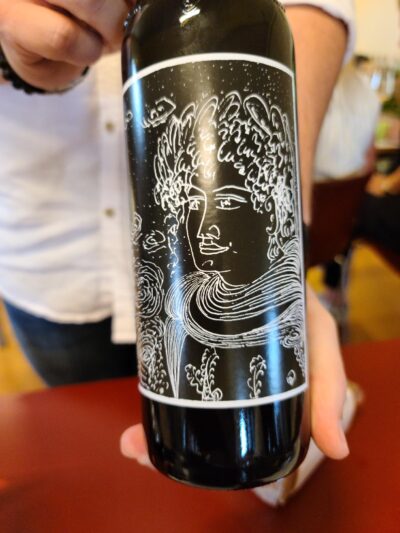 Capo di Stati also stands out for its signature label, a work by the artist, Antonio Zancanaro. Two versions of the bottle are produced. One depicts the female figure of a Wine Goddess and is produced for special occasions. The other portrays the male figure of Bacchus with roses and is the version more frequently produced. Even today, Loredan Gasparini continues a tradition of sending every newly appointed President of the French Republic a box containing two bottles depicting the two labels. During our visit we saw a few letters of "merci" displayed.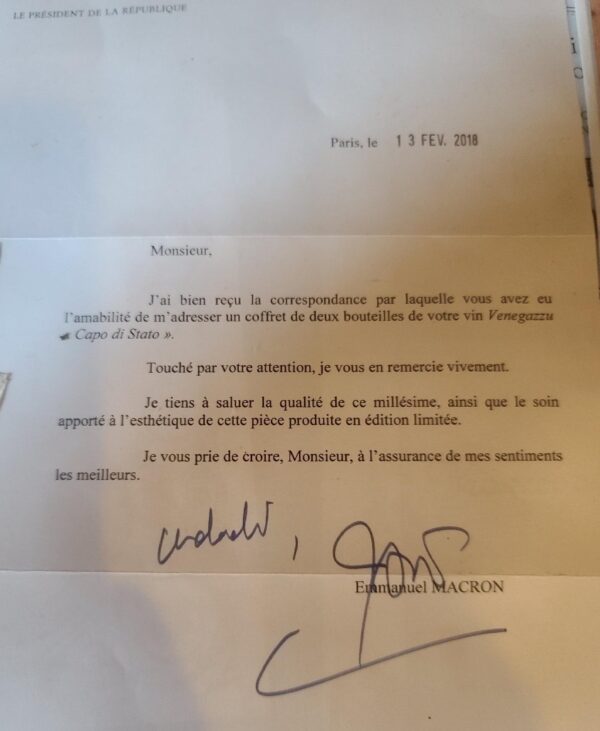 The Palla family has worked tirelessly to elevate the image and wines of Asolo and Montello. Giancarlo Palla lobbied to attain a cru status for Venegazzù and was instrumental in helping establish the D.O.C. Asolo in 1977 and D.O.C.G. Asolo Prosecco Superiore 2009.
As a prosecco production area, Asolo is a "David" compared to the "Goliath" that is D.O.C. Prosecco. In 2022, D.O.C.G. Asolo Prosecco produced 24 million bottles compared to 638.5 million certified bottles of Prosecco DOC  in the same year.  And like the symbolic meaning in the story of "David and Goliath," Asolo's 430 winemakers and 64 bottlers have a strong faith in the quality and potential of their prosecco in the global marketplace. Asolo is now Italy's fourth largest producer of sparkling wine with 65 percent exported to the United States.
Listen to our podcast with Lorenzo Palla here: