If you have tuned into our iHeart Radio show, The Connected Table LIVE!, you know that we love New Orleans. Maybe it's the sweet southern air. Maybe it's the moist hot humidity. Maybe it's the iconic food and drink culture. Maybe it's spirit of the city that conveys "Pleasure is Good." We consider New Orleans our spiritual- and spirited- home.
It there is one name in New Orleans dining that stands heads above others it is "Brennan." There are several branches of the Brennan family tree running different restaurant operations. Two of our favorite ladies of the Brennan family are Lally Brennan and first cousin Ti Adelaide Martin, who together oversee Commander' s Palace, Café Adelaide and the Swizzle Stick Bar at the Loews hotel and Sobou at the W Hotel in the French Quarter, as well as Brennan's in Houston. Visiting with them is like seeing family.
When Hurricane Katrina hit New Orleans 10 years ago this September, our hearts ached for all our New Orleans friends and family. Lally gamely led David and me through the debris left at Commander's Palace, and we all envisioned a stronger more defiant city and a sparkling rebuild of the restaurant.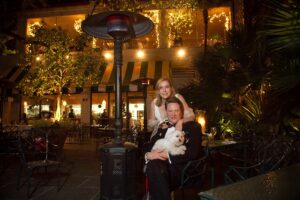 On  March 17, 2007, we were married in Commander's Palace's dazzling courtyard. When it was time to promote my first book, Getting Things Off My Chest, Ti and Lally hosted my party at Café Adelaide. Giving back and generously supporting the city, the industry and friends is part of the Brennan family DNA.
Aside from being multi-talented restaurateurs, Ti and Lally are co-authors of "In the Land of Cocktails: Recipes and Adventures of the Cocktail Chicks." The Cocktail Chicks are encyclopedic on New Orleans cocktail history and just about everything else in the city's rich restaurant culture.- post by Melanie Young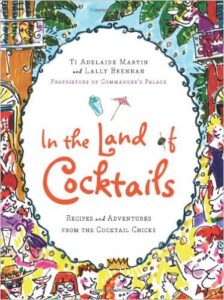 While we're down in New Orleans for Tales of the Cocktail, we'll visit with Ti and Lally July 15 at The Swizzle Stick Bar on the Connected Table LIVE! and hope you'll take a seat and tune in to www.W4CY.com 2pm EST/1om CST. This show will also be available on demand at iHeart.com and the iHeart App.