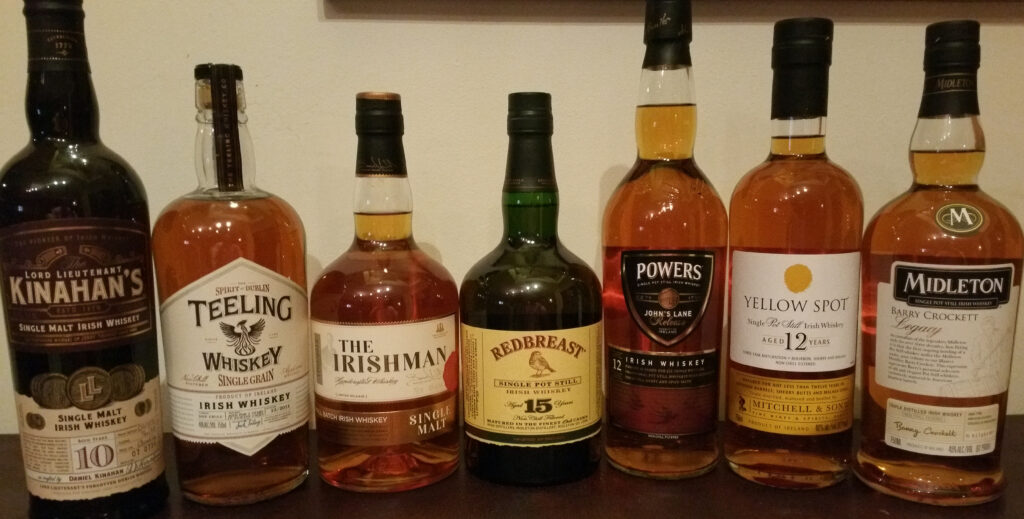 Long thought of as a two brand country when it came to whiskey – those brands being Bushmills and Jameson (and we'll leave religion out of it, here, because I've always believed in the separation of  Church and Still) – the Emerald Isle actually has close to 100 different whiskies in distribution around the world, and while not all are available in the United States, most of the best ones are, and the list is growing.
In other words (for those people who've been living under a rock), Irish whiskey is HOT! There are more brands now than ever in the marketplace and more diversity in the whiskies being made, both by established distilleries and startups, due to a new generation of distillers who are leading the charge in experimentation and quality. And the world, ever in search of new flavor profiles to learn about and enjoy, has taken notice.
So let's dive in and learn about some of what I like to call the next-level tier of Irish whiskies: those that are a step above the entry level whiskies we liked enough to learn more about what the category has to offer. Mostly Single Pot Still whiskies (look it up, I did, and am still confused), these all beautifully show the art form that Irish Whiskey can be.
A venerable name in Irish whiskey, with distilling roots back to 1782, the brand new Teeling distillery in the heart of Dublin's city proper, built in 2015 by the Teeling family, is one of the rising stars on the scene. It is run by brothers Stephen and Jack Teeling, whose father John started the Cooley distillery in the 1980s, producer of some of Ireland's most famous brands, including Kilbeggan, The Tyreconnell, and Connemara. When John sold Cooley to Jim Beam (now Beam Suntory) in 2011, he did so with the ability to take his reserves with him, which now form the base of his sons' newly resurrected Teeling brand. The Teeling brothers make three offerings:.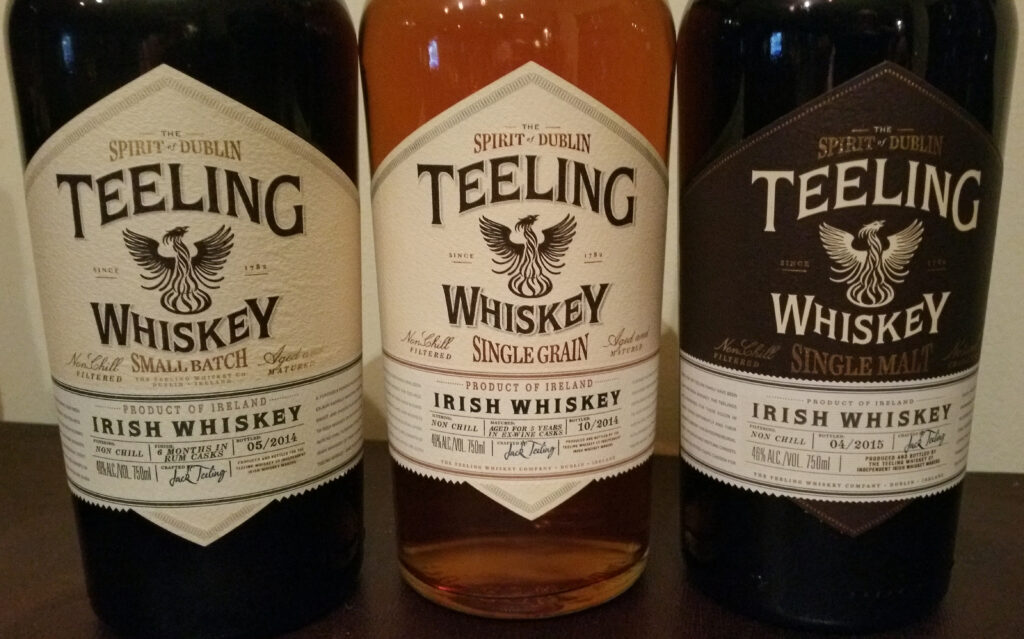 Small Batch ($39) – A slightly spicy, slightly sweet blend of malted and single grain whiskies matured in American Oak and finished in ex-rum barrels. Spicy and sweet on the palate, it is filled with hints of vanilla, spice, and interesting notes of caramelized sugar from the rum barrel finishing.
Single Grain ($55) – Teeling's version of Ireland's rarest type of whiskey (only a handful of Single Grain whiskies are marketed worldwide), this whiskey is corn-based and aged in used California Cabernet barrels which give it a beautiful sweetness on the palate and  mesmerizing hints of lush fruit and ripe berries. A step away from the Irish whiskey norm, and a must for anyone who likes Kentucky Bourbon, it's a sip worth searching for.
Single Malt ($65) – The most complex in both execution and flavor, this 100% Malted Barley whiskey is Teeling's top of the line interpretation. A blend of five different wine barrel-aged lots in varying stages of maturity, the Single Malt shows layer upon layer of nuanced flavor components including spice, dried fruit, citrus, toffee, and vanilla, all wrapped in a sweet finish that never seems to end.
One of the more unique stories in Irish Whiskey, The Irishman was founded in 1999 by the Walsh family. The story goes that Bernard and Rosemary Walsh, fed up with hand-making countless Irish Coffees every night for the guests at their French ski chalet, decided to bottle it in advance to make it easier on themselves, and started the Hot Irishman Ltd. to make it legal. This led to a serious interest in the main ingredient, and suddenly, Bernard was leaving out the coffee and bottling just the whiskies, blended to his liking, of course. Fifteen years later, the Irishman has four different whiskies available, and is making some of the most unique whiskies on the Emerald Isle.
Here are a couple of them: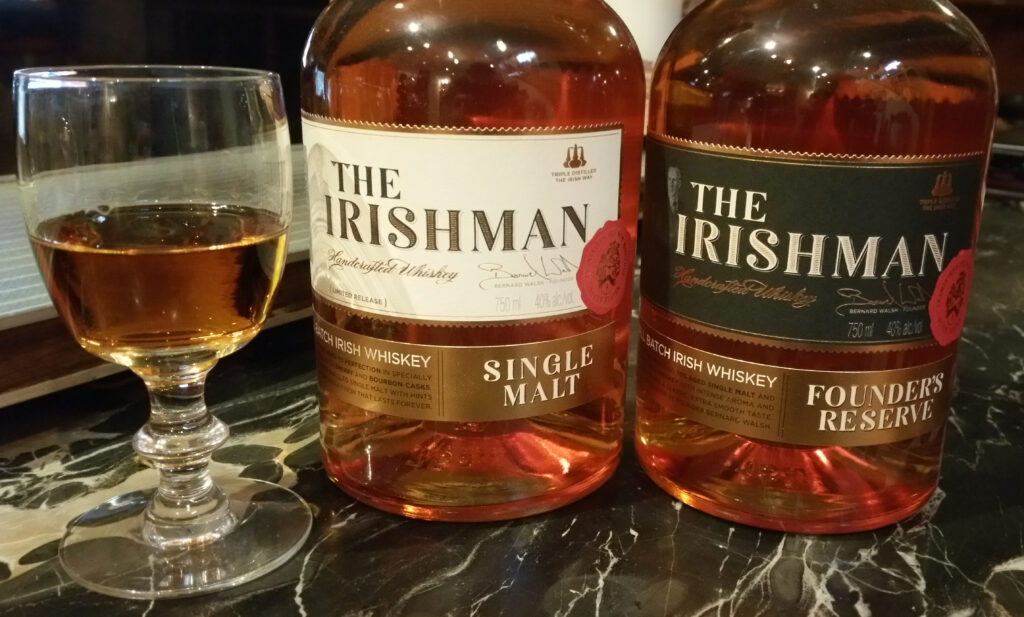 Founder's Reserve ($30) – This was Bernard's original blend when starting The Irishman, and it is one gorgeous and powerful whiskey. A blend of 70% Single Malt and 30% Single Pot Still whiskies, both of which are triple distilled before aging in Bourbon barrels, the Founders Reserve is filled with spicy black pepper and fruit in the nose, and hints of caramel, spice and malty chocolate on the palate.
Single Malt ($45) – One of only a handful of Irish triple distilled single malts, this is no mainstream whiskey. Made in a classic style, with aging in ex-Bourbon and Sherry casks. The Single Malt is ripe with stone fruit and citrus on the nose, with a palate showing hints of vanilla and almonds. Slightly oaky, but not overpoweringly so, it is a beautiful ode to the craft of making whiskey. Only six thousand bottles are made per batch, so it's also on the rare side.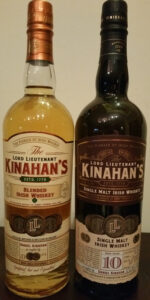 Officially, it's Lord Lieutenant Kinahan's Irish Whiskey, and it has quite a pedigree in Irish Whiskeydom. Founded in 1779 in Dublin by Daniel Kinahan, Kinahan's quickly became one of Ireland's most important spirits, and in 1807 was ordered by the Duke of Richmond, Lord Lieutenant of Ireland, to reserve barrels exclusively for his use, which where then marked with the initials L.L., still found on each bottle of Kinahan's today. Quickly gaining recognition from this "charter", Kinahan's received a Royal Warrant from Queen Victoria in 1845, shooting it to international acclaim. If that wasn't enough, Kinahan's was also reputed to be the whiskey of choice for America's "Father of Mixology", Jerry Thomas. After closing up shop in the early 1900's – as did many Irish whiskey houses –  Kinahan's re-launched in 2014 with two whiskies, a Blended and a Single Malt.
Blended Irish Whiskey ($40) – A classic Irish whiskey, the Blended is a marriage of Single Malt (pot still) and Grain (column still) whiskies and is aged a minimum of six years before blending and bottling. Non-chill filtered and bottled at 92 proof (46%ABV), the Blended is an almost spot-on rebuild of the original L.L., giving it both sipping appeal and a sense of history. Pale gold in color, it exudes honey, caramel, and apple notes, with hints of mint and chocolate.
Single Malt ($69) – One of the relatively few Irish whiskies to carry an age statement, Kinahan's Single Malt is aged for 10 years (at minimum) in ex-Bourbon barrels. Made from 100% Malted Barley, it is 100% pot-still and, like the Kinahan's Blended, bottled at 92 Proof. A sleekly spicy nose reminiscent of black pepper, dark cherries, and malt, leads to a smooth, rich mouth feel filled with hints of vanilla, caramel, and citrus, mainly tangerine – or maybe mandarin. A whiskey filled with layer upon layer of flavor.
Irish Distillers, Ltd- Pernod Ricard S.A. 
Irish Distillers was born in the 1960s when four of the last five of surviving whiskey distillers in Ireland – Jameson, John Powers, Cork Distilling Company, and Bushmills (who has since left the group) – joined forces to create a unified front in the aspiration to regain Irish whiskey's foothold in the world market, which had been in decline for decades. Pooling resources and marketing efforts, Irish Distillers slowly crawled Irish whiskey back from the brink, and in the 1970's further cemented their partnership by building a new distillery at Midleton (near Cork) to streamline production, and in the process guarantee quality across the board for their whiskies.
Bought by world spirits powerhouse Pernod Ricard S.A. in 1988, Irish Distillers makes many of the top brands in Ireland, including Jameson, Redbreast, Powers, the two Spots – Green and Yellow, and of course Midleton itself. We'll focus on the single pot still whiskies here, each of which makes multiple expressions. Keep in mind that while they are all made in the same place using a base distillate made from 40% malted and 60% un-malted barley, they are each very different.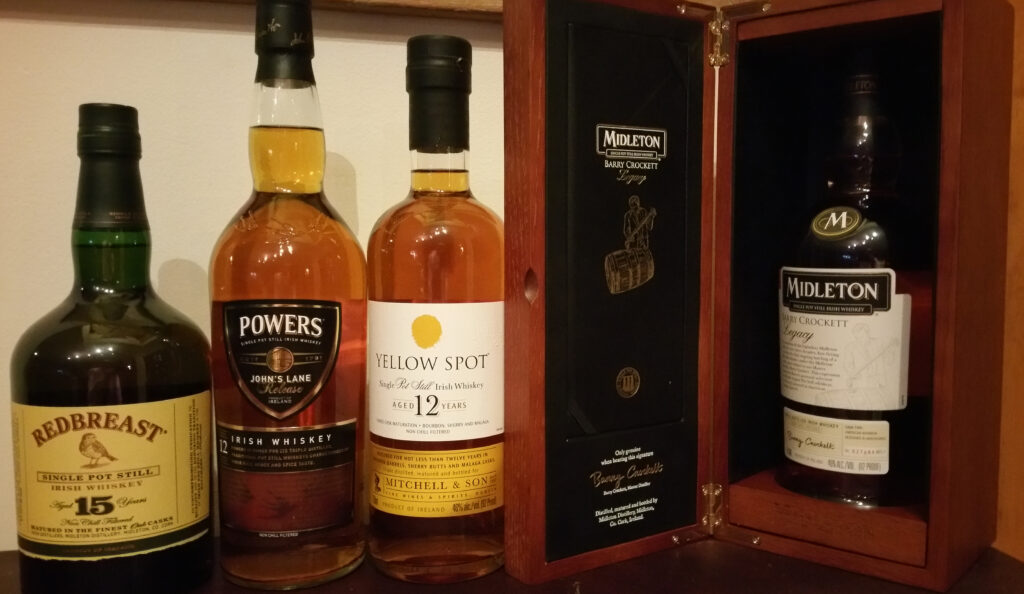 Powers Johns Lane Release ($70) – Founded in 1791, Powers was at one time Ireland's largest selling bottled whiskey. But as other brands increased market-share, Powers, in part due to an undersized infrastructure, found itself struggling to keep up with demand. Fast forward a bit through its partnership with Pernod Ricard and Powers now is regaining that status thanks to whiskies like its Johns Lane Release, an amber-gold nectar of a whiskey that spends 12 years in American oak before a bit of Oloroso barrel-aged whiskey is blended in before bottling. Very rich on the palate and filled with honey, spice, and sweet notes from the oak, it is the jewel in the Powers crown. Said John Clement Ryan, Great, Great, Grandnephew of founder James Power, "with the Johns Lane, we felt the time was right to make a statement." And they have.
RedBreast 15 Year – ($75) – Though it has roots back to the early 1800s, Redbreast was originally a custom whiskey made under contract by Jameson for the Gilbey family, bonded bottlers in Dublin who then sold it to the public. Named for the Robin Redbreast, reputed to be the only bird to continuously sing through Ireland's dark Winter, Redbreast: the whiskey, fully owned by Irish Distillers since 1985, is released in a variety of age statements: 12, 15, and 21 year old. The 15 year old is aged in ex-Bourbon barrels and Oloroso Sherry casks and at 92 proof, is a full bodied, complex, and powerful whiskey with lovely hints of berries, wood notes, and lively spices and aromatics.
Yellow Spot ($100) – The Spot whiskies originated through the Mitchell family, wine and spirits merchants in Dublin who marked their different barrels with colored "spots" to identify the age of the whiskies inside. One of the more unique whiskies to come out of Ireland, The Yellow Spot is a blend of three lots, each aged for 12 years in different woods: ex-Bourbon barrels, Sherry butts, and Malaga casks. Non-chill filtered, it is bright, clean and creamy-rich on the palate, with notes of clove and black pepper in the nose. The Malaga cask addition gives it a liveliness that makes it feel fresh through the extended notes of vanilla and peach. A soft and VERY intriguing whiskey, and "spot "on.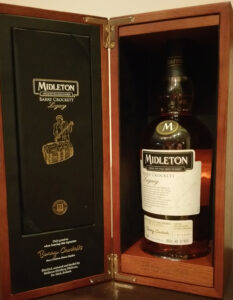 Midleton Barry Crockett Legacy ($250) – Considered the Holy Grail of Irish whiskies, Midleton's offerings are at once cruelly defiant and happily forthcoming with their seemingly endless layers of flavors, which will have your palate beguiled from the first sip. For years a brand focused on only special bottlings and unique wood expressions, isn't it appropriate that the Legacy, Midleton's first ongoing bottling of a Single Pot Still release, is named after the brand's chief whiskey steward of the last 35 years, Master Distiller Barry Crockett. A blend of whiskies ranging in age from 18 to 28 years old, the Barry Crockett Legacy is a Pure Pot Still style, modeled after the Irish whiskies of old, with the majority aged only in American oak Bourbon barrels before the final blend is put together by adding a selected pot distillate that is aged in new, unused American Oak casks. A simply stunning whiskey, it is a sip to be savored slowly.
Whatever your whiskey pleasure, be it spicy, sweet, full-bodied, or delicate, you'll find a bottle worth a look on this list. Enjoy.
 Listen to our show om Irish Whiskey with Jessamine McLellan here