We've been fans of Italian dry rosé for many years and feel they need more shelf space and attention. But France, being the "motherland" of dry roses, tends to overshadow its Italian neighbor. Rosé is the second most consumed wine in France after red, and French rosés account for 31 percent of the global market.
In comparison, Italian rosés, which have been made for millennia, account for 10 percent of global production. That may seem small but it's getting mightier, thanks more awareness of styles, availability and the introduction in August 2020 of rosé Prosecco, an entirely new category that is making waves.
Classic vs. Modern Styles
Almost every region of Italy produces still rosé, locally referred to as "rosato." Styles differ from north to south based on climate, topography, and method of production. The variety rosés throughout Italy offer a wonderful range to taste.
In times past, northern Italy was influenced by Roman and French traditions using a wine press to elicit the desired lighter pink color. Southern Italy was influenced by Greece where grapes were pressed and placed in large stone urns to macerate, resulting in a darker style.
While many vintners are adapting their methods to create lighter styles of rose to appeal to a broader audience, we find the darker rosés, notably Cerasuolo d'Abruzzo, and Puglia's Negroamaro Rosatos (they also make red with this ancient variety), lend themselves to more food pairings. These wines, in particular, often have some aging potential.
Veneto
Chiaretto means "pink," and this region in northern Italy around Lake Garda is known for its rosés with 10 million bottles produced annually.  The main town is Bardolino at the foothills of the Dolomites.
Producers in this area frequently reference the "lake effect," the cool breezes that blow through the vineyards, resulting from wind tunnels created by the Dolomites, resulting in very pure air. Another 'effect' from the mountains and the lake is the mineral rich soil and thermal waters which create a whiff of salinity to Chiaretto wines, much like those made in southern France. In fact, the Garda climate is often compared to Provence, making it a very popular vacation destination, especially among German tourists.
One can travel to the east and west sides of Lake Garda to discover very distinct styles, thanks to different microclimates and grapes. On the south and east banks of the lake, the dominant indigenous red grapes are Corvina and Rondinella, both naturally low in pigment. these are used to make Chiaretto di Bardolino, a nod to the main town. Chiaretto di Valtènesi is made on the western shore. Here, rosés are made with indigenous Groppello and usually blended Sangiovese and Barbera, resulting in deeper berry and spice notes.
We both have visited the Garda region to learn about Chiaretto and find these rosés to be undiscovered gems. Two wines we recently tasted:
Valetti Bardolino Chiaretto Classico: A blend of Corvina, Rondinella, Molinara and Sangiovese www.valetti.it (Krewe di Bizou Wines).
Corte Gardoni "Nichesole" Chiaretto:  A blend of Corvina 80% and Rondinella 20%. www.cortegardoni.it    (Kermit Lynch)
Another Veneto producer we recommend is Bertani Bertarose, whose rosé is a blend of 75% Molinara and 25% Merlot.  www.bertani.net  (Taub Family Wines)
Abruzzo
This wine region is located between the Apennine Mountains and Adriatic Sea. We had the pleasure of visiting in July 2019 on a trip hosted by Umani Ronchi, one of the region's leading producers (Vineyard Brands). Lucky for us it was sunflower season. The fields were awash in a blaze of vibrant yellow, and the weather was warm and dry.
Lighter colored roses tend to come from coastal areas. But here, it's a darker style of rose that earns a DOC designation: Cerasuolo d'Abruzzo. The variety is Montepulciano d'Abruzzo, a red grape that results in wines with a rich garnet color and pleasant red berry and balsamic notes. The darker hue earned these wines their name; Cerassa means "cherry."
Wines to try:
Torre Zambra Cerasuolo d'Abruzzo (Frederico de Cerchio Family Estates) This wine has a lighter (for Cerasuolo) garnet color. www.federicocherchio.com.  (The Wine House)
Barone di Valforte Cerasuolo d'Abruzzo. This wine is a deeper ruby, almost a light red. www.baronedivalforte.it/en (More Than Grapes)
Calabria
Often referred to as the toe of the Italian boot, Calabria is one of Italy's southernmost regions. Historically influenced by Greece, Calabrian wines may seem new to those who have not visited the area or tasted the wines. The local variety is Gaglioppo, known for producing softer, spicy reds.
Librandi Rosato, Cirò DOC: 100% Gaglioppo. The color of this wine is a deep blush with a hint of gold. www.librandi.it/en (Winebow)
Sicily
No doubt a rising star in Italian wine production thanks to its food friendly reds made from Nero d'Avola and fascinating indigenous whites like Grillo and Insolia
Planeta Sicilia DOC Rosé:  A blend of 50% Nero d'Avola and 50% Syrah. A lighter style or rosé for an aperitif or boiled seafood. www.planeta.it/en (Taub Family Wines).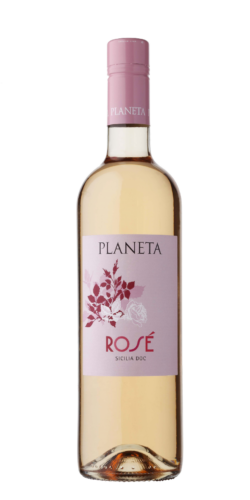 About Rosé Prosecco
Rosé spumantes (sparkling wines) are made throughout Italy, but it wasn't until August 11, 2020, that production of DOC Rosé Prosecco was allowed. Almost immediately rose Prosecco became a global superstar. Now suppliers are working hard to keep up with the demand with production is increasing from 17 million bottles to 60 million bottles in 2021, according to the region's Consorzio.
The base grape for all Prosecco is the white Glera. The grapes undergo primary and secondary fermentation in a pressurized tank, a process known as "charmat" or the Martinotto method. To make rosé Prosecco, a red grape, usually Pinot Noir (Pinot Nero) at about 10-15%, is co-blended with the Glera prior to secondary fermentation for around 60 days.
For those familiar with the white peach and green apple essences in many traditional Proseccos, tasting a rose Prosecco will delivery slightly creamy strawberry notes.
We are just sinking our teeth (and lips) into tasting rosé Proseccos. The category really deserves a separate post of its own.

Try:  Valdo Prosecco DOC Rosé  www. valdo.com/en (Taub Family Wines)