She's the wine columnist for The Wall Street Journal and former executive wine editor for Food & Wine Magazine, Lettie Teague is one of the most articulate and straightforward wine writers in the industry, and her numerous James Beard Foundation Journalism awards attest to this.
We visit with Lettie June 10th on The Connected Table LIVE! fresh from being honored by the Wine Media Guild and on the heels of the release of her new – and third -book, Wine in Words (Rizzoli). This book is a collection of witty ruminations on wine from "Fun To Know," "Need To Know" and "Who Knows?" It's a pleasurable read best paired with a glass of milk(?) at bedtime (Ha! Ha! Not!).  Perhaps a port instead
Lettie believes insatiably curious oenophiles should drink what they don't know versus just what they like to pleasure their senses and expand their palates (There is an essay on being "a palate" in Wine in Words.
This book is a great gift for wine lovers. Here are also some other wine gifting ideas from Lettie:
Lettie Teague's Rules for Wine Gifting:
Give a magnum.
Better red than white
Avoid the obscure.
Sparkling is best.
Resist the gift set.
Connect with Lettie Teague on Twitter  and Facebook
– posted by Melanie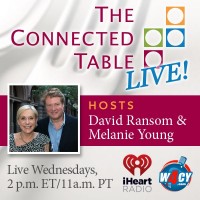 Listen to David and Melanie every week Wednesdays, 2pmET on The Connected Table LIVE at www.W4CY.com and always- anytime- at www.iHeart.com and the iHeart App.
Please Like us and Love us by Sharing our Blog and Links:
http://www.iheart.com/show/209-The-Connected-Table-Live
Love us more by introducing us to a show sponsor. We're looking for a great fit!