Selecting wine for a party is like inviting the ideal guest: You want someone fun with an easy-going personality who helps bring the party to life and keeps the conversation going without dominating the group.
Wine is the same way. As a host, you want to serve a wine that appeals to even your pickiest guests, works with the different dishes being served and is agreeable on the palate. You want it to be tasteful  and within your budget. You want something under $15 that is a quality wine with an attractive and not-too-kitschy label that looks nice on the table or bar.
For many hosts that wine is Pinot Grigio. It complements many foods without overpowering. It appeals to people who prefer a white wine that's refreshing and fruity and not overly oaked. Maybe that's why Pinot Grigio is a popular house wine at bars and restaurants, as well as a go-to wine for at-home entertaining. It's likeable without being intimidating.
So, why do some people still turn up their noses to Pinot Grigio when it's one of the top-selling white wines? It's probably because Pinot Grigio became a victim of its own success. As more people consumed this easy-to-drink white wine, more producers rushed to make larger volume wines to seize the opportunity to sell more bottles. Quantity overtook quality. There was more mass and less class to the wines.
Maybe you are rolling your eyes as you read this because you think you are not a Pinot Grigio drinker. Maybe you've tried a few that just tasted unremarkable with no sense of place. Perhaps some were too fruity or a tad astringent. Maybe you felt it was time to graduate to another grape.
But, remember this…..
Pinot Grigio is grown around the world and there are different styles. It's like Chardonnay and Merlot. Some scoff at these wines because they've tried wines from specific production areas that may not appeal to their personal taste. Yet, Chardonnay is the main grape in France's prized Burgundy white wines, and Merlot is one of the noble red grapes used to make Bordeaux wines. Scoff no more!
The same goes for Pinot Grigio. Why knock an entire category of wine just because you've tasted a few that did not suit your palate? What's important is to think about where the grapes are cultivated and how the wine is made.
Like all good wine, it starts with a sense of place.  Italy is the best-known producer of Pinot Grigio. The country practically put this wine on the world map, and it produced Pinot Grigio in several areas.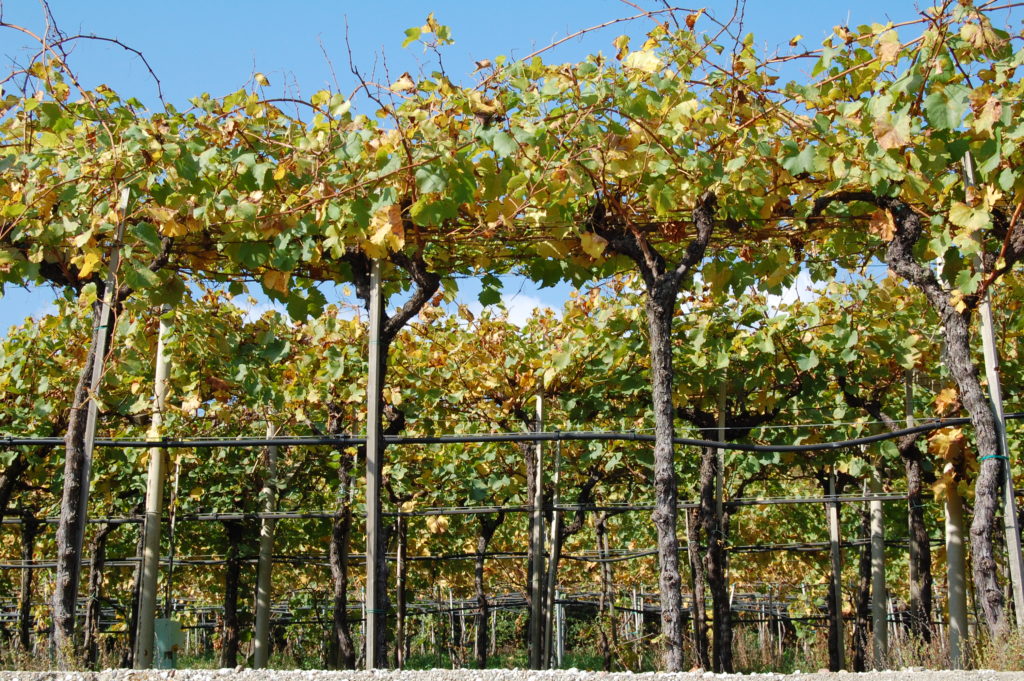 If your preference is for a soft, fruity style of Pinot Grigio with crisp acidity and minerality, look to wines made in Trentino- Alto Adige, located south of the Austrian border. Frequently referred to as simply "Alto Adige,"another local name for this area is Süditrol,(a.k.a. "south of Tyrol"). This is a nod to the region's Germanic heritage. A critical passageway on the early trade routes between Italy and the rest ofEurope, Alto Adige was under the Austro-Hungarian empire for a long time until itwas annexed by Italy after World War I. Even today, residents speak a dialectthat blends Italian, German and Ladin (a traditional vernacular of the local mountain dwellers).
Alto Adige is a visually stunning area. Steep, craggy peaks of the snow-capped Dolomite Mountains frame rolling hills dotted with farms, vineyards and apple orchards. While AltoAdige produces its fair share of red wines, those made with the local Schiava and Lagrein varieties, the white wines are the standouts, notably Pinot Grigio. 
Some of Italy's Best Pinot Grigio is made in Alto Adige 
Pinot Grigio wines from Alto Adige have ripe stone fruit and delicate floral notes that deliver a pleasant mouth-popping acidity. One reason is the favorable growing conditions which combine warm sunny days, chilly nights and nutrient-rich glacial soil (also referred to as morainic).
An example is Lagaria Pinot Grigio Delle Venezie made in Val Lagarina, a small valley tucked between the Dolomites and Lake Garda. Lagaria's vineyards are located between 600 and 1600 feet above sea level. The higher altitude and brisk winds from the nearby mountains bring pure, cool air to nurture the vines. The vineyards face south, allowing grapes to ripen in just enough sunlight to bring out their lush fruit, and are planted in gravelly soil which helps retain heat from the sun and soak in rain water. The gravely volcanic soil contains sediment and fossils to enrich the vines. 
The perfect combination of sun, wind and soil provide an ideally balanced microclimate forgrowing the grapes. Of course, mindful of sustainability, Lagaria's winemakingteam employs renewable energy in every phase of production.
Lagaria's winemaker is Franco Bernabei, one of Italy's most respected consulting oenologists. Bernabi's approach to making Lagaria is to allow the wine to have prolonged contact on the lees well into the early spring after harvest and just before bottling. This crucial step creates a soft complexity that other styles of Pinot Grigios may lack.


This is why anyone who usually says "No" to Pinot Grigio, may have a second opinion once they taste Lagaria. This pale, straw-colored wine delivers a pleasant kiss of apple, apricot and pear aromas and doesn't smack your palate with heavy fruit.  With just a few sips, you're dreaming about gathering with friends after a day on the ski slopes or sunning at the beach.
Lagaria Pinot Grigio Belle Venezie is a versatile wine that pairs with everything from pizzas and salads, to light pasta dishes and raw or cooked seafood, even southern-fried chicken. At $11 a bottle, it's the ideal reception wine when you need an agreeable well-priced white wine to serve to a group.
Lagaria's chic label is designed by one of Italy's top illustrators, Stefano Riboli. Look for the bella donna (beautiful woman) perched on a Vespa. Perched on your table, she's a conversation opener and an Instagram photo opp even before you pop the screwtop.
You simply can't go wrong with the right Pinot Grigio for any occasion. Give it a try!
TCT- Sips! brought to you by Lagaria