Our motto: "Drink wine. In moderation. Make it good wine."
Mark Oldman says he is a passionate proponent of drinking richly without spending extravagantly." Let's face it. You can have an expensive bottle of wine that ends up being as enticing as smelly socks. And you can have an inexpensive bottle of wine that may knock your socks off. Money doesn't buy class, and true class doesn't need money.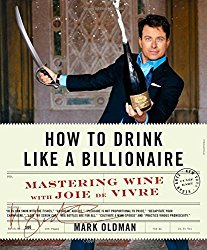 Author of "Oldman's Guide to Outsmarting Wines" and "Oldman's Brave New World of Wine," Mark's new book is entitled, "How to Drink Like a Billionaire: Mastering Wine with Joie de Vivre." Now, usually we have more joie and vivre than big bucks in the bank, so we were intrigued to hear what Mark had to say when he joined us December 14 on The Connected Table LIVE.
You can listen to the interview here and anytime on iHeart.com and the free iHeart App:
Buy Mark's new book here: