If you've ever visited the lush bucolic home of the painter, Claude Monet. you will be transformed by its beautiful gardens. Located in a the tiny and very pretty town of Giverny, France, it's an easy day trip everyone must take from Paris and, please, allow plenty of time to savor it.
Another way to savor Monet's gardens is through Aileen Bordman's book Monet's Palate Cookbook: The Artist & His Kitchen Garden at Giverny (Gibbs-Smith Publishers). Written with garden writer, Derek Fell, this book includes 60 recipes linked to Monet's two-acre kitchen garden near his home in Giverny. With a forward written by none other than Meryl Streep and recipes beautiful photographed by Steven Rothfeld, Monet's Palate Cookbook transports you to the French countryside in the days of the Impressionists when farm to table was the only way to eat.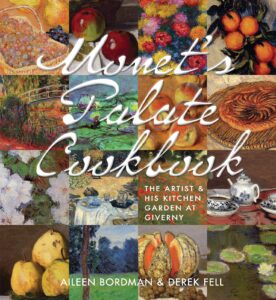 Aileen joins us on The Connected Table LIVE! August 26, 2:30PMEST, to share her own personal journey through Monet's Garden as filmmaker and culinary historian. President and Founder of Monet's Palate, Inc, she has been immersed in the world of Claude Monet since 1980 and has more than 35 years of firsthand experience at Monet's home and gardens. Her knowledge and passion with respect to Claude Monet's lifestyle, cuisine, gardens and art prompted the creation of the Monet's Palate concept.
Aileen is the creator and producer of the acclaimed documentary film titled "Monet's Palate: A Gastronomic View from the Garden," which has been broadcast nationally through American Public Television to all 350 PBS stations.  She independently wrote and produced the film Monet's Palate with Meryl Streep, Alice Waters, Daniel Boulud, Michel Richard and Steve Wynn. The film has been screened from Cannes to New York, and was featured during the six-month "Monet's Garden" exhibit at the New York Botanical Garden in New She lives just outside New York City in New Jersey. Website: www.monetspalate.com  Twitter@monetspalate  Facebook/Monets.Palate.Claude.Monet