Considered one of Europe's finest cheeses, DOP Piave (pronounced PYAH-vey) is a hard-aged, pasteurized cow's milk cheese with concentrated sweet and savory flavors and soft, dried tropical fruit and nutty, and caramel notes. DOP stands for "protected designation of origin," a label established by the European Union to recognize agri-food excellence and heritage artisan foods. The designation aligns with strict production standards to help protect products from imitation. These guidelines follow centuries-old traditions in foods.
What sets Piave DOP from other cheeses?
Let's start with "terroir." Piave DOP cheeses can only be made in Belluno, a province in northern Italy where the towering Dolomites meet the Piave River, today a UNESCO World Heritage Site. Here, cheesemaking dates to the 1800s. This pristine mountain setting is ideal for the local cows to roam freely to graze; their only other diet is high-quality cereal and grains. The nutrient-rich cow's milk contains essential amino acids and calcium. The characteristics in the milk and whey contribute to the two autochthon bacterial cultures which produce the enzymes that create the unique savory-sweet character to this cheese.
All Piave DOP cheeses are hard cooked and pressed into a mold. After pressing, the cheeses are placed inside a branding ring and stored in temperature-controlled rooms to form the rind. This is the branding phase during which the name "PIAVE" is impressed on the side of the cheese. This step is an important distinguishing characteristic to look for when purchasing authentic PIAVE DOP cheese. After being soaked in a brine bath the cheese is ready to be taken to the maturing warehouse to age from two to 12 months.
Here are three types of Piave DOP Cheese to try:
Piave DOP Mezzano (aged 2 to 6 months) is a semi-hard and smoother cheese with a milder and sweeter flavor with aromas of warm butter on toast.
Piave DOP Vecchio (aged at least 6 months) is hard and crumbly with a slightly savory and nuttier flavor with aromas of brown butter and toast.
Piave DOP Oro del Tempo (aged at least 12 months) is hard and crumbly with complex flavors of roasted nuts and brown butter laced with dried mango.
Serving Tips
Piave cheese doesn't need a lot of fuss. Consider it as the ideal "aperitivo cheese" sliced straight from the wheel and served on a cheese plate alone or alongside milder-flavor condiments such as local honey or confitures whose sweetness complements the savory, nutty flavors of the cheese. Piave DOP also works well shaved over bitter greens salads or grated over risotto (e.g., Piave Oro del Tempo).
The classic wine pairing:
There's a popular saying when pairing wine with food: "What grows together, goes together." So, consider the crisp sparkling and still white wines of Garda DOC (Denominazione di Origine Controllata), a beautiful wine region surrounding the shores of Lake Garda just below the Alps.
The Garda DOC region stretches from Valtènesi on the Lombardy side of Lake Garda to the all the provinces of Verona. Central to everything is Lake Garda, Italy's largest lake, a popular vacation destination which attracts more than 13 million tourists annually.
The Lake Garda region is prolific in wine production with more than 10,000 growers and 400 winemakers throughout 10 historical appellations surrounding its shores. The climate is a winemaker's paradise with sun-drenched summers cooled by the Alpine Mountain air and cold, dry winters. The vineyards are set on morainic, mineral-rich soils formed by ancient glaciers.
The impact of Lake Garda on the local terroir for growing grapes is significant. Lakes retain heat in the air and provide a moderating influence in colder climates. Known as "lake effect," this natural climate control helps prevent vines from freezing during cold winters and provides added protection against frost. The climactic conditions allow the grapes to ripen solely and evenly to develop their optimum flavor and acidity.
This combination of climate and fertile, rocky soils is ideal for growing cool-climate grapes including whites: Pinot Grigio, Chardonnay, and reds: Pinot Nero and Cabernet Sauvignon. The most produced native varieties include Garganega (white) and Corvina (red).
The Garda DOC designation specializes in sparkling wines and varietal wines, and there are many styles to taste. Garda DOC spumante wines can be produced either in the "metodo classico" (bottle-fermented) or Charmat (tank- fermented), using one or a blend of Garganega, Trebbiano, Chardonnay, and Pinot Grigio. Garda DOC spumante roses can be made from any red variety grown in the region, notably Pinot Nero, Merlot, Corvina, and Rondinella.
Garda DOC varietal wines are aplenty as well, notably Garda DOC Pinot Grigio, Chardonnay and Cabernet Sauvignon.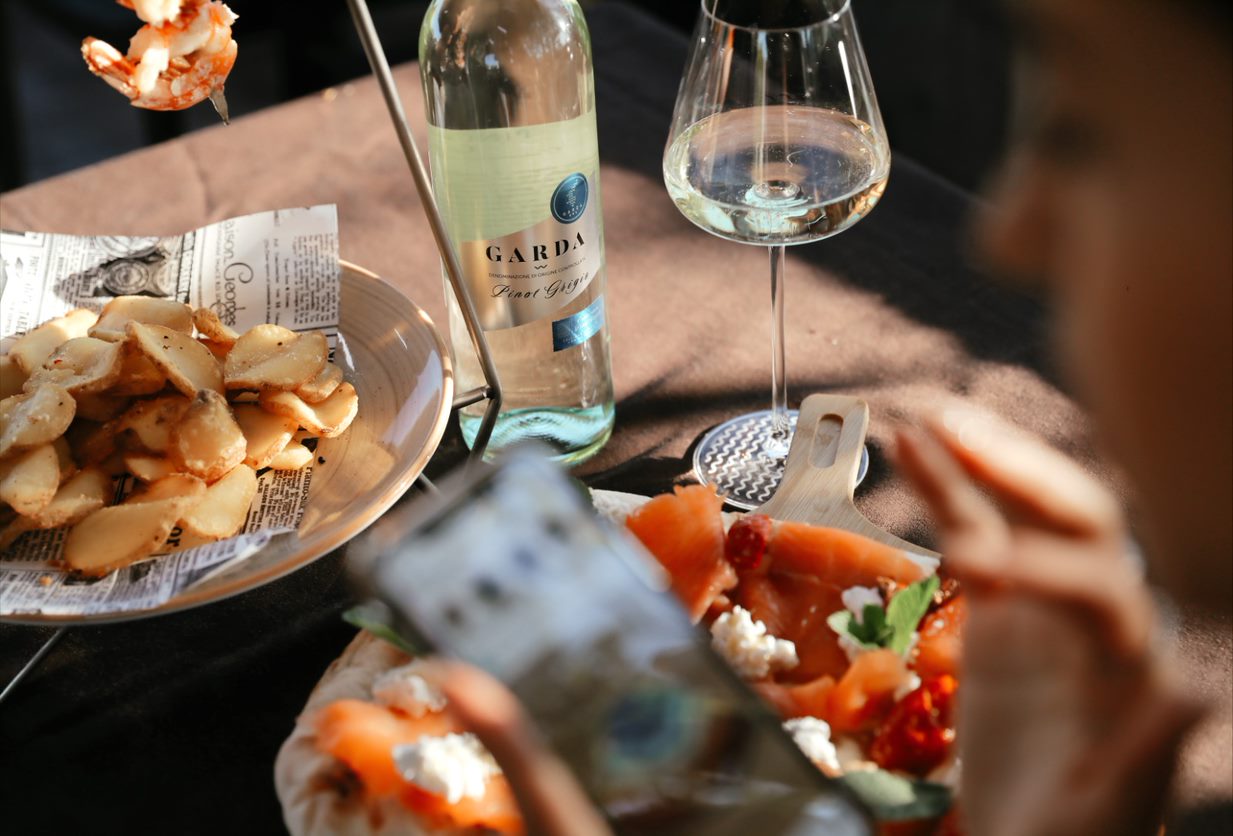 Perfect Pairing Suggestions:
The crisp acidity in a Garda DOC still and sparkling wines complements the fattiness of the cheese and will pair beautifully with all styles, notably the less aged cheeses. Here are some other suggestions:
Piave DOP Mezzano. This milder cheese marries well with sweet and acidic foods such as peeled Italian tomatoes, chestnut honey, and sweet cured meats. Pair with: A Garda DOC brut sparkling wine.
Piave DOP Vecchio. Bolder and sweeter flavors such as local sausage or prosciutto, cornichons and dried mango or papaya match with the savory notes of Piave Vecchio. Pair with Garda DOC Brut or rosato sparkling wine or Garda DOC Pinot Grigio.
Piave DOP Oro del Tempo. The additional aging on this cheese brings out its nutty flavors. Consider a Garda DOC Chardonnay or a Garda DOC Pinot Nero or Corvino, still or sparkling. Additional serving ideas: shave over bitter greens or grate over a bowl of risotto or simple pasta.
Listen to Melanie and David discuss their impressions of the Garda DOC region and tasting Piave DOP cheeses on The Connected Table SIPS podcast. Click below or this link: The Connected Table SIPS! | iHeart
For more information on pairing Piave DOP cheeses and Garda DOC wine pairings visit: www.gardapiavepairings.us
Additional information  can be found here:  www.piavecheese.com  and www.gardadocvino.it
This post and podcast are a collaborative campaign that has been financed with help from the European Union. The content of this article/podcast are the views of the author/host. The European Commission and the European and the European Research Executive Agency (REA) do not accept any responsibility for any use that may be made of the information it contains.