What factors have driven the rosé revolution? We posed that question to Master of Wine Elizabeth Gabay during a conversation on The Connected Table LIVE! Gabay lives in the South of France where she has become a definitive "voice" on the subject of rosé wines.  We've had the pleasure of spending time with Gabay in Sicily on two different wine trips. Most recently in May, she led master classes on both Sicilian rosé and sparkling wines.
Gabay is the author of "Rosé: Understanding the Pink Wine Revolution" (2018), a global overview of the history and styles of rosé. The second book, published in July 2022 and written with her son and co-collaborator, Ben Bernheim, is 'Rosés of Southern France' – a handbook highlighting the terroir, traditions and regional diversity of the rosés of southern France.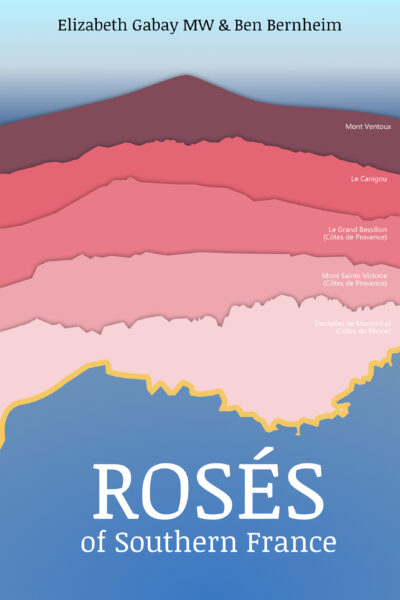 Born in New York to artistic parents, her family moved to London to be closer to her mother's family in the swinging 1960s. Young Gabay was a history buff and majored in medieval history in college. Her first journalism job was working with "History Today." She remains passionate about history, archeology and theater.
Gabay started collecting wine books at age 16, but her road into working in the profession was more serendipitous. Her parents had a house in the south of France. Someone suggested she helped sell Provençal wines in the U.K. Her interest in wines and their history and terroir grew. In 1998, Gabay became a Master of Wine. Her thesis was on clonal selections.
Ben Bernheim shares his mother's thoughtful approach to reporting on wine and has proven to be a strong collaborator. Working together, Gabay says mother and son are both "horrendously geeky" when it comes to wine. "We both enjoy the intellectual discussion about wine and especially when it comes to rosé." Another research project Bernheim is tackling is single parcel wines.
Gabay and Bernheim have also partnered with Slovakian winemaker, Vladimir Magula, to produce Sen, a rosé blended from 90% Cabernet Sauvignon and 10% Frankova (Kékfrankos, Blaufrankisch). We have not tasted Sen yet but hope to (as well as visit Slovakia).
As for the answer to our question about what factors drove the rosé revolution…..listen to our conversation with Elizabeth Gabay MW and Ben Bernheim on The Connected Table LIVE. Click below or this link.
Photo credits
Elizabeth Gabay holding a glass of wine (featured photo): Institute of Masters of Wine