A sunset stroll on a warm September evening in lower Manhattan while watching party boats cruise the Hudson River had us reminiscing about the New York restaurants we'd loved and lost. The occasion that prompted this was a dinner at Institute of Culinary Education (ICE) with Chef David Waltuck who was recently named Director of Culinary Programs.
David prepared five signature dishes from his landmark restaurant, Chanterelle, which closed in 2009 after 30 years in business. It was lovely to see David in action and catch up with his wife and partner at Chanterelle, Karen, as well as Andrew Friedman who collaborated with David on the book, "Chanterelle: The Story and Recipes of a Restaurant Classic."
I could write a memoir based around restaurants that played an important role in my life. Some were clients. Others were host venues for my events. Many participated in programs I produced such as New York Restaurant Week, The James Beard Foundation Awards and the Bon Appétit Wine & Spirits Focus. Many took good care of me when I paid a visit either as a solo diner or when I dined with good friends or my parents when they paid me a visit from Tennessee. Many owners became close friends.
We made a list sitting on a bench watching the sunset. We named it "the restaurants we loved and lost." The sun may have set on these restaurants, but they each left a special imprint in various aspects of our life in Manhattan. The reason why some of them are included is another story for another time!
Our list: An American Place, Arizona 206, Beppe, Bolo, Capsouto Frerès, Chanterelle, Cité, Danube, Hudson River Club, Lespinasse, Lola,The Four Seasons, Giovanni's Atrium, La Caravelle, La Cote Basque, La Fourchette, Les Célébrités, Le Madri, Les Halles, Lutece, March, Mesa Grill, Nosmo King, The Oak Room, Pastis, Peacock Alley, Princess Pamela's Little Kitchen, Picholine, Pipa, Quilted Giraffe, Rainbow Room, Restaurant Florent, San Domenico, SD26, Sign of the Dove, Tabla, Union Pacific, WD50, Windows on the World, Verbena, Veritas, Zarela. And then there are the original locations no more: Bouley, Le Cirque and Union Square Cafe. More recently it was announced that Carnegie Deli will close the end of 2016; its rival, Stage Deli, already shuttered.
I know you have more to add to this list based on your own personal experience. We found list on Gayot.com.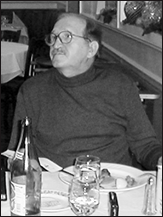 The above photo is of the late Giovanni Natalucci of Giovanni's Atrium in Lower Manhattan. (Credit: Downtown Express file photo by Maria Yoo).  Our back story: A small group of us tried to "save" Giovanni's Atrium after the September 11th terrorist attacks by hosting events there. At a dinner party in 2003 I reconnected with David after not seeing him for more than a decade. Both the restaurant and its owner left us in 2008, a year after David and I were married.