Greetings from "Roam." That is our current state of being….wherever we roam on an indefinite road trip. In August we sold our house in the Hudson Valley, which we referred to as "Camp David." That is one reason you have not heard from us in several weeks. Selling your home and most of your possessions and packing what is left into a 16 x 10 -foot storage Pod is a job unto itself. Watching the Pod leave our driveway August 11 to rest somewhere in upstate New York until we plot a permanent move was emotional. But seeing an "open road" ahead is exhilarating!
We kept a few key things for our #TheConnectedTableRoadTrip culinary survival kit: Riedel glassware, utensils, cooking knives, cookware and spices. Our handy VinGardeValise® wine suitcase is packed with select bottles. And we have our computers and radio equipment to write and broadcast from the road. What more do we need? Oh, right, the dog… Yes, @sazeracsays is with us and posting as we #roamNewYork.
Currently we have been spending time upstate in the beautiful Finger Lakes region having just returned from a visit to the Niagara region and Buffalo, where David's family settled some two centuries ago. We visited Ransomville (named for the family) and David was able visit the town historical society which had a section dedicated to his ancestors.
Dubbed the Queen City of the Great Lakes back at the turn of the last century, Buffalo's stunning architecture and Frederick Law Olmstead-designed parks impressed. We also visited David's grandparents' (Ransom) home, now occupied by a law firm which has an appointed "house historian" named Amanda who was thrilled to meet an original Ransom!
Buffalo restaurants are starting to serve inside – safely socially distanced- and continue to offer patio, takeout and delivery options. We visited Dobutsu, which serves an Asian-Pacific menu, and tried the lobster ramen and the spicy rice with pork. Owner/Chef James Roberts also owns Toutant, which focuses on specialties from Louisiana. Roberts resettled in Buffalo after Hurricane Katrina. www.dobutsubuffalo.com www.toutantbuffalo.com
The other was Marble & Rye, where the menu was gastropub with a twist. Standout dishes for us were the spinach ricotta dumplings with pan-fried smelts tossed in a spicy puttanesca sauce, Asian noodles in peanut butter sauce and sea scallops ceviche with rice crackers. The beverage program, overseen by bar manager Megan Lee, would rival any in the country, and as the establishment's name suggests, there is a strong focus on Rye spirits.
Of course, David enjoyed the classic Buffalo sandwich, Beef on Weck (thinly sliced roast beef on a kummelweck roll (sometimes spelled kimmelweck) served with horseradish and beef jus) and Buffalo chicken wings. While The Anchor Bar can lay claim to inventing this spicy dish, good wings can be found all over the city, and there is considerable debate on who makes the best. Our pick? Let's just say that those in the know head to Gabriel's Gate in the Allentown neighborhood for theirs. www.gabrielsgate.page.tl
Western New York is known for its stone fruits, and the bag of fresh peaches we bought were some of the juiciest we have tasted. We also purchased some gorgeous mushrooms and vegan burgers at the Elmwood Village Saturday farmer's market. We also stopped in at several wineries (will report on that separately) and visited Niagara Falls.
Taking the Maid of the Mist boat ride practically into Horseshoe Falls – and getting seriously misted in the process! – was a bucket list experience for both of us. We stayed on the New York side since Americans currently cannot travel to Canada due to COVID-19 restrictions.
Also, not to miss is a visit the to Martin House designed by Frank Lloyd Wright. This home, built in the early 1900s, belonged to Larkin Soap executive, Darwin D. Martin,  at the time one of Buffalo's wealthiest citizens (he moved into the home in 1905). The design is Lloyd Wright's "prairie style" with expansive. lean horizontal lines and open room layout. The Treesof Life glass windows are masterpieces in glass art design; we even saw one on display st the Corning Museum of Glass Design.
We want to give a special shout out to Karen Fashana at Visit Buffalo Niagara for sharing tips on what to visit and where to dine www.visitbuffaloniagara.com and to Jennifer Redmond, General Manager at the Residence Inn by Marriott in downtown Buffalo, who arranged our spacious room, complete with a kitchen that offered real wine glasses and coffee mugs. Working on the roam, this hotel provided us what we needed both to relax and to work, and it is pet friendly! This hotel is located across the street from the Theodore Roosevelt Inaugural National Historical Site and is convenient to many attractions.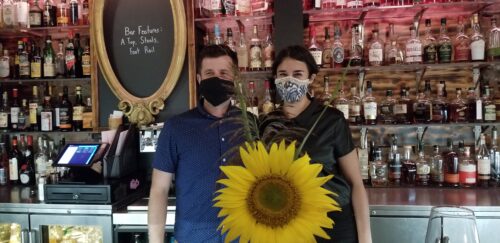 Buffalo (NY)'s food scene is more than its iconic chicken wings and Beef on Weck. Marble+Rye's Christian Wilmott and team serve dishes focused on local, seasonal ingredients and craft cocktails on the episode of The Connected Table Live (second segment).