Our August 14 edition of The Connected Table LIVE comes with a southern drawl and a discussion about food that left listeners (and us) drooling, courtesy of 
Virginia Willis
, author  of
"Secrets of the Southern Table"
and southern food chronicler.
The South is a delicious hodgepodge when it comes to its culinary heritage and it is one of the most fascinating places to visit because of it. Many customs are rooted in traditions that blend diverse cultures: Irish, Scottish, English, French, African, Hispanic, Vietnamese and Greek, just to name a few. In fact, the upcoming Les Dames d'Escoffier International Conference October 24-27 in Nashville has a seminar focused on sorghum and honey and another on the culinary influence of immigrants past and present in the state of Tennessee. Diversity is the fabric of the south, and it's delicious. Hopefully this unique cultural heritage will endure and achieve greater appreciation.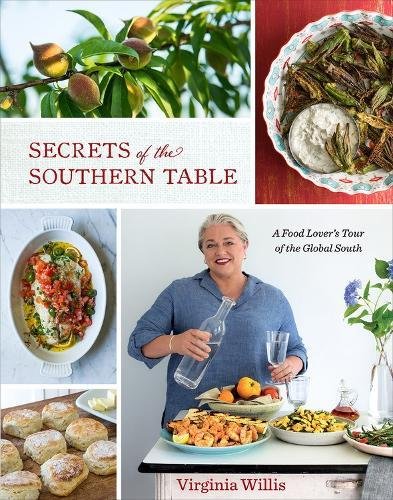 In Secrets of the Southern Table (Houghton Mifflin), Willis introduces us to the farmers, producers and fisherman who supply the foods many of us enjoy at the restaurants throughout the south. Some are multi-generational families; others are (relatively) newer enterprises born from the dedication of immigrants who settled in pockets of the south. It's a culinary tour that runs the gamut from sweet potatoes and grits to gospel birds and game birds to sweet shrimp and sausages. Throughout the book you can't help but ponder about what truly defines "heritage" in the new south. It's a richer place today thanks to the many cultures you find there. We should never take that for granted.
Willis has written cookbooks covering everything from single subjects (okra and grits) to the complete southern table with Bon Appetit Y'all and Basic to Brilliant, Y'all. And then after filling us all up with rich delicious recipes, she taught us how to "Lighten Up Ya'll" with a tailored approach to preparing southern dishes. – trimming the fat without losing the taste. Her  articles and recipes can also be found at her  "Cooking with Virginia" column in Southern Living magazine.
Listen to The Connected Table LIVE with Virginia Willis here. Click image below:
Buy Secrets of the Southern Table Here. Click Image below.