The Moretti Cuseri family achieved success producing luxury footwear and fashion in Italy. They bring their sense of handmade luxury style making wine at their five estates in Tuscany and Sicily: Tenuta Sette Ponti in Valdarno di Sopra DOC, Poggio al Lupo in Maremma, Orma in Bolgheri, Feudo Macarri in Noto, Sicily, and Animaetna in Etna, Sicily.
In June of this year, we visited Tenuta Sette Ponti for an overnight stay and wine tasting from all of their estates. Tenuta Sette Ponti was formerly owned by members of the Italian royal family, Princesses Margherita and Cristina Savoia d'Aosta. In 1951, Alberto Moretti, an architect, purchased Sette Ponti to use as a hunting retreat. Tenuta Sette Ponti is named for the seven medieval bridges crossing the Arno River, one of which is Ponte Buriano, notably featured in the background of Leonardo da Vinci's Mona Lisa. The 750-hectare estate is in Valdarno-di-Sopra wine region, one of the historic Chianti producing regions of Tuscany, near Arezzo. Here, the family villa is filled with artwork and expansive gardens leading to the wine production facility and vineyards.
Sette Ponti is currently overseen Alberto's son, Antonio Moretti, a luxury goods entrepreneur, who introduced international varieties to the estate in the 1989 to produce some of the Chianti region's first super-Tuscans. Moretti has three sons and a daughter. Alberto Moretti-Cuseri serves as international export director. Like his father, Alberto worked in luxury fashion but he now works full time on Sette Ponti.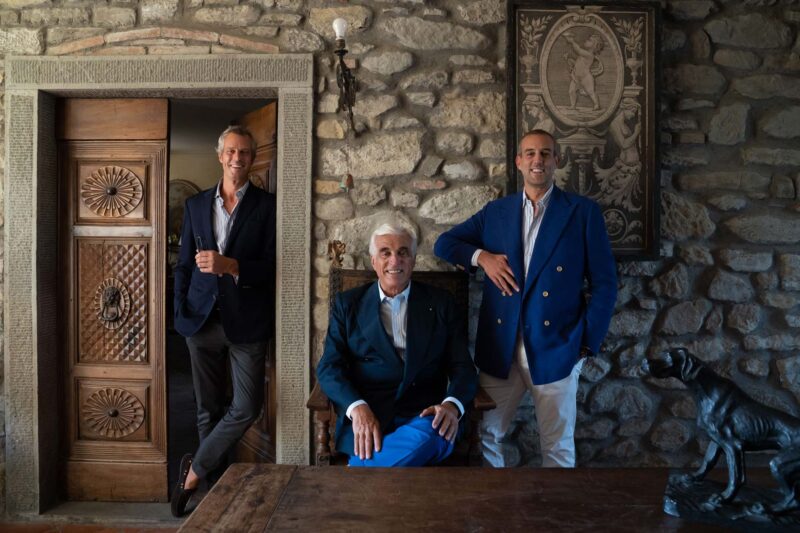 Antonio Moretti Cuseri and his sons Alberto and AmedeoOf note on this estate is the Impero Vineyard ("Empire's Vineyard") planted in 1935 by His Royal Highness the Count of Turin, Vittorio Emanuele of Savoy, one of the oldest vineyards in Tuscany. Sette Ponti produces a single cru Sangiovese from this vineyard called Vigna dell'Impero.
"When my grandfather purchased the property in 1951, there were Sangiovese vineyards planted by the royal family. These vines dating to 1935 continue to make small production but of very high quality which we use in our Vigna dell'Impero Sangiovese single vineyard wines. That is how we capture the history and culture of the region," said Moretti Cuseri.
Sette Ponti- some of Tuscany's first super Tuscans
Moretti also had a vision to create a contemporary style of Tuscan wine and started planting international varieties in the 1980s. The result, launched in 1989, is Crognolo, a blend of Sangiovese (90%) and Merlot (10%). The name refers to a plant that grows on the property. Another wine, Oreno, is a blend of Merlot (50%), Cabernet Sauvignon (40%) and Petit Verdot (10%). Oreno refers to the name of a small river on the estate. Lastly, the top-end Sette is the Sette Ponti's mono-varietal wine made with Merlot sourced from seven separate estate vineyards; we tasted the 2019 vintage during our visit.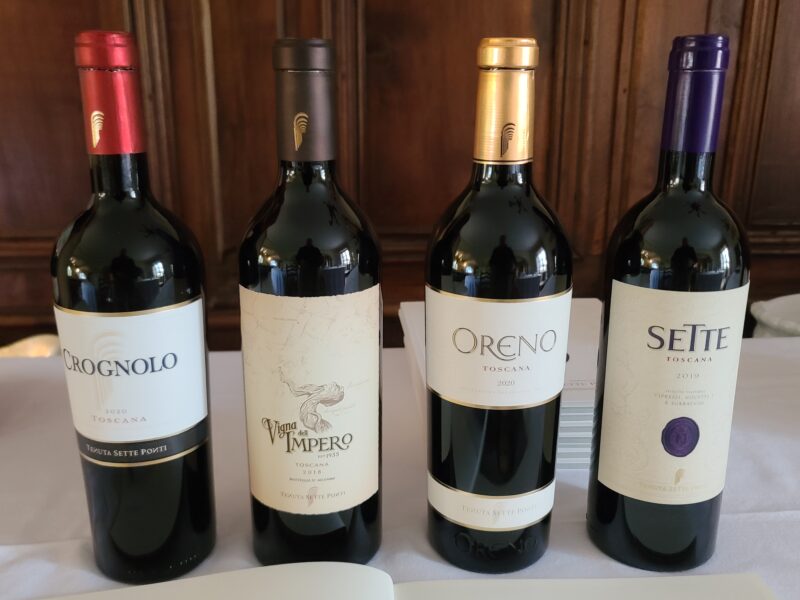 Sette Ponti works with the same team of oenologists and agronomists throughout all five wineries. Much like managing a luxury fashion house, Moretti-Cuseri believes quality and consistency starts with using the finest products and a dedicated team to oversee all production.
We had the pleasure of tasting through all of the Moretti-Cuseri estate wines, Here is an overview of those in Maremma, Bolgheri and Sicily.  A special thank you to Sette Ponte Tasting Director Fabiana Santi Laurini for warmly welcoming and providing an exceptional experience.
Poggio al Lupo
The family acquired this Poggio al Lupo ("Hill of the Wolf") in the Maremma in the 1990s. Here one will find a very fresh Vermentino, a signature varietal the Maremma, known for its sea-kissed freshness. Poggio al Lupo produces two reds, 100% Cabernet Sauvignon, also influenced by the sea, and Sangiovese, sometimes referred to locally as Morellino.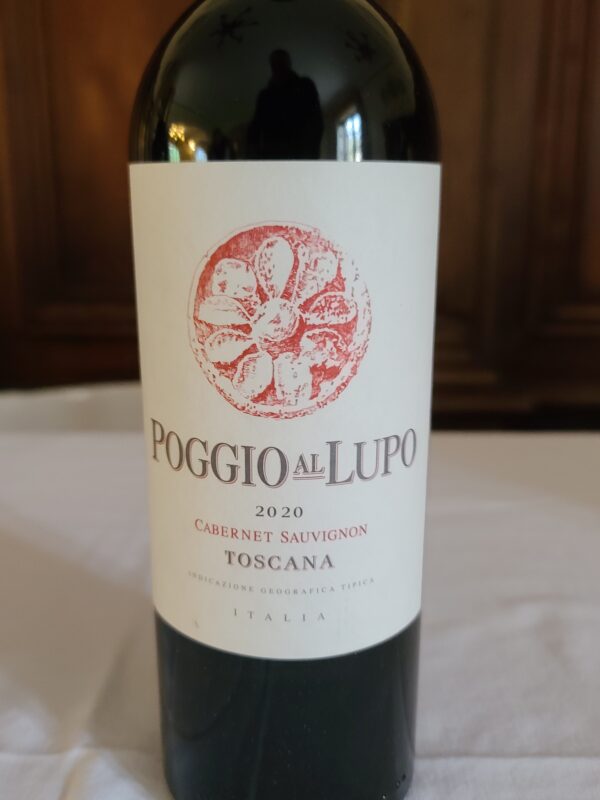 Orma
Orma in Bolgheri, is a newer estate for the family, established in 2004. Here, the focus is producing all international reds including Merlot. Cabernet Franc and Cabernet Sauvignon. Passi di Orma Toscana Rosso is a blend of Merlot (40%), Cabernet Sauvignon (35%) and Cabernet Franc (25%) and Aola di Orma Bolgheri Superirore DOC Rosso, a blend of Cab Franc (85%) and Cabernet Sauvignon (15%) which spends 18 months in oak and is currently limited to 1200 bottles per vintage.
The estates of Orma and Poggio al Lupo are 100 miles away from each other and a world apart in soil types and terroir. In Orma, the soil here is quite red and full of iron compared to the whiter, clay soil in the Maremma.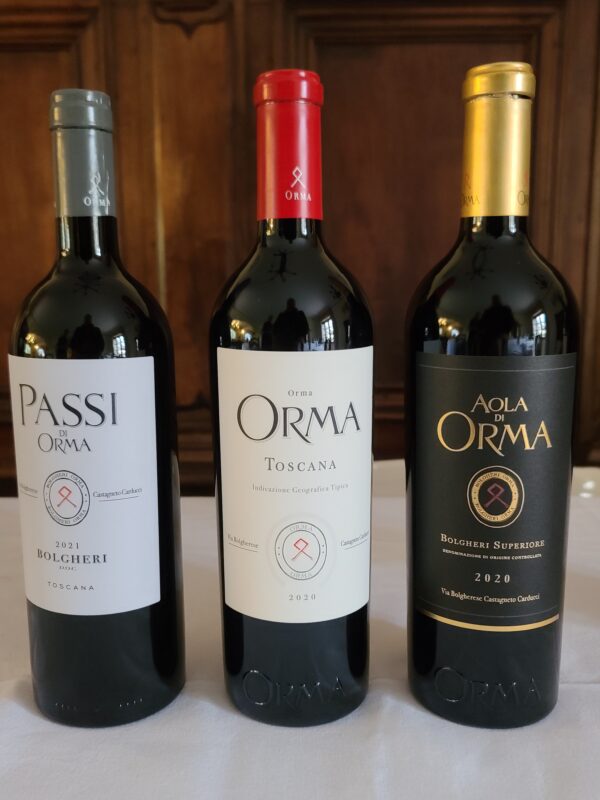 Feudo Macarri
Antonio Moretti's first winery in Sicily (1990) was Feudo Macarri in the Noto Valley. Here in southeastern Sicily, the estate faces the sea, and the soil is very white and calcareous with considerable minerality and salt from the sea. Two reds, Nerè and Saia, are both 100% Nero d'Avola, each sourced from different vineyards. Maharis is 100% Syrah, named for the Arabic watchtowers used to patrol the seacoast. Feudo Macari produces a very fresh and crisp white 100% Grillo called Olio.
Family and Friends Firraru is a different style of Grillo, aged half in 330L oak barrels and half in concrete egg, for a minimum of six months on lees. The Grillo grapes are sourced from a single vineyard of just 1.8 hectares.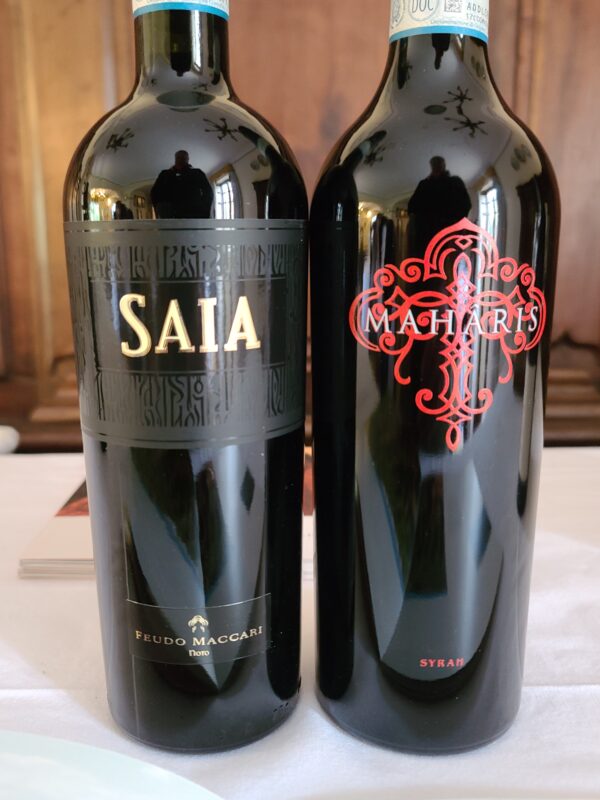 Animaetna
Animaetna is a newer winery located in Contrada Santo Spirito in Passopisciaro (Etna Nord). The winery is located 700 meters above sea level with soils covered with multiple volcanic eruptions over time. Pre-phylloxera vines more than 100 years old. Etna Nord is known for its high quality Nerelo Mascalese, known as "Sicily's Pinot Noir." We tasted Animamardente ("Burning Soul"), a red wine of 100% Nerelo Mascalese, and Animalucente ("Shining Soul"), a white blend of Carricante (95%) and Minella (15%).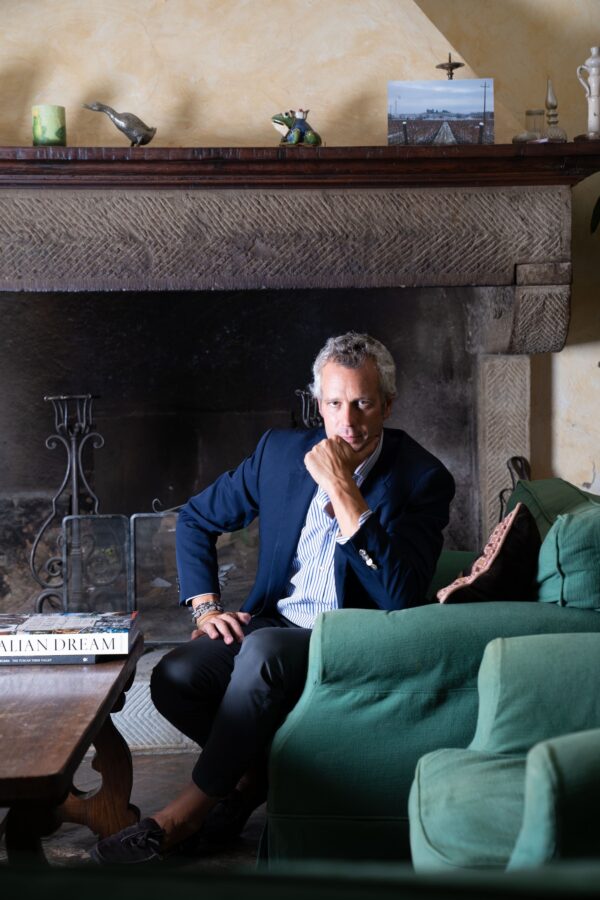 Listen to our conversation with Alberto Moretti Ciseri, third generation family member and International Export Director on The Connected Table LIVE. Click this link or below: