Located in the southeast corner of Pennsylvania The Lehigh Valley is one of this state's five AVAs (American Viticultural Areas). There are more than two dozen wineries in the Lehigh Valley; most are family owned. An early autumn visit in 2019 arranged by the Pennsylvania Wine Association and Discover Lehigh Valley associations introduced us to the appellation and a few of its producers.
Pennsylvania is the nation's fifth largest wine producing state.
But you need to visit to taste most of the wines. By law, Pennsylvania wines are mainly sold by state-run wine and spirits retailers, or in restaurants. Wineries can also sell direct to consumer, and many welcome visitors to their tasting rooms. It's a great reason to plan a wine destination road trip to Pennsylvania, especially now if you are into driving trips on the East Coast.
Besides, the area is beautiful; picture rolling farmland dotted by red barns. We learned the Pennsylvania Dutch, descendants from Germany who settled in the region, had an affinity for the color red which is a symbol of love. The red paint was also used to seal in heat to endure the harsh winters.
Many of the grapes cultivated here are heartier to withstand the temperamental weather which includes very cold winters and hot, humid summers. Lehigh Valley's southeast location has a longer growing seasons; soils are limestone and shale which allow for excellent drainage. Both vitis vinifera and French American hybrids are cultivated.
Among the European varieties we tasted and liked include the whites, Grüner Veltliner, Riesling, Gewürztraminer, and Chardonnay, Reds include, but are not limited to, Cabernet Franc, Pinot Noir, and Lemberger (also known as Blaufränkisch ) and Syrah.
The Chambourcin hybrid is the most widely planted red in the Lehigh Valley. We tasted wines from this variety ranging from dry and supple to off dry, both still and sparkling. Baco Noir and Noiret, both with a Cabernet character, are also prevalent here. Hybrid whites include Sevyl Blanc, Vidal Blanc, Traminette and Vignoles.
All the wines we tasted during our brief visit were a pleasant surprise. We look forward to returning to Pennsylvania to spend more time in other viticultural areas.
Lehigh Valley wineries to visit:
Galen Glen Winery. Galen Troxell, formerly a chemical engineer,  and wife, Sarah, a chemist, left their corporate careers to take of his family's 200- year- old farm, located on a hill overlooking a valley (a.k.a. the "glen"). They established the winery in 1986. Sarah serves as chief winemakers, now joined by daughter, Erin.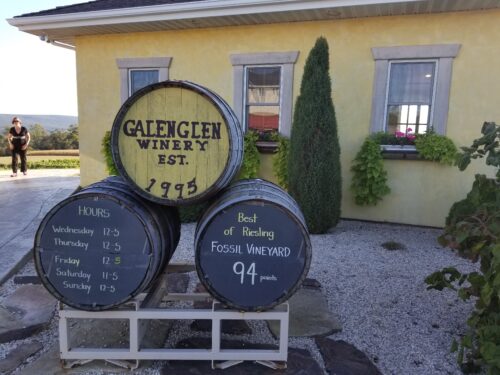 Most are vitis vinifera plus a little Chambourcin and Cayuga, another white hybrid. Galen Glen was the first Pennsylvania winery to plant Grüner Veltliner and also the second in the U.S.A. to do so. Sarah was inspired to plant this variety after reading an article in Food & Wine Magazine about how well it pairs with vegetables. Grüner is definitely a standout here, but we also enjoyed Galen Glen's Gewürztraminer and Fossil Riesling, notably the library wines we tasted. www.galenglen.com
Clover Hill Winery
This winery was formerly a Christmas tree farm when John Skrip, a physician, and his wife, Pat, acquired it in the 1970s. Initially thy planned to grow grapes and make wine as a hobby but friends and locals wanted more of their wine. In 1986, it became a licensed winery and now producers around 400,000 cases. John Skrip, Jr, serves as winemaker now and works with his sister, Kari, who oversees marketing.
During our visit, we tasted several Clover Hill wines paired with a selection of pierogi made by a local family, a nod to the German influence in the Lehigh Valley. If you visit, try the sparkling Vidal Blanc wine and the Chambourcin Port, both unique to this winery and the area. We also enjoyed Clover Hill's Pinot Noir but sadly they are ripping out the vines that were damaged from storms. If you see one of their Pinot Noirs at a store, buy it! www.cloverhillwinery.com
Vynecrest Vineyards & Winery
Established in 1974, Vynecrest is the oldest winery in the Lehigh Valley and one of the founding members of the AVA. Its facilities are housed in an 18th century barn. Also family-run, Vynecrest is owned by John Landis and wife, Jan. Our visit took place during harvest, and it was all hands-on deck for John's sons.
Of the wines tasted, we enjoyed the white Traminette 2016, a Gewürztraminer hybrid and the Lemberger 2017. Landis' son told us "Lehigh Valley is mainly a white wine region that does red really well." www.vynecrest.com
We did not visit Stony Run Winery or Tolino Vineyards but we tried their wines at our welcome dinner and would suggest trying more (we want to!). We tasted Stony Run's delightful sparkling brut cuvée made from 60 percent Pinot Noir and 40 percent Chardonnay, made in the Charmat method. Tolino Vineyards' barrel aged Cabernet Franc (2017) was elegant and underscored why we are fans of east coast Cabernet Franc wines. www.stonyrunwinery.com www.tolinovineyards.com
Further afield: Maple Springs Vineyard
This stunning piece of property may be pushing the Lehigh Valley borders and it took a while to find but, but it was well worth it! Maple Springs Vineyards is owned by Marianne Lieberman, whose work in her family's airport advertising business in Manhattan. In 1995, she acquired the farm and named it "Maple Springs" in memory of Marianne's grandmother, Helen Maple Doern.
The "Springs" are a nod to the underground springs on the property. Lieberman planted Chardonnay vines in 2008 and two years recruited winemaker, Jeb Stebben, who worked in California at Opus One and Carneros Creek. The Maple Springs Chardonnay is a stunner as was the Pinot Noir. www.maplespringsvineyard.com
If you visit Lehigh Valley
The city of Allentown offers plenty to see and places to dine. For something a little more "away" and romantic, consider the Glasbern, an historic on 150 acres of farmland with walking trails. Our king bed room came with a spacious seating area and large hot tub that overlooked the heated pool. The restaurant serves as fabulous breakfast and a small, seasonal dinner menu. Special event facilities and a spa are also on-site. www.Glasbern.com
More info:
www.pennylvaniawine.com
www.DiscoverLehighValley.com
Listen to our podcasts on The Connected Table LIVE with these Lehigh Valley producers:
Sarah Troxell, Galen Glen Winery (2nd segment on this show episode)
Winemaker Sarah Troxell and husband, Galen, own Galen Glen Winery (est 1995) in Pennsylvania's Lehigh Valley. Galen Glen was the first winery to plant Grüner Veltliner on the East Coast and second overall in the U.S.
Kari and John Skrip. Galen Glen Winery (2nd segment)
Pennsylvania's Lehigh Valley is home to nine family-run wineries. Siblings Kari & John Skrip are second generation family members managing Clover Hill Vineyards & Winery, one of the region's oldest wineries.