World Malbec Day, April 17, is an annual observance that celebrates this noble red grape. Malbec's roots are from southwest France, but it has achieved superstar status in Argentina where it has flourished.  In fact, Argentina now produces seventy-five percent of Malbec, and its wines have become world-renowned.
One example is Bodegas Luigi Bosca. Established in 1901 by the Arizu family, Luigi Bosca is one of Argentina's few continually owned and operated family wineries. Its main winery is in Lujàn de Cuyo, a sub-appellation of Mendoza. The Arizu family was instrumental in helping establish Lujàn de Cuyo as an official CDO in 1989. The winery also vineyards in Maipú and and the Uco Valley, also in Mendoza.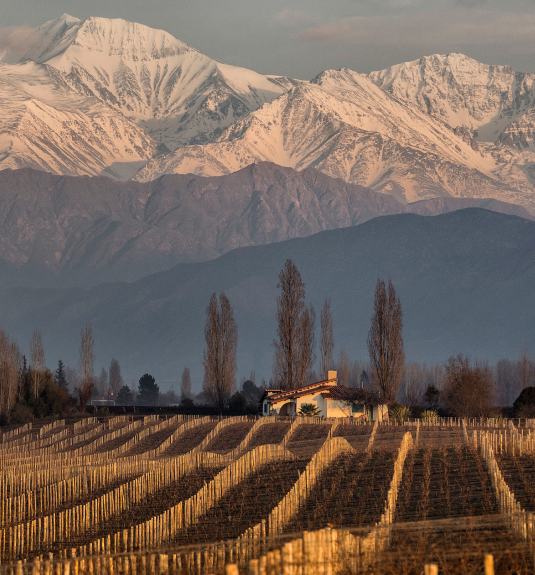 Head winemaker, Pablo Cunéo, has worked with Luigi Bosca since 2017. If anyone is an "ambassador" for Mendoza, it is Cunéo, who praises its climactic conditions for making exceptional wines.
"We are fortunate to have very stable growing conditions year after year," he noted. "Mendoza has a continental climate bordered by the Andes and high elevation vineyards. Its poor alluvial soils help to produce a high concentration of fruit. The cool winds from the Andes, low humidity and ample sunlight are ideal for ripening the fruit with exceptional vibrance and color, especially as you go higher in altitude in the Uco Valley."
Bodega Luigi Bosca's De Sangre collection of reserve wines was introduced in October 2021. (Importer: Frederick Wildman)
"De Sangre means 'of the bloodlines,' and these wines are close to the Arizu family, special reserve wines usually brought out to serve for special occasions. Now, they want to offer them to the world," said Cuñeo."The wines are made from grapes sourced from select parcels to show the characteristic of each variety."
We tasted three selections:

De Sangre White is a blend of Chardonnay (50%), Semillon (35%) and Sauvignon Blanc (15%). "The Chardonnay is fermented for eight months in French oak to attain toasty, caramel notes. The Semillon has herbal and chamomile characteristics, and the Sauvignon Blanc adds citrus and acidity. We thought this wine would well with a variety of dishes, from a light creamy pasta to spanakopita to pan-roasted trout almondine or Florida grouper in a tropical sauce. So many ideas came to mind!

The De Sangre Cabernet Sauvignon (100%) is blended from grapes from four different parcels in Mendoza. "Each adds something special to the wines," said Cuñeo. After 12 months aging in oak with malolactic fermentation, this wine delivers pleasing black fruit and peppery notes and ripe, balanced- not overly agressive- tannins which we appreciated. Consider this wine for a for grilled meats, game, or roasts. We enjoyed it with a savory roast chicken.

De Sangre Malbec is one of three Malbecs produced in the collection. The Malbec DOC Lujàn de Cuyo is aged 12 months in oak with malolactic fermentation, which imparts soft elegance and a ripe roundness to the fruit laced with notes of cacao and coffee. This Malbec is silky and plush. We discussed grilled meat, steak and barbecue and tasted at home with David's "vegetarian" meat loaf.
Cuñeo feels Lujàn de Cuyo produces the most representative of European Malbecs made in the 19th century- very classic. "I call it [Lujan de Cuyo] the Malbec that conquered the world," he said.
Hear more of our conversation with Pablo Cuñeo on The Connected Table SIPS podcast on iHeart Radio (ir your favorite podcast platform). www.luigibosca.com