We recently had the pleasure of sitting down with Matías Cruzat, the young winemaker turning heads and impressing palates at Viña San Pedro, which was founded in 1985 by the Correa Albano brothers who brought grape varieties from Chile to Spain.
One of the largest and oldest exporters of Chilean wines, Viña San Pedro's main winery is in Molina in the Curicó Valley south of Santiago where it has one of the largest stretches of vineyards in that country at 1,200 hectares.  Viña San Pedro also has vineyards throughout Chile including: Elqui, Casablanca. San Antonio-Leyda, Maipo, Cachapoal, Maule and Bio-Bio.

Cruzat is primarily responsible for making Viña San Pedro's 1865 and 1865 Limited Edition wines, which are crafted from select single older vineyard plots: Sauvignon Blanc from Leyda Valley, Chardonnay and Pinot Noir from Elqui Valley, Cabernet Sauvignon from Maipo Valley, Carmenère and Malbec from Maule Valley and Syrah from Cachapoal.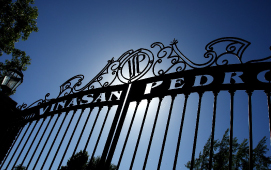 What we tasted:
1865 Sauvignon Blanc 2015 (Elqui Valley). This wine was like a burst of sunshine in your mouth. Fresh flavors of pineapple, grapefruit and sea salt. It had us thinking about a platter of fresh cooked seafood or a homemade "real" Caesar salad with anchovies.
1865 Cabernet Sauvignon 2015 (Maipo Valley). A dense velvety wine with black pepper, tobacco and dark cocoa accents. Time to sizzle up some steaks or fresh game meats.
1865 Carmenère 2015 (Maule Valley). Spicy and silky on the palate field with ripe black cherries, blackberries and dark plum. Perfect for a Sunday night roast chicken with sautéed wild mushrooms.
All of the 1865 wines are available in the U.S.A. and priced under $20.  www.sanpedro.cl
Listen to our conversation with Matias Cruzat on The Connected Table SIPS! Click the photo/link below: