We've known Rita and André Jammet for more than two decades. The Jammet family is a tight-knit clan and are always ready to support their friends in the industry. In 2004, they made the tough decision to close their iconic New York Cty restaurant, La Caravelle, which stood as a standard bearer for timeless French food in an elegant setting for more than four decades (it opened in 1960).  Many wondered if the Jammets would open another restaurant. They left that move to one of their their sons, Nicolas Jammet, who is cofounder of the super-successful healthy dining, quick service chain sweetgreen 
Instead, the senior Jammets reinvented, but without leaving restaurants and hospitality behind. They launched La Caravelle Champagne. Producing  a high-quality, proprietary blend champagne was not a far reach. La Caravelle restaurant had been serving a signature house cuvée, a common tradition among the better French restaurants. In fact, Andre Jammet's ancestors in France had been blending proprietary wines since the 1700s for their Paris restaurant, Le Bœuf à la Mode, and later for the renowned Le Bristol hotel, which they owned for many years.
Rita Jammet has become the tireless ambassador for the La Caravelle brand. Again, this is nothing new since she was the first to sign up and support many causes and initiatives to support the industry when she and Andre ran La Caravelle (and she still does).  Hospitality and serving the community are in the Jammet's DNA. Rita Jammet, with Melanie, is a member of Les Dames d'Escoffier, an international organization of leading women in wine and food, and she is active in many other organizations.
As for La Caravelle Champagne, it's everything you'd want in a classic champagne without paying the higher price of many well-known châteaux labels.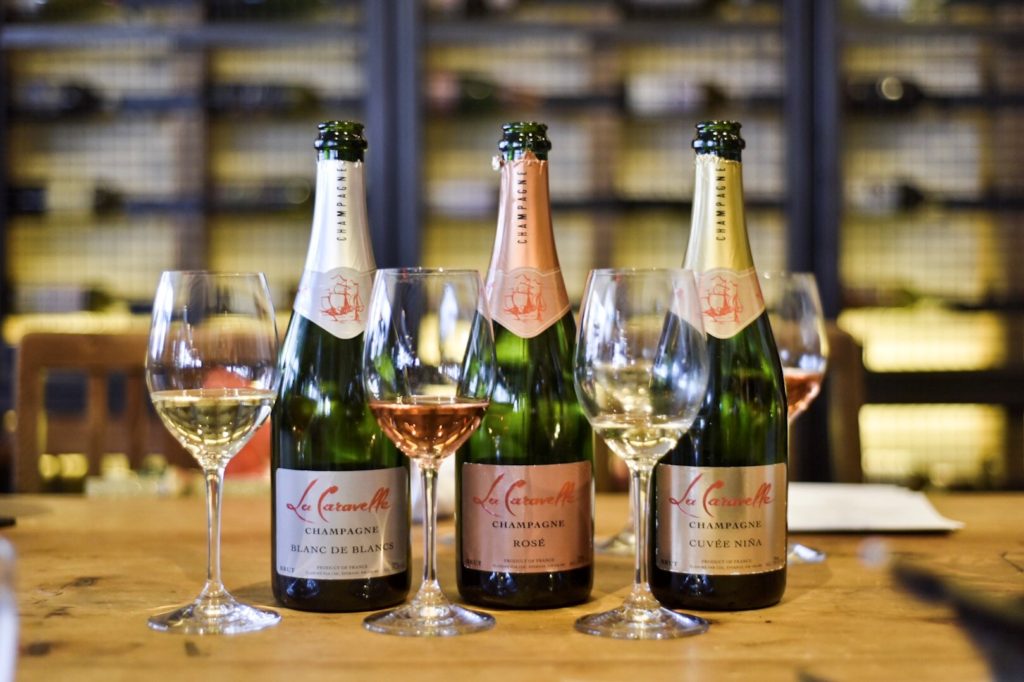 Here's what we tasted:
Champagne Cuvée Niña: The signature brut is named after one of the Caravelle ships built by Columbus for his voyage to the New World. The multi-vintage cuvée features a blend of 40% chardonnay, 30% pinot noir and 30% pinot meunier, with an elegant floral nose and notes of yuzu, white peaches and gingerbread.
Champagne Rosé: A beautiful salmon pink Champagne blended from the same base as the Niña with the addition of elegant red wines from well-known appellations such as Aÿ and Bouzy. With a floral and red berry bouquet, the rosé evokes hints of cherry almond, pomegranate and fennel.
Champagne Blanc de Blancs: Made with an exclusive blend of the best chardonnay crus harvested primarily from the Côte des Blancs and aged for three years, this complex wine has an elegant bouquet perfumed with white flowers and a refreshing, lively flavor with notes of citrus and rhubarb. Wine Spectator: 91 points
Learn more at www.lacaravelle.com
Listen to our podcast with Rita Jammet on The Connected Table SIPS. This podcast is part our Women Making History in Wine & Spirits series, which also supports Les Dames d'Escoffier. We are expanding the series to include women in food. For information on participation, contact: [email protected]