Founded in the 1990s by Francesco Illy, a member of the renowned Illy Coffee family. Podere le Ripi is a rising star in the world of Brunello di Montalcino wines. With its winery facility located in the desirable Southeastern quadrant of Montalcino, Podere Le Ripi sources grapes from vineyards it owns throughout the appellation.
Sebastian Nasello is the CEO and winemaker here, and crafts his Rosso and Brunello di Montalcino wines with an eye towards biodynamic farming their vineyards and using minimal intervention in the cellar.
"Podere Le Ripi was started on an old sheep farm with the goal of creating a fully sustainable ecosystem for our vineyards and wine," says Nasello, a Tuscan native who has been making the wines at Podere Le Ripi since 2011, "and all our decisions in the vineyard are made with the utmost care and attention to putting vine health first," he adds.
The winemaking region of Montalcino is made up of four vineyard areas all surrounding the central hill upon which the village Montalcino sits, and each has its own unique terroir that it brings to the grapes. When Speaking of their vineyards locations, most producers narrow it down to East and West.
Vineyards of the Eastern slope are generally warmer and more dry with primarily sedimentary clay soils, while the vineyards of the Western side, which is more wild and untamed by agriculture over the centuries, tends to be slightly cooler with stony alluvial soils. "Sangiovese is a very shy variety with a great sense of place," says Nasello, "so in order to understand Brunello, we must first understand where the Sangiovese that it is made with grows, as different vineyards present different flavor profiles when the wine is made."
Podere Le Ripi makes wines across the spectrum of defined allowable wines as specified by the Consorzio del Vino Brunello di Montalcino, Brunello's governing body, including IGT (Indicazione Geografica Tipica), Rosso di Montalcino, Brunello and Riserva Brunello wines.
When growing seasons are exceptional, Nasello and his team also make a small production single vineyard-designated Brunello called Ciello d'Ulisse. Cielo d'Ulisse, is a 100% Sangiovese (as is all Brunello di Montalcino) from a vineyard of the same name carved from the heavily forested far Western side of Montalcino's designated growing area. "Afternoon sun, poor soils and the dry climate of the Ciello d'Ulisse site create the perfect terroir in which to cultivate Sangiovese of top quality," says Nasello, "and the Ciello d'Ulisse Brunello is made from a small percentage of the best hand-picked grapes from that vineyard," he adds.
For more on Podere Le Ripi and its wines visit www.podereleripi.com
What we tasted: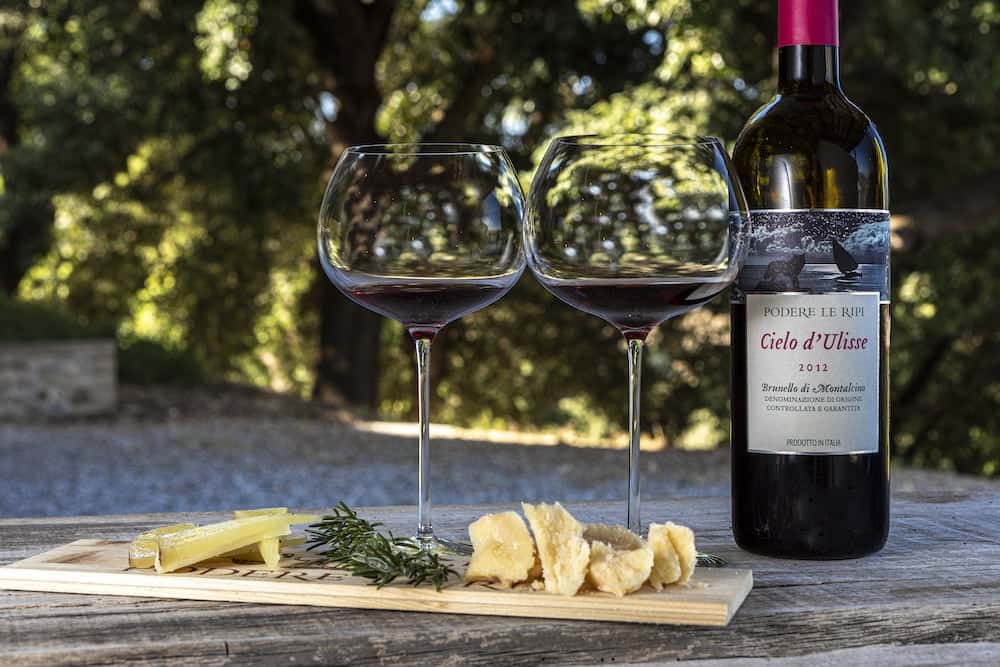 Podere Le Ripi offers guided tours and tastings at the winery.Ciello d'Ulisse Brunello di Montalcino 2016: This 100% Sangiovese stunner is Podere Le Ripi's flagship bottling from the 5-Star rated 2016 vintage, arguably the best vintage in Montalcino since the legendary 1997. Fermented in open-top containers and aged in oak for 33 months in oak followed by an additional 12 months in Cement tanks prior to bottling, this wine was then bottle-aged 2 years before release. Black and red fruit wrapped in savory and floral notes typical of Sangiovese. Deeply colored and full bodied with great acidity on the palate, this wine is well structured, lively and fresh. A wine to cellar and cherish down the road. U.S. Importer: Dark Star Imports.
Listen to our conversation with Sebastian Nasello on The Connected Table SIPS.