When you've been in the beverage and food business as long as we have – 30 years for each of us – you find yourself reconnecting with people over and over. Those people connect you to others in the industry. Your circle widens and yet becomes closer as your relationships deepen. We call it "Six Degrees of Siperation."
Chatting with Steve Olson on a recent edition of The Connected Table LIVE! that term bubbled into my head. We counted the many ways we've connected with Steve over the years including: The James Beard Awards, Sherries from Spain, Greek wines, Windows of Hope Family Relief Fund, Rums of Puerto Rico, Tales of the Cocktail, the Food & Wine Classic, Beverage Alcohol Resource, Del Maguey Single Village Mezcal and Kansas City's J Rieger & Co.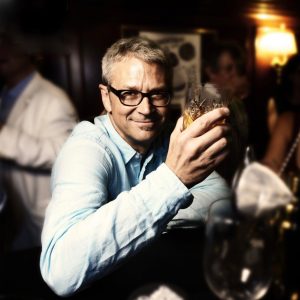 For those of you who have worked – and played- with Steve, you know his energy is boundless and enthusiasm contagious. Many of us have been touched by Steve in our lives. Recently Pernod-Ricard acquired a major stake in Del Maguey Single Village Mezcal so we raise a spirited toast to Steve and his partners, Ron Cooper and Michael Gardner who have worked hard to put Mezcal on everyone's lips.  Here's a link to our show with Steve Olson. That's right Steve, we've named the title for the memoir you need to write!
Or click this photo to listen now on iHeart: