I grew up Southern and Jewish in Chattanooga, Tennessee.  I like to tell people Southern Jews grow up with Bubbas and Bubbies in their families. Brisket was served with biscuits. JELLO molds were our serving of fruit.  What we didn't have were truly authentic Jewish delis. Well, we had Shapiro's, but it was a Jewish deli with a southern twist: pimiento cheese on challah bread.
My parents took me to New York City for the first time when I was 5 for a wedding with "those yankee family members who lived North of the Mason Dixon Line" (or so my mother told me). I was intent on having tea with Eloise at The Plaza and becoming her new BFF.  My mother booked us tickets to see "Fiddler the Roof" for a dose of culture. My Dad just wanted to go to Carnegie Deli for pastrami on rye.
Well, Eloise never materialized. But we went to Carnegie Deli where I saw the Largest Sandwich of My Life. It was my first taste of pastrami. I spit it out! My parents ordered me a grilled cheese sandwich while they devoured pastrami and corned beef. Over the years my parents and I would come to New York for theater trips and debate between Carnegie Deli and Stage Deli. I always ordered turkey sandwich at either place. Mother chose corned beef. Dad always stuck to his pastrami.
I was always a fan of Second Avenue Deli and was fond of the late Abe Lebewohl whose untimely murder was never solved. Stage Deli closed in 2012. This past Friday, just before the start of the Jewish High Holy Holiday Days, Carnegie Deli's owner announced the landmark restaurant will close at the end of this year. Another New York dining institution will make way for a corner bank (I bet!). Here's what Carnegie Deli posted on its Facebook Page: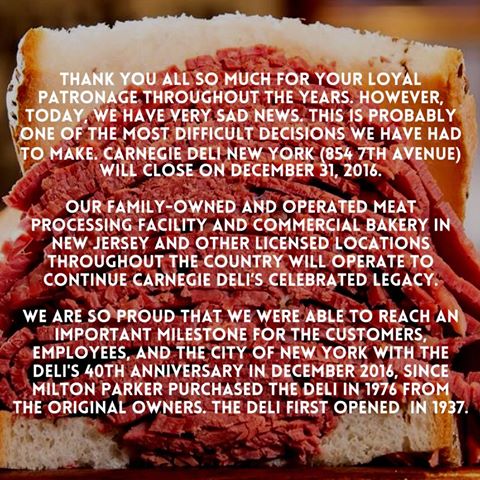 Melanie Young