Strolling West 58th Street recently I peeked into Loi Estiatorio, a sliver of a restaurant owned by renowned Greek chef, Maria Loi. "Peeked" is an understatement. Maria was at the entrance and welcomed me in for a visit with her at the bar. It was pre-service, so the restaurant was quiet (for a short time). Maria offered me a selection of Greek wine plus a delicious Feta-Greek yogurt dip with hard crackers. When I told her I wanted to learn how to make yogurt she went back to her kitchen and brought me a printout of her recipe plus a small bowl of the most luscious yogurt I've ever tasted. And more wine.
Greeks are known for their hospitality and passion for their culture and food. Maria is no exception. The global Chef's Club of Greece has recognized Maria as the official Ambassador of Greek Gastronomy. In addition to Loi Estiatorio in Manhattan, Maria owns an exquisite gourmet restaurant in idyllic Nafpaktos, is a popular television chef and has a line of dinnerware and kitchen appliances.  She's author of dozens of books including The Greek Diet (with veteran health journalist,Sarah Toland) which was the official cookbook of the 2004 Greek Olympics. The Greek Diet outlines Maria's 12 Food Pillars for a healthy diet. It's a simple diet based around fresh vegetables, fruits, seafood, chicken and eggs, whole grains, beans and plenty of olive oil and  yogurt,herbs and spices. And wine – Greek of course!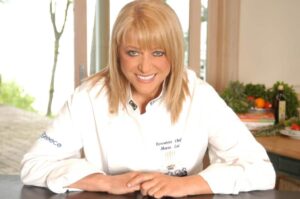 I've been in a "Greek state of mind" for quite some time since olive oil, yogurt, beans and steamed greens (akin to Cretan style horta) are my dietary staples along with water, coffee and tea (she discusses the benefits of Greek coffee and mountain tea)…..and wine.  Maybe it stems from my years as a young girl devouring stories from Greek mythology (Athena, Goddess of Wisdom, was my personal favorite.) It's no myth that the Greek diet is among the healthiest, and Maria's glow and energy are a testament.
Listen to our May 13 show with Chef Maria Loi Here
– Melanie Young
Connect:
https://www.facebook.com/LoiEstiatorio
https://twitter.com/loiestiatorio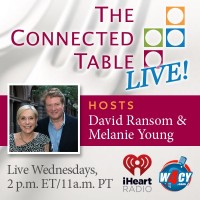 Join Melanie and David Wednesdays 2pm ET for The Connected Table LIVE! Each week we bring you the dynamic people who work front and center and behind the scenes in food, wine, spirits and hospitality. Listen live on W4CY and anytime on iHeart.com and the iHeart App under Shows and Personalities . Connect:      Twitter (connectedtable)   Facebook  (the connected table).