I have three favorite personal memories of Lidia Bastianich. The first was a Sunday lunch at her home in Queens many years ago. Her son, Joe, and I had been chatting about Zinfandel wines and my desire to try more of them. So, he decided to host a lunch with Lidia with a selection of Zinfandels (a.k.a. a Zinful Sunday). It was small, and I was embarrassingly late due to Hamptons traffic. I remember an endless parade of amazing food dishes, copious amounts of wine and Felix, Lidia's husband at the time, playing an accordion and singing. Bastianich family members were there, plus me, writer, Jerry Shriver, and one or two others.
I wondered to myself, "Is this a typical Sunday lunch at the Bastianich house?" I'd never experienced anything like at home in Chattanooga since my parents tended to hole away in the office or bedroom on Sundays, leaving me to fend for myself. Most Sundays in NYC I found myself worked extra hours or in transit from an airport or the Hamptons. But, that Sunday, I felt like a member of the Bastianich family.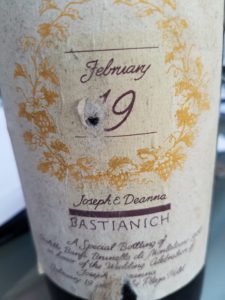 I felt that same feeling of family at Joe Bastianich's wedding at the Plaza Hotel February 19, 1995. It was a much bigger party with even more food, wine and music. I still have the commemorative bottle of wedding wine in our cellar (Joe told me it is probably great vinegar by now). I remember feeling very much like the single woman I was at the time being seated next to the wedding priest and chatting with very nice young gay man on the other side of me, while watching Lidia cut a rug on the dance floor. She was the Pride of the Party along with the Bride. What a wedding!!!
Finally, I recall running into Lidia at the Milan Airport in 2009. David and I were on a whirlwind wine trip and hauling our carry-on bags like two sherpas. Lidia glided down the stairs carrying absolutely nothing! I don't think she even held a handbag. It was like she lived in the airport and never needed to lug her stuff around. I marveled at that free feeling. We embraced and chatted briefly before going our ways. She glided off. We trudged onward.
Lidia makes everything – from cooking to entertaining to running a restaurant or demonstrating a recipe on camera- seem effortless, and she makes everyone feel part of her family. I think that's the secret sauce to her success.
Lidia has picked up an Emmy Award for her TV series, six James Beard Foundation Awards  (chef, books, broadcast, Who's Who) and a Les Dames d'Escoffier International Grand Dame Award. She's written best-selling books, produces a wildly successful specialty food line, LIDIA"s, and owns our acclaimed restaurants. She's cooked for Pope Benedict (in 2008) and Pope Francis (in 2015) during their visits to New York City.
She's living the American Dream! For all these reasons, it's why her new memoir, "My American Dream: A Life of Love, Family and Food (Penguin Random House, is appropriately named. Born poor and living behind the unbearably restrictive Communist Iron Curtain in a small town on the Istrian Peninsula, Lidia's family spent two years living in a refugee camp before escaping across the border to Trieste, Italy. In 1958, the family came to New York, thanks to the aid of Catholic Charities.
Resilience formed her backbone; cooking was her skill, family was her bond and gratitude lifted her up. She notes in her book, that complete strangers and nonprofit organizations reached out to help give her a family a home, fill their cupboards with food and help her parents find work.
There's never enough time to spend with Lidia to hear her amazing story. We were grateful to spend a 30 minutes with recently on The Connected Table Live! You can listen here: