He's a Modern Mixologist and creator of numerous signature cocktails featured on bar menus throughout the U.S. and elsewhere. What are the craft and creative process for developing a memorable and perfectly balanced cocktail?
We pose this question to Tony Abou-Ganim (a.k.a. The Modern Mixologist) on The Connected Table LIVE! June 10th. Tony's amazing career has spanned the heights- from Harry Denton's Starlight Room atop the Sir Francis Drake Hotel in San Francisco- to the lights of Las Vegas working with hotel and resort kingpin, Steve Wynn (Bellagio, Wynn Resorts).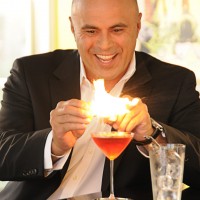 Wherever you go and whenever you order a cocktail on a bar menu, Tony's hand is probably in the mix.
Connect and follow Tony on Twitter and Facebook.
Tony Abou-Ganim's Signature Cable Car Cocktail  
(courtesy of www.themodernmixologist.com)
The Cable Car was created in 1996 as a signature cocktail for the Starlight Room, a stunning nightclub and cocktail lounge atop the historic Sir Francis Drake Hotel in San Francisco. Its name comes from the geographic location of its house of origin … One of the city's landmark properties, the Sir Francis Drake is located along the world famous Nob Hill cable car tracks, and its Starlight Room is affectionately referred to as the lounge that can be found "between the stars and the cable cars."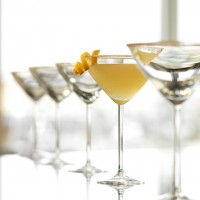 Ingredients:
1 ½ ounce Captain Morgan Spiced Rum
¾ ounce Marie Brizard orange Curacao
1 ½ ounce fresh lemon sour *
Directions: In an ice filled mixing glass add Captain Morgan, orange curacao and fresh sour; shake until well blended. Strain into a chilled sugar-cinnamon frosted cocktail glass* and garnish with an orange spiral – (Orange spirals can be easily cut fresh using a citrus zester, also known as a channel knife). Mixing 2 parts fresh squeezed lemon juice with one part simple syrup will easily make fresh lemon sour.
Hint: To sugar-cinnamon frost a cocktail glass, first chill the glass, rub the rim's circumference approximately ¾ inch in depth with a lemon wedge, then dip into a bowl of superfine sugar – (regular granulated sugar does not adhere as well).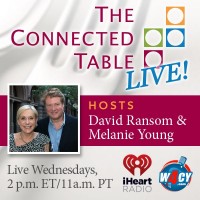 Join Melanie and David Wednesdays, 2omET on W4CY for The Connected Table LIVE and anytime on iHeart.com and the iHeart App. Hear from the dynamic people who work front and center and behind the scenes in food, wine, spirits and hospitality.
Follow, Like and Share Twitter and Facebook
Would you like to sponsor our radio show? We offer a great package. Please email melanie@www.theconnectedtable.com