Many wine aficionados are familiar with the red wines of Bordeaux, but the region also produces exceptional white wines. One of the birthplaces of Sauvignon Blanc, Bordeaux put the art of blending on the map, creating balanced, expressive white wines, many available for under $25.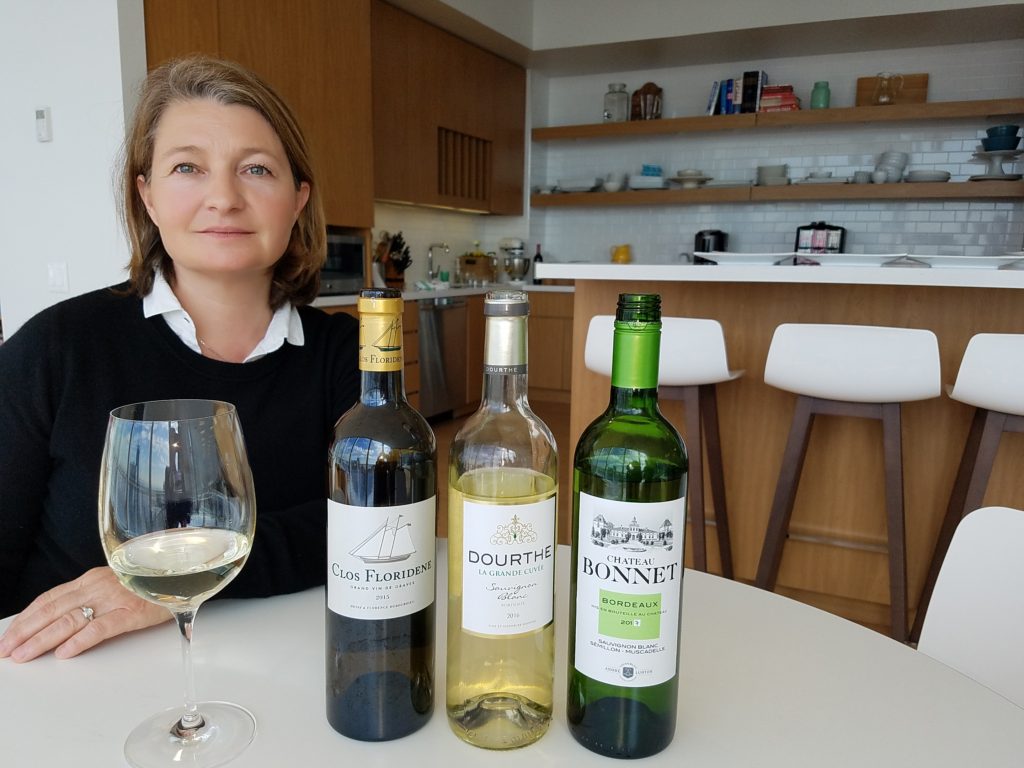 We sat down to taste a few Bordeaux Blancs wines with Dr. Valérie Lavigne, well-respected global consultant in viticulture and oenology. Based in Bordeaux, she is a researcher for Seguin-Moreau, affilliated with the Institute of Vine and Wine Sciences (I.S.V.V.). Her primary areas of research include: aroma science, reduction during vinification and aging of white wines, and premature aging of aromas in white and red wines. Valérie is also a consulting oenologist for about 70 crus and renowned estates in France, Spain, Italy, Greece, Portugal and South Africa. She teaches diploma level courses at the University of Bordeaux along with white wine aroma training courses for the Bordeaux CIVB.
Valérie explained different styles of Bordeaux Blanc wines as well as their aging potential, in some cases 15 years or more.
Listen to our SIPS podcast here:
What we tasted:
Château Bonnet 2017 (Entre-Deux Mers), a blend of Sauvignon Blanc (60%), Sémillon (20%) and Muscadelle (20%). This wine had very fresh tropical fruit and lemony notes. Left me craving a dozen chilled raw oysters and a light green salad with lemon vinaigrette. SRP: $16
Dourthe Le Grand Cuvée 2016, 100% Sauvignon Blanc. Zippy, zesty citrus notes make this wine super refreshing. Try with ceviche or goat cheeses. SRP: $11
Clos Floridène 2015 (Graves), a blend of Semillon (50%) Sauvignon Blanc (48%) and Muscadelle (2%). This wine combined citrus (grapefruit, lemon) and white flowers and a tad touch of toast. Tru with a light seafood pasta. Valérie noted the aging potential of this wine is about 10 years. SRP  $29
Learn more about Bordeaux wines and Bordeaux Blanc at www.Bordeaux.com 
Connected and follow #Bordeauxwines