After a week of intensive wine tasting in Napa Valley, we decided to treat ourselves to a maple syrup weekend in the Hudson Valley. We picked two farms to visit in nearby Dutchess County: Madava Farms, producers of Crown Maple Syrup, and Soukup Farms.
A "farm" can be many things much like a "country house." The large stone sign at the entrance to Madava Farms was followed by a long driveway opening up to a vast property still covered with snow and surrounded by a forest of maple trees linked by sap tubing. The large sap production building and company store was packed with visitors coming for the weekend of maple syrup tastings, maple inflected cocktails and lunch offerings such as maple chicken tacos, maple pork sliders, fried chicken strips with maple syrup waffles and maple shakes. Outside, kids (and one big kid) roasted marshmallows over a fire pit.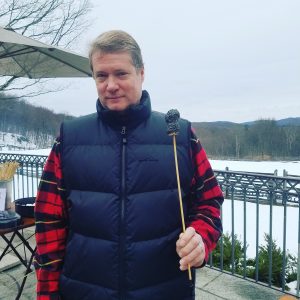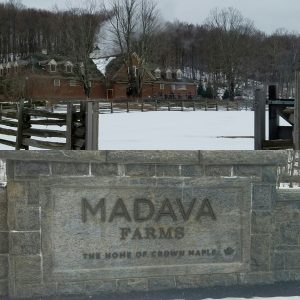 Madava Farms started as a family retreat for Robb and Lydia Turner. They've turned it and their sought after maple syrup into quite a business! Madava Farms has 20,000 trees over 800 acres, plus 4000 acres in Vermont.
Just a short drive away and a world apart in style but equal in substance when it comes to a quality product lies Soukup Farms. It's more of a farmstead with all the Soukup family members living in separate houses on the property. Originally a cattle farm, the Soukups started tapping maple syrup in 1955 as a hobby. Today they produce over 2000 saps from two sugarbushes (a cluster of sugar maple trees).  Pat Soukup gave us a tour of the small facility where we met her husband, son, daughter-in-law and granddaughter.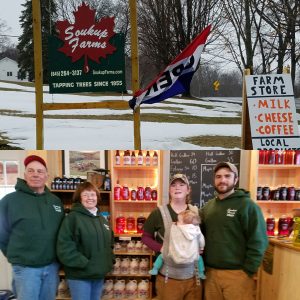 The maple season is short, roughly 40-50 days depending on the weather. It takes freezing nights and thawing days for the best sap. Higher temperatures can affect the quality. This year's warmer winter was a curse; the recent blizzard and colder temperatures were a blessing. As Pat Soukup told us, "We are farmers first. We learn to deal with the weather and the outcome."
Demand for maple syrup is on the rise. Health and wellness gurus promote it as a preferred natural sweetener (in moderation) and filled with antioxidants to fight inflammation, among other benefits. Chefs and bartenders are adding maple syrup to dishes and drinks. There's even Drink Maple water which we tasted at the Summer Fancy Food Show.  We learned at our tasting at Crown Maple that lighter grade maple syrup is better for diabetics and the darker grade for athletes. We learned at Soukup Farms that the tree holds the secret to the color of sap that will seep out as demonstrated by this rainbow of saps collected this winter.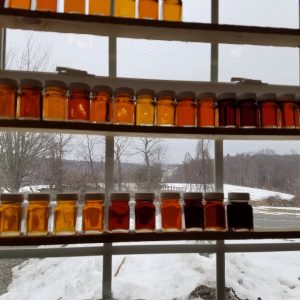 Listen to our interview with Michael Cobb, CEO at Crown Maple Syrup. The Connected Table LIVE! on iHeart.com