An invitation to a guided tasting of Bordeaux wines with artisanal chocolates from one of France's top chocolatiers is a welcome treat. The tasting and discussion was one of the daylong activities hosted by the the Bordeaux Wine School. Founded in 1989 (yes, celebrating 30 years!) the Bordeaux Wine school educates more than 85,000 people each year through its global network of over 250 accredited instructors. Classes are taught both at the school's center in Bordeaux City and online around the world, offering courses in multiple languages. There is also a mobile app.
Master of Wine Mary Gorman McAdams, an accredited Bordeaux Wine School instructor, teamed up with Pierre -Antoine Bollet of Maison du Chocolat. The duo had conducted rigorous tastings beforehand to select the wines and chocolates for the session which started with an historical overview and a discussion about the commonalities of both Bordeaux wines and chocolates.
Grapes and Cacao Beans: Similarities
Just as wine is made from varieties of grapes, chocolate is made from different types of cacao beans grown. Terroir plays an important role in cultivating both grapevines and cacao trees. Cacao flourishes in tropical climates; over 70 percent is grown in Africa and 16 percent in Latin America.
Dark chocolate must be made with 43 percent minimum cacao, and milk chocolate is a minimum of 30 percent cacao. White chocolate has no cocoa powder (a heated form of cacao) and is 20% cacao butter and 14% milk. Technically, it is not chocolate. Cru chocolates, like wine, are sourced from single estates.
Both wine and chocolate contain tannins and (red wine) are rich in resveratrol, flavonoids and polyphenols. Both can be good for heart health when enjoyed in moderation. Chocolate contains caffeine, so be careful consuming large quantities at night.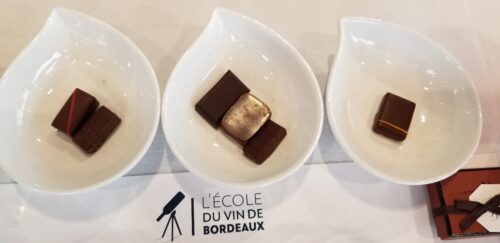 Bordeaux & Chocolate: Three Key Elements to Consider
Gorman McAdams and Bollet explained that fruit flavored chocolate brings out acidity, and wines usually pair best with bittersweet and dark chocolate (with a higher percentage of cacao). They underscored three key elements to consider when pairing wine and chocolate:
Structure

Acidity, sweetness, astringency
Bitterness (phenols/tannins),
Alcohol, sourness

Texture

Light / delicate
Rich / dense

Flavor

Fruity, herbal, smoky, nutty, earthy,
Spicy
The pairing included one wine with two types of chocolate. The first misconception that went out the door was thinking it's all about pairing red wine and chocolate. One of the best pairings was a Clos Floridene, Graves 2016 with a dark chocolate ganache with lemon cream and zest ("Andalousie") from the South of France.
The experience was palate opening and generated an enthusiastic response among attendees.  Second helpings, anyone?
What we tasted
Clos Floridene, Graves, 2016
Andalousie: dark chocolate ganache with lemon cream and zest from South of France
Akosombo: Chocolate Bar with 68% cacao
Comment: The Graves with the ganache with lemon cream left us ready  to try more white wines with chocolate.
 Château Bourgneuf, Pomerol, 2015
Extreme Chocolat: dark chocolate ganache, perfect balance between the acidulous character and bitterness of pure cocoa
Salvador: dark chocolate ganache with raspberry pulp
Comment: The consensus in the room was mixed as to which paired better. We were partial to the dark chocolate ganache with raspberry with the plushness and deep tannins of this wine.
Château Fonbadet, Pauillac, 2016
Noir de Cassis: dark chocolate ganache with cassis
Quito: bittersweet dark chocolate ganache
Coro: Chocolate Bar with 100% cacao
Comment: Hands down the winning pairing was the Noir de Cassis, proving how well tannic wines can balance out creamy ganache.
 Château de Cérons, Cérons, 2009
Maracuja: dark chocolate ganache with passionfruit pulp and juice
Comment: We initially thought this pairing would be overly sweet, but to the contrary, it was a nice balance.
 For more information on the Bordeaux Wine School, visit: https://www.bordeaux.com/us/
Listen and learn more:
In this episode of The Connected Table SIPS, Mary Gorman McAdams, MW discusses The World's Best Bordeaux Wine School
Bordeaux is one of the world's most renowned wine appellations with more than 6000 producers. For 30 years, the Bordeaux Wine School has been the premier education source for learning about Bordeaux. Located in Bordeaux City and online, the school educates more than 85,000 people annually through its global network of over 250 accredited tutors. Master of Wine Mary Gorman McAdams discusses the Bordeaux Wine School's curriculum for both wine professionals and consumers. www.bordeaux.com
Link to show is here: The Connected Table SIPS
Or click below: