With a wine making tradition dating back 8,000 years, the Republic of Georgia has been called the cradle of wine. Georgia boasts 1088 registered wineries, 20 PDOs (Protected Designation of Origin) and an astounding 525 indigenous grape varieties, according to the National Wine Agency of Georgia (2019 figures).
www.winesgeorgia.com
The ancient method of fermented and aging wines in qvevri, large conical clay amphorae, has earned Georgian wines a spot on UNESCO's Intangible Cultural Heritage List. Today, many producers still produce wine using qvevri, as well as utilizing modern European wine making techniques. One example is Khareba Winery, which produces a range of wines made from more than 24 indigenous and international grape varieties. Located in the foothills of the Caucasus Mountains, Khareba Winery encompasses over 4,000 acres located in prime growing regions starting with Georgia's largest production area, Kakheti.
During VINEXPO New York March 2, 2020
, we attending a walk-around tasting of Georgian wines at Chama Mama restaurant hosted by the National Wine Agency of Georgia. And we sat down for a one-on-one visit and tasting with Khareba Winery chief winemaker,
Vladimer Kublashvili
, to taste of a few selections and record a SIPS podcast (below). Info:
www.winery-khareba.com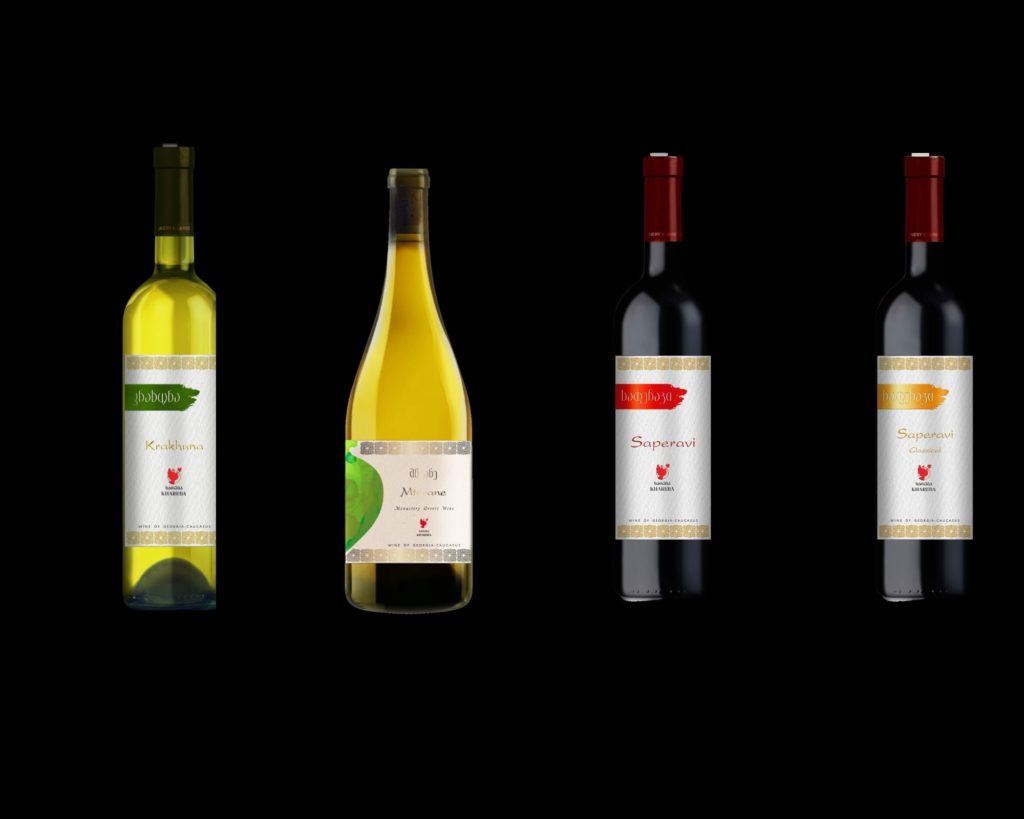 We tasted four wines made from indigenous grapes:
Khareba Krakuna. A dry full-bodied white with aromas of apricot. peach and citrus. Great acidity! Pair with seafood cheeses. Sip on this: Krakhuna wines  age well, becoming more complex with time.
Khareba Qvevri Mtsvane. Made in the traditional qvevri, this dry white wine has a golden-apricot hue and notes of dried orange, mushroom and hazelnut. Pair with fish, white meats and vegetarian stews. Sip on this: Georgia is a leading producer of hazelnuts.
Khareba Saperavi.  Saperavi is an indigenous black grape that produces wines loaded with cacao, spice, tobacco and tar. This is a wine for grilled and roasted meat and game but would also work with a meatier fish. Sip on this: Saperavi means "place of color." Unlike many other red grapes whose flesh is white, Saperavi's skin and flesh are both red.
Khareba Saperavi Classical 2016. A more modern style red aged in new French oak for eight months. Dark spicy berry notes with a touch of smoke. Enjoy with hearty pasta dishes, pizza and vegetarian casseroles. Sip on this: Khareba Winery's cellars are located in a deep tunnel cut into the Caucasus Mountains measuring  7.7 km (4.8 miles). Currently more than 30,000 bottles are being aged in the tunnel
Listen to The Connected Table SIPS with Vladimer Kublashvili. Click here:
Page load link