Mid November marks what we like to refer to as "The Feeding Season." Magazines show pretty dishes of festive foods and everyone talks about what to drink at the holiday table. We're Giving Thanks to an abundant season for Italian white truffles, fresh cold water oysters on the half shell, crisp Hudson Valley apples in the orchards near our home and an abundance of wine in our growing global cellar.
When it comes to Thanksgiving, is your favorite part of the meal the turkey or the sides? Holiday side dishes take front and center on our show November 19, 2p.m. ET/11 a.m. PT, when we interview award winning cookbook author, journalist and culinary educator, Rick Rodgers, who recently released The Big Book of Sides (Ballantine Books/$30.00). Indeed, it's a big book content-wise filled with more than 450 recipes from traditional to inspired to Americana and ethnic. We've spent the last few weeks trying some of the recipes, often enjoying them as our main courses. Rick also suggests how to pair the sides with main courses and with special occasion menus.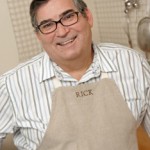 Rick often works on the sidelines or, rather behind-the-scenes, as a recipe tester, consultant or co –author for other books. He's written corporate cookbooks for Williams-Sonoma, Kingsford Charcoal and Sur La Table. He received an IACP Cookbook Award for The Chelsea Market Cookbook. His articles have appeared many magazines including Men's Health, Food & Wine, Fine Cooking and Bon Appétitwhich gave him a Food & Entertaining Award as Outstanding Cooking Teacher.
With The Big Book of Sides he takes center stage in our book.
Connect:
https://twitter.com/GeorgesDuboeuf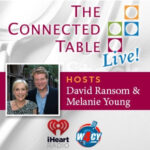 Join Melanie Young and David Ransom each Wednesday on The Connected Table LIVE! 2p.m. ET/11 a.m. PT on W4CY Radio and iHeart Radio. Each week we bring you the dynamic people who work front and center and behind-the-scenes in food, wine spirits and hospitality.