"Hero" and "Legend" are two words that can be overused. But when it comes to Ed Mitchell, known as "The Pitmaster" and "The Rib King" in the barbeque community, the words fit like comfortable well-worn shoes. Or maybe slices of barbeque pork with a side of fried green tomatoes.
Mitchell grew up in a farming family in rural eastern North Carolina. His parents, Willie and Doretha Wilson also ran a corner grocery store in Wilson. In 1991, Willie passed away from terminal cancer. His grieving son left his career at Ford Motor Company to help his widowed mother who was struggling financially. He set up a barbecue pit by the store and started preparing slow, pit-cooked whole hog barbecue, a long tradition of cooking in his family and in the local African American community.
That effort to help his mother morphed into Ed Mitchell's Ribs, Chicken & B-B-Q. Ed Mitchell's journey to becoming one of the nation's leading pitmasters and an inductee into the nation's Barbeque Hall of Fame" is documented in the book, "Ed Mitchell's Barbeque" (2023, HarperCollins Publishers) written with his son, partner, and pitmaster, Ryan Mitchell.
Ryan Mitchell, left a career in finance in New York Citty during the 2008 recession to return to Wilson to join his father at the pit and help develop and expand a line of barbeque products, including sauces and rubs, that can be found at  www.thepitmasteredmitchell.com
The Mitchell's story and rise from farm to fame to become the "Pope of the BBQ Pit" and whole hog barbeque authority has been featured in a Netflix documentary by Michael Pollan, chronicled by the late Anthony Bourdain in "A Cook's Tour," and written about by many journalists and culinary historians.
"Whole hog barbecue" is specific "nose to tail" way of cooking a pig in a pit. It's a revered African American tradition, and it is a specialty of Eastern North Carolina. In North Carolina one will find sauces are different east to west. Eastern Carolina sauce is peppery vinegar "mop sauce" that is basted over the whole smoked hog. Western Carolina style uses a tomato-based red sauce basted over pork shoulder. Both are quite different from shredded barbeque pork, Memphis style ribs and Texas BBQ brisket.
Ed Mitchell is recognized for his commitment to only using pasture-raised hogs rather than mass-produced pork which is a more common and affordable practice. The Mitchells acknowledge achieving fame came at a price. Invitations to cook at high-profile festivals like the Big Apple Barbecue meant spending money on product, travel and staff for the publicity opportunity. They also underscore that securing funding and sponsors is still harder for small black-owned businesses.
Check out and purchase Ed Mitchell's Barbeque
What we love about the book, "Ed Mitchell's Barbeque," is its tender and frank reflection on the struggles and successes of this family against the challenges of being a black-owned business. It's also about the culture of North Carolina where tobacco smoke and barbeque smoke had a deep connection dating back to plantation times and sharecropping and- sadly- when enslaved "pitboys" cooked barbecue for their masters. Many of the origin of the dishes we have come to love in the U.S.A. started in the hands of the enslaved, something we should always remember and respect. Barbeque is one dish that brought both the black and white communities to the table.
Opening the pages of "Ed Mitchell's Barbecue" is being welcomed into the story of a family who shares treasured memories and recipes.  Make sure to check out the music play in the back of the book featuring song titles from African American music legends from Mahalia Jackson and Muddy Waters to DJ Khaled and 50 Cent.
Check out our conversation with Ryan Mitchell on The Connected LIVE and this recipe from "Ed Mitchell's Barbecue."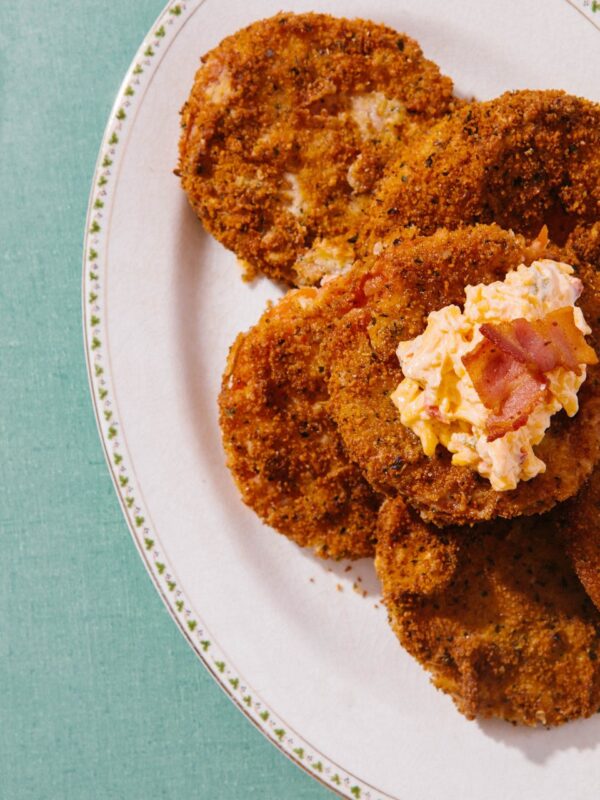 Let 'Em Roll Fried Green Tomatoes from Ed Mitchell's Barbeque
Serves 4 • Prep Time: 10 minutes • Cook Time: 10 minutes.
Fried green tomatoes were a side dish my mother made to go along with our barbeque.
We started visiting other barbeque restaurants in other cities and saw fried green
tomatoes on their menus, so we added Mama's fried green tomatoes to our menu. They
became a hit in both North Carolina and New York. Season your tomatoes, batter them
in flour, put them in your oil, and let 'em roll.
4 green tomatoes
Salt and freshly ground black pepper
1 cup all-purpose flour
1 teaspoon garlic powder
Dash of sugar
2 eggs
2 cups bread crumbs
1 teaspoon onion powder
1 teaspoon Italian seasoning
Vegetable or canola oil, for frying
Pimento cheese and cooked bacon or fried pork belly, for serving
CUT each green tomato into 1/2-inch-thick slices. Pat with a paper towel to
remove some of the moisture. Season with salt and pepper to taste.
IN a shallow dish, combine the flour, garlic powder and sugar, plus salt and
pepper to taste. Whisk the eggs in a medium bowl. In another shallow dish,
combine the bread crumbs, onion powder, and Italian seasoning.
COAT each green tomato slice in the flour mixture, then dip it into the egg
mixture, and finally dredge it in the bread crumb mixture, making sure that
each slice is fully dressed. Fry 3 or 4 slices at a time for 3 to 4 minutes on each
side, until golden brown in a fryer or in a deep pan on low-medium
heat. Drain them on paper towels. Top with pimento cheese and cooked bacon or fried
pork belly.
Excerpted from Ed Mitchell's Barbeque © 2023 by Ed Mitchell and Ryan Mitchell.
Food & Author photos by Baxter Miller.
Reproduced by permission of Ecco, an imprint of HarperCollins Publishers. All rights reserved.