"Seafood Professor." That's what we've decided to call Barton Seaver after receiving an advance copy of his new book, American Seafood, which covers ever species of fish on earth. It's encyclopedic and a fascinating read.
And Barton's a fascinating person. After serving as executive chef for a group of restaurants in Washington, DC, he now leads the Sustainable Seafood and Health Initiative at the Center for Health and the Global Environment at the Harvard T.H. Chan School of Public Health and is Senior Advisor for Sustainable Seafood Innovations at the University of New England.
He's been a National Geographic Explorer and was apponted by Secretary of State Hillary Clinton to served on the U.S. Culinary Ambassador Corp. He grew up in the Chesapeake and now lives in Maine. We discussed sustainability and why regional identity is important starting with his backyard (back sea?) lobsters from Maine.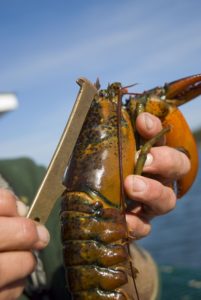 Listen to our show with Barton Seaver here: