When thinking of Tuscany and its wines, a few regions immediately come to mind, like Chianti Classico, where the most sought-after wines of the eight classified Chianti regions are produced; Montepulciano, home to the famous Vino Nobile wines, and of course, Montalcino, where Brunello is produced.
Yet, aside from these three well-known regions, there are many smaller areas in the Tuscany  producing wonderful wines that are worth seeking out. The Connected Table recently went on a road trip, zig-zagging through the backroads of Tuscany's west side and found a number of producers making wines the equal of their more famous neighbors.
Here are a few of our favorites and where they are located.
Sator Wines. Situated in the relatively small (20 producers total) Montescudaio DOC in the coastal hills just south of Pisa (west of Florence) and just north of Bolgheri, Sator is owned by Gianni Moscardini. The winery sits on rolling farmland owned by his family for over 150 years. While grapes have been grown on the property for many years, only recently did Moscardini, a consulting agronomist for a number of well-known Tuscan wine producers, start making his own wine from them. Unlike in Bolgheri, where much of the wines are made from international grape varieties, Moscardini focuses on indigenous grapes at Sator including Fiano and Vermentino for white wine production, along with Sangiovese and Cilegiolo for his red wines. www.satorwines.com/en
Some favorites for us included Satur Bianco IGT, a delightfully crisp everyday white made from 85% Vermentino/15%  Fiano, and  Satur Artume, a wonderfully complex white blend of 67% Fiano/33% Vermentino aged in oak for 10 months before bottling.  For reds: Satur Rosso Montescudaio a Sangiovese /Teroldego blend that we could drink all day long (well, not really, but it sure was easy on the palate), and Sileno Sangiovese Montescudaio DOC, a ripe and structured wine that shows great balance and ageing potential.
Podere Marcampo  Further south and a bit inland, near the ancient walled city of Volterra, lies the estate of Marcampo. Relatively new to the region's wine scene, Marcampo was started in 2004 by one Volterra's most prominent restaurant families, the Del Ducas. Claudia Del Duca runs the wine production while her mother,Ivana, runs the Entoeca Ristorante Del Duca in town. Father, Genuino, a retired carabinieri, makes wine and some amazing salumi.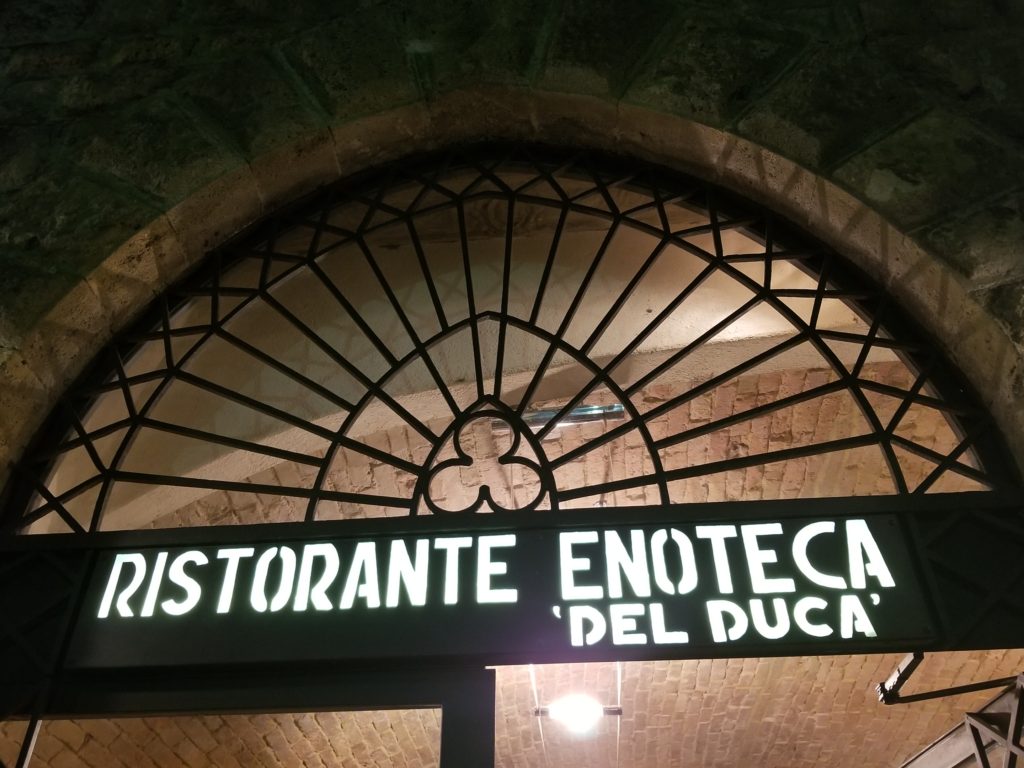 There is also an agriturismo (Bed & Breakfast) on the property so one can also book a night there to stay and enjoy the incredible vistas from the ridge on the outskirts of town where the winery is located. www.agriturismo-marcampo.com
Marcampo's wines are also made from mostly native grape varieties, including Sangiovese, Cilegiolo and Vermentino. We loved the Terrablu Vermentino, and Genuino Sangiovese (made from 80% Sangiovese/20% Merlot), both of which were very well-made everyday drinking wines. Also not to be missed were the Severus 100% Sangiovese (named for the Roman Emperor who built Volterra's coliseum), and Giusto alle Balze, Marcampo's signature red "Super Tuscan" made from 100% Merlot.
Poggio Al Grillo Leaving Volterra and heading back towards the coast and Bolgheri, we next went to the village of Castagneto Carducci to taste the wines of Poggio Al Grillo. While tiny (they currently produce only 5000 bottles per year), This producer boasts one of Bolgheri's oldest known vineyards, a sixty- year old 1.25 acre plot of Aleatico, Petit Manseng (one of TCT's favorite white grapes), and Cabernet Franc – all co-planted as was the norm back then since most wine was made into blends, not bottled varietally.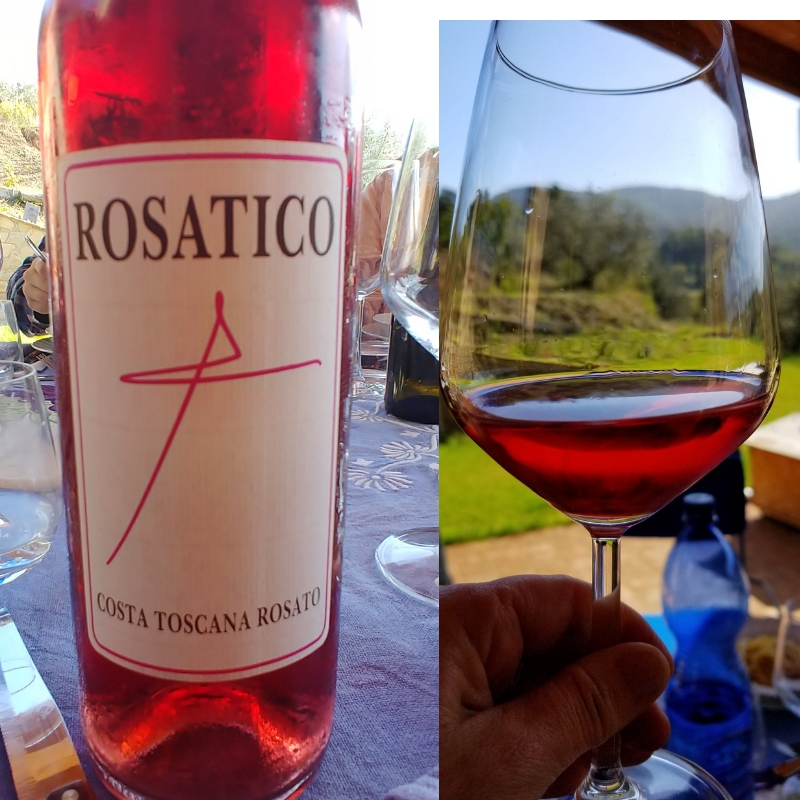 Poggio Al Grillo makes mostly Rosé from Aleatico (aptly named Rosatico), and is tinkering with other wines as they plant new vineyards and increase production. One, Corvallo, is a delightful blend of Trebbiano, Malvasia and Petit Manseng. www.aziendaagricolapoggioalgrillo.it
So, next time you have an urge to try something different, yet somewhat familiar, ask your favorite wine shop or restaurant if they carry any of these Tuscan gems. You'll be glad you did.
Stay insatiably curious!
David and Melanie   – The Insatiably Curious Culinary Couple
Connect with us Twitter @connectedtable  and on Instagram@theconnectedtable
Next up: More wine gems from the opposite side of Tuscany.
Listen to our show with Claudia Del Duca, Podere Marcampo here: