We're fans of Virginia wines and the region itself and made our third visit to explore the state in October. The weather was perfect and fall foliage was just starting. We spent three nights staying at the 1804 Inn at Barboursville Vineyards, located in Central Virginia's Monticello AVA.
This was our first visit to Barboursville, and we produced a live show with general manager and winemaker, Luca Paschina, who shared the estate's history over a dinner he prepared for us with a selection on Barboursville's wines.
Barboursville's America-Italy Connection
Barboursville was the 19th century estate of Virginia's Governor, James Barbour, a colleague and good friend of Thomas Jefferson. The two were practically neighbors- in rural Virginia that can mean several miles away which many may still say is "up the road a ways." Jefferson's historic home, Monticello, is about a 20- minute drive near Charlottesville, home to the University of Virginia.
)
Historically, Barboursville was a farming estate for sheep. Like many centuries-old farms, it changed hands over time. In 1976 Italian vintner, Gianni Zonin, acquired the estate to create Barboursville Vineyards, the only winery for the Zonin family outside Italy. This was a bold move for the Zonins, whose family dates back seven generations, and it marked a major milestone in then-sleepy Virginia wine history. The Zonins happen to be the largest privately family-run wine company in Italy. By selecting Virginia over locales like Napa and New York's Finger Lakes to start a U.S. winery, the Zonins made quite a splash in the wine news world.
Luca Paschina has served as general manager and winemaker at Barboursville Vineyards since 1990. Paschina is from a Piemontese winemaking family and is doing some amazing things with Italian varietals in this area of Central Virginia, notably Fiano, Vermentino and Nebbiolo. Barboursville's selections also include Viognier and Cabernet Franc, which both flourish in this area. Most well-known of the estate's wines is Octagon, Barboursville's signature Bordeaux style blend.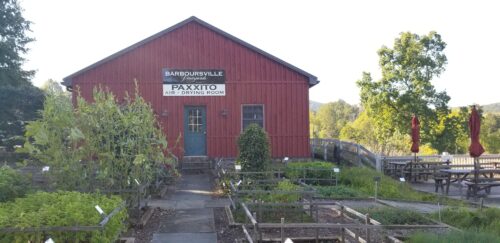 There is also an onsite grape drying facility to make passito.
The inn itself also offers some smaller houses. When we were there it was quiet aside from two or three other couples staying on-site. However, the tasting rooms, inside and out, were busy with day trippers enjoying wines and a light lunch from the on-site Palladio restaurant. The tasting room team did a great job managing safe social distancing. Throughout our Virginia winery visits, everyone was incredibly careful about this.
Paschina noted that the tasting room is open every day except three holidays, and one can visit the property and the ruins of Barbour's house, which was designed by Jefferson. Sadly, the house was destroyed in a Christmas Day fire in 1884. The estate also has some stunning gardens and a patio to relax with a glass or two of wine and gaze at the Blue Ridge Mountains in the distance.
On our final day at Barboursville, harvest ended as we were saying our goodbyes. Vineyard manager, Fernando Franco made the final "victory lap" through the vineyards and up to the tasting patio in the big blue harvester. Out came the cameras and a bottle of Barboursville sparkling wine which Franco sabered. Glasses were raised in celebration to toast the end of a harvest that, many local vintners admitted to us, has its challenges thanks to a frost in May which had everyone scrambling to protect the buds. Paschina made a speech and thanked his team for their hard work. What a special moment to capture and savor in the vineyards among friends!
The Connected Table Live at Barboursville with Luca Paschina.
Here are the show notes and link. You can also hear it anytime on your favorite podcast platform.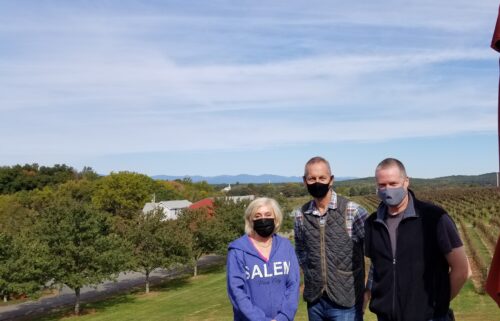 Photos not provided by Barboursville Vineyards were taken by The Connected Table.