In 1989 I left my corporate agency job and went on a solo "walkabout" of sorts to Australia. It took 30,000 frequent flyer miles and 30 hours to land in Sydney where I stayed at a friend of a friend's apartment near Bondi Beach. I spent the next six weeks hopscotching Australia on a cheap "kangaroo fare."
I learned how to play a didgeridoo in Alice Springs, hitched a ride on a prop plane with the Outback mailman to deliver parcels, climbed Ayers Rock in the wrong footwear, took my first hot air balloon ride over some dusty dunes sprinkled with cheap sparkling wine, slept in a tent on a cattle station, snorkeled The Great Barrier Reef, sailed on an old brigantine through the Whitsunday Islands, gazed at the Southern Cross camping out on the deck of the boat and drank a lot of beer with assorted Aussie cowboys and sailors. My last stop was a drive to the Hunter Valley wine region where I tasted my first Australian Shiraz. I remember thinking, "This is what the earth must taste like if I licked the dirt." It was a new sensation for someone who was brought up drinking Bordeaux and Chateauneuf- du-Pape thanks to my father, Chattanooga's "Wine Professor."
I never made it to Western Australia or the south which will be our next trip with a focus on wine and beach combing. And, despite over 30 years working in wine and food, my tasting experiences with Australian wines have been pretty limited, and some of the wines I have tasted were challenging to my palate.
Lettie Teague wrote an article on the resurgence of Australian wines in the January 25th edition of the Wall Street Journal saying "Wines regularly slip in and out of fashion, but few have fallen as far as the wines of Australia did over the past decade. Once among the world's most sought-after bottles, they are now some of the hardest to sell. Recently, however, there have been signs of a small but steady recovery, thanks to some intrepid retailers, sommeliers, importers and, of course, the winemakers themselves.
Here is a link: WSJ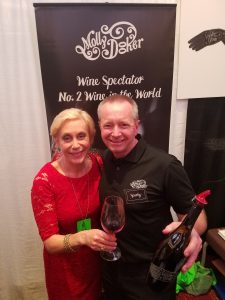 It was a treat to meet Sparky Marquis, founder of Mollydooker Wines, at Wine Spectator's New York Wine Experience last Fall. Sparky's story is one of love, loss, recovery, reconnecting with what brings you joy and, ultimately, some very high scores. Mollydooker wines have some interesting (Aussie) rules like the Mollydooker Fruit Weight and the trademarked Mollydooker Shake. We read up, shook it up and tasted through the wines at a dinner party on Saturday. When Sparky's brochures says they want to make wines with a WOW Factor he meant it! I had a week's serving of fruit in one evening. And truly click here amazing fruit it was!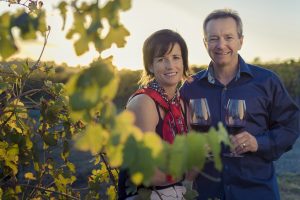 Sparky and Sarah met in wine college, fell in love and now run the iconic Mollydooker Wines. The word "mollydooker" means left-handed in Australia which both Sparky and Sarah are.  All of Mollydooker's wine labels tell a story. The Boxer is actually and throwback (throwdown?) to Southern Wine & Spirits' Mel Dick. The Violinist was named after Sarah, who was a young. Gigglepot was named after daughter, Holly, and Blue Eyed Boy named after son, Luke. As for the multi-award winning Carnival of Love…well, figure it out! And the top tier wine, Velvet Glove…well, it's a knockout!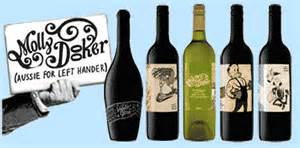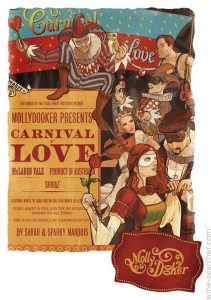 Nearby Adelaide Hills may seem geographically close but it is a world apart in terms of terroir with a more cool climate focus.  Bird in Hand Winery is named after the old Bird in Hand goldmine situated on Bird in Hand road. This region was littered with gold mines that were in operation through the 1800's but nearly all were closed down by the early 1900s. Within 10 kilometres of property the gold mines 'Two in the Bush' and 'Nest Egg' were also in operation.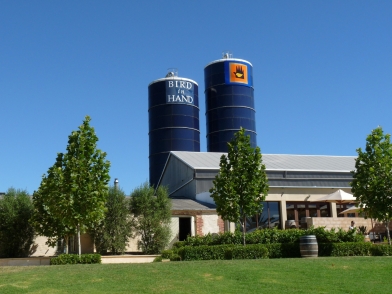 Kym Milne, MW, Bird in Hand Winery,was named Winemaker of the Year by Winestate Magazine in 2014, and the second Australian to pass the Master of Wine test.  An Australian native, Kym worked at Villa Maria Winery in New Zealand and overseas in Europe before joining Bird in Hand as Chief Winemaker.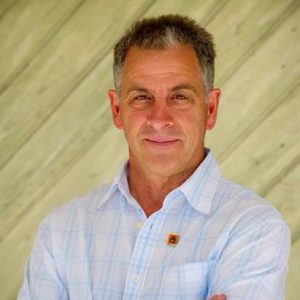 The wines are the antithesis of traditional Australian fruit bombs, elegant and austere in an appropriate minimalist style. Kym uses French varietal clones and French oak. Tasting the Bird inHand Chardonnay and its luxury level Nest Egg Chardonnay, we could have been tasting a fine French Burgundy with out eyes closed.  The Shiraz was more silky satin than deep velvet. What we learned from tasting both Mollydooker's and Bird in Hand's wines is that wine making in Australia should never be typecast to one style, and luxury labels deliver an exceptional tasting experience.  Bird in Hand Wines were recently introduced to the United States by HP Selections.
Listen to our February 1st show with Sparky Marquis, Mollydooker Wines,  and Kym Milne, Bird in Hand Winery, anytime, anywhere at this iHeart.com link. Click image to listen and share.