Many people associate Bordeaux wines with classic Grand Crus, collectible fine wine that you lay down in a cellar and enjoy with a sumptuous meal. On our first trip to Bordeaux, we were fortunate enough to have private visits to some great houses: Château Le Pin and Vieux Château Certain in Pomerol, Château Pontet-Canet in Pauillac and Château D'Yquem in Sauternes. But we don't drink wines like that every day. Most of us enjoy approachable, everyday wines when dining at home. The quality is still good; the price is more affordable, and the wines more accessible.
A new generation of 30-something year-old Bordeaux vintners who have studied, trained and traveled outside of the region are embracing innovations and new techniques and bringing them home. Their goal is to produce easy drinking wines for every day enjoyment. These young Bordelais winemakers have even formed organizations to exchange ideas such as Bordeaux Oygène and Arômes de Jeunesse .
Of course, they had to convince their seniors that change and innovation is good for the business and doesn't refute or replace longstanding traditions, just to build upon the family business and introduce more consumers to their wines. Much like fashion, there is haute couture and there is ready to wear. So goes it with their wines.
Recently we met four young producers at a lunch and presentation at Aureole in New York City to learn about their mission and taste their wines.  We learned they are passionate about sustainability; disease management, better matching of varieties, rootstocks, and and pruning – and crafting wines that deliver a sense of place on the palate.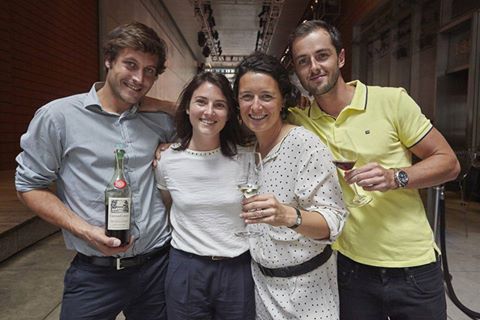 Adrien-David Beaulieu (Château Coutet), Rachel Hubert (Château Peybonhomme-Les-Tours), Sylvie Courselle (Château Thieuley) and Alexander Sichel (Maison Sichel) at Aureole. Photo: Geery Teuwen
Some like 5th generation winemaker, Rachel Hubert,  Château Peybonhomme-Les-Tours, are committed to producing biodynamic wines. Others like 14th generation Adrien-David Beaulieu, Château Coutet, remain committed to being 100% organic since its inception and still plow their vineyards by horse.  Sylvie Courselle, who runs Château Thieuley with her sister, Marie, is betting on the future of Bordeaux white wines. Their estate in Entre Deux Mers  has planted more Sauvignon Blanc and Semillon and now produces 50% white wines  and 50% reds. Alexander Sichel, Maison Sichel, continues his family's legacy, to expand and offer wines to appeal to every type of wine consumer.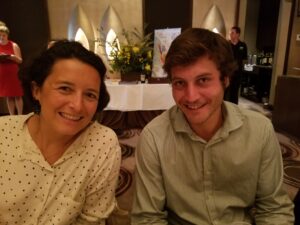 Sylvie Courselle, Château Thieuley, and Adrien-David Beaulieu, Château Coutet, visited us on The Connected Table LIVE! July 27th to discuss their approach to winemaking, the cameraderie among the young Bordelais and how their senior generation reacted to the changes they presented. Listen anytime on iHeart.com and the free iHeart App at this link
Or click here and share:
Wines we liked at the tasting:
Rose:
Clos Floridène Le Rosé de Floridène Bordeaux 2014, (92% Merlot, 7% Cabernet Sauvignon, 1% Malbec). Organic. Grateful to have this wine waiting for us outside on a very hot summer afternoon in NYC. Those who love France rose will enjoy this wine.  SRP $17
White:
Château Thieuley Bordeaux Blanc 2015 (50% Grand Cru, 35% Sauvignon Blacn, 15% Sauvignon Gris). Pepper personality filled with citric notes and loads of minerality. SRP $15
Red:
Château Coutet Cuvée Emeri, St. Emilion Grand Cru 2014 (65% Merlot/35% Cabernet Franc). Only 200 bottles were made of this wine, so we felt lucky to have a taste. Elegant, still lean but drinkable. Interesting fact: The bottle is handblown with a handmade glass stopper and is a replica of a 200 year old bottle discovered in the winery's cellar. (no importer)